5 Pandemic-Induced Trends That Will Rule Android App Development In 2022
Mobile app usage was already growing significantly prior to the pandemic with users spending 87% of their time on apps. The recent pandemic has given further upthrust to mobile app usage with increased remote work, enhanced e-commerce activities, and streamlined contact tracing.
The pandemic apart from bringing a whopping boost in mobile app usage has also changed the way people interact with apps. These changes, in turn, have reshaped Android app development, making it imperative for companies to ensure that the apps they create are not only robust and secure but also remain relevant during and post-pandemic.
Here, in this blog, we bring you pandemic-induced trends that will rule android app development in 2022.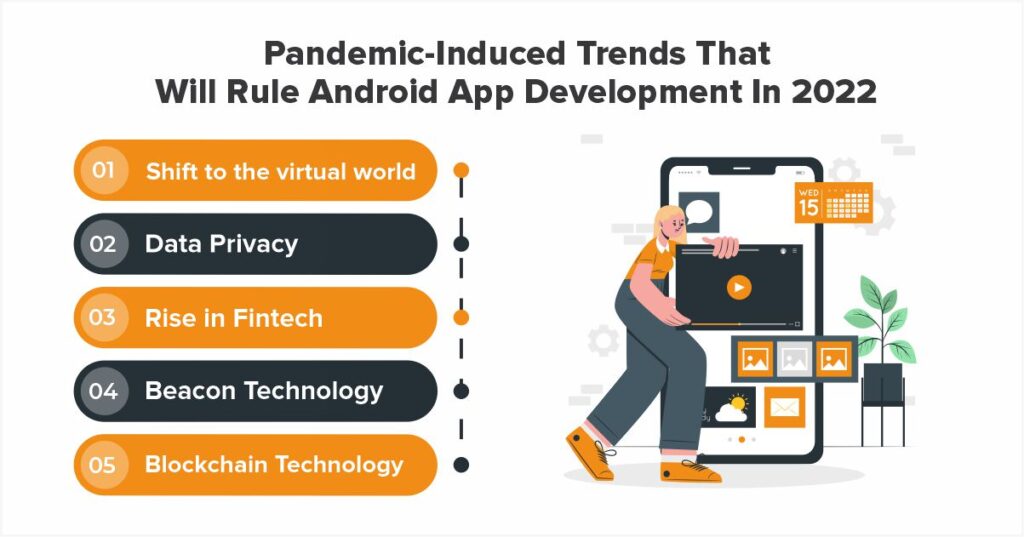 Trend 1: Shift to the virtual world-
Apps usage was rising before Covid-19, but social distancing regulations and the rapid rise of remote work have shifted several in-person activities to virtual settings and this is going to stay even after the pandemic.
Healthcare apps are the right example for it. According to Entrepreneur, telemedicine apps have given birth to a whole new world of convenience for both health providers and patients. It has also made additional monitoring possible which was otherwise unavailable. Similar trends can be seen around banking, fitness, e-commerce, and other customer-focused apps.
Apps that reduce in-person visits and solve the challenges of users are continuing to stay in demand even after the post-pandemic world.
Trend 2: Data Privacy –
As companies are accelerating towards digital transformation, cyber security has become a major concern. The increase in remote work demands a greater focus on cybersecurity because of the greater exposure to vulnerabilities. A single system breach is enough to invade the privacy of a company's customers.
Systango, an android app development company in London, uses advanced features like Pro-Guard, which turns code into confusing characters. Moreover, our android app developers utilize authorized API in-app code in order to have central authentication for the entire API and obtain maximum security. 
Apart from this, depending upon the domain of the app and the demand of clients, we add additional security features to the app that ask user permissions to track their data when they open the app for the first time.
How Systango Can Help You?
We provide technical consultancy to startups, enterprises, hedge funds, and banks on how to leverage the power of technology.

We offer an end-to-end development team for web and mobile development.

You can hire on-demand tech resources for your development need.
Reach Us
Trend 3: Rise in Fintech –
Fintech played a crucial role in reducing the risk of getting infected while exchanging cash, helping MSMEs, and supporting markets during pandemics and beyond. According to the Global Fintech Regulatory Rapid Assessment Study, conducted by the Cambridge Centre for Alternative Finance, Covid-19 has brought a regulatory agenda in the FinTech industry with fintech regulators responding with measures and harnessing opportunities that mitigate the risks posed by fintech innovation.
Moreover, according to PwC, 83% of financial institutions such as insurance companies and banks are planning to invest in the top Fintech-based startups in the next 3-5 years. The Fintech market is rising exponentially and with technologies like AI, Machine Learning, Chatbots, and Cloud Computing, this rise is expected to accelerate.
What's crucial for financial institutions today is to take a needed step towards digitization – create a mobile app that helps you provide quick and better services to customers.
Trend 4 – Beacon Technology –
According to the Research Dive's report, the global beacon technology market valued approximately $ 504 million in 2018 and is expected to reach $38, 803.9 million by 2026, rising at the CAGR of 71.7% in the coming years.
Organizations are utilizing beacon technology to develop innovative applications, which aids them in averting the spread of misinformation about the number of corona cases, vaccinated individuals, death tools, and treatment options. For example, tech giants Google and Facebook joined hands to help NHDS in preventing the spread of fake news related to Covid-19.
Moreover, government bodies all over the world are taking various initiatives and implementing beacon technology to prevent close contact. For instance, the government of Bangalore, India added many devices at the airport to prevent close contact with fellow passengers and curtail the spread of corona-related infection.
Further, with the implementation of AI and ML, Bluetooth low energy beacons are anticipated to unlock several growth opportunities in the post-pandemic world.
How Systango Can Help You?
We provide technical consultancy to startups, enterprises, hedge funds, and banks on how to leverage the power of technology.

We offer an end-to-end development team for web and mobile development.

You can hire on-demand tech resources for your development need.
Reach Us
Trend 5- Blockchain Technology
The covid-19 outbreak affected almost all the countries and has had a severe impact on human lives as well as economical activities. Supply chain, manufacturing operations, and logistics faced severe disruptions during the first and the second pandemic wave, healthcare workers are dealing with high levels of work and people are going through drastic changes in their lifestyle.
Advanced technologies such as Machine Learning (ML), artificial intelligence (AI), the internet of things (IoT), blockchain, cloud computing, big data, robotics, and more are the key strengths of the world at the present time. 
Blockchain technology witnessed a boom after the emergence of Bitcoin and is already adopted by organizations for carrying out transactions. The adoption of blockchain technology has achieved tremendous popularity in the last 2-3 years for applications such as exchanges, payments, smart contracts, digital identity, and documentation.
Blockchain is expected to bring drastic technological advancements in sectors such as banking, cyber security, and more. The technology can be further leveraged to simplify the clinical trial processes for drugs and vaccines, transparently track donations, raise public awareness and fundraising activities.
Coronavirus pandemic brought a historical turning point in various sectors including android app development. The above-mentioned trends clearly show how the pandemic has impacted users' desires, needs, and tastes. While the demand for android apps has increased, it is not the same as it was before COVID. Mobile app users' priorities have changed now and mobile app owners have to meet this shift if they want to become a prominent player in the market.