All You Must Know About Tron Blockchain Platform
TRON is establishing itself as the world's fastest-growing public chain. Curious to know more about this blockchain platform? We have everything you must know about TRON in this guide.
In Brief:
TRON is a blockchain-based operating system bundled up with unique features to deliver higher throughput, scalability, and availability.
TRON blockchain platform has gained remarkable traction, with over 103 million users on the network and upwards of 3.5 billion transactions.
The network concluded full decentralization in Dec 2021 and is now a purely community-governed DAO. It's now being leveraged by blockchain app developers for building decentralized applications.
What will you learn?
TRON Blockchain Platform
TRON blockchain platform has penetrated the Web3 market with the idea of decentralizing the digital entertainment ecosystem. Users on Tron will be able to store, publish and own data on blockchain securely. Not just this, it plans to allow content generators to release and circulate their content without the involvement of any middlemen.
Let's now dive deep into the story of how TRON was launched and its journey till now!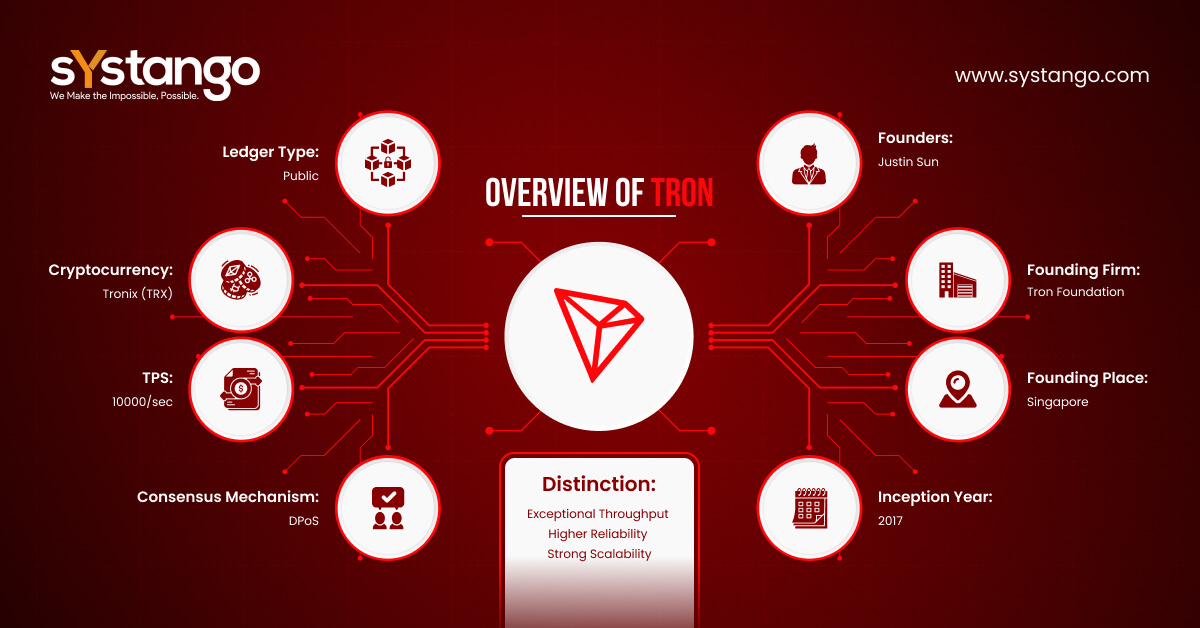 Story of Inception
H.E. Justin Sun founded TRON DAO in September 2017. In the next few months, TRON launched its open-source protocol as well. With blockchain technology and decentralized applications (DApps), Justin aimed at accelerating the decentralization of the Internet.
When it was launched, it raised $70 million in its ICO. Since then, it has firmly solidified its presence in the global market. In May 2018, the TRON blockchain platform launched its MainNet, Odyssey 2.0. Post which marked impressive achievements.
TRON became so huge that it was able to incorporate BitTorrent, an established pioneer in decentralized services with 100+ million monthly active users on its blockchain platform. Post this acquisition of BitTorrent and all its products, TRON and its native crypto saw a steep rise in terms of market capitalisation, booking its position on the global top ten cryptocurrencies list.
All this in just two years from its launch, Isn't it phenomenal?
Well, let's now dive deep into what architecture the TRON blockchain platform follows and learn all about its native cryptocurrency, TRX.
Who is Justin Sun?

Justin Sun is well known as the founder and CEO of Piewo, a voice streaming platform based out of China. He has also served as Chief Representative of Ripple in Greater China. Sun founded TRON intending to 'decentralize the web', and after a few months of its launch; he had successfully integrated Peiwo on the blockchain platform.

How Does the TRON platform work?
There can be certain complex terms that might hinder your understanding of how the TRON blockchain platform works. Before we understand the whole process, let's define a few crucial blockchain-based concepts that imply the TRON platform.
Delegated Proof of Stake (DPoS)
Delegates is a consensus algorithm that can be considered an evolved version of the PoS concept. In DPoS, the users in the network tend to vote and elect delegates to validate the next block.
Super Representatives
There are 27 Super Representatives who can be referred to as the bookkeepers on the TRON network. They account for the verification and packing of all transaction data published on the network.
FYI, all the background details on super representatives are broadcasted on the TRON network for public access. If you are eager to learn more about them, the most suitable way to check out the list of SRs and their information is by using TRON's Blockchain explorer.
TRON Virtual Machine (TVM)
Developed for the TRON ecosystem, TRON Virtual Machine (TVM) is a lightweight turing virtual machine developed for blockchain developers to have a custom-built blockchain system at their disposal.
TVM helps in providing a platform that's secure, stable, scalable and convenient for blockchain developers to build DApps and smart contracts on TRON.
Also, the TRON virtual machine introduces a new concept of Bandwidth, which is very different from Ethereum's gas mechanism. With TVM, developers can transact or execute smart contracts for free, with no tokens consumed. In easy language, the executable computation capacity on TVM is not restricted by the total holding of tokens on the TRON blockchain platform.
You must note, that TRON virtual machine is also compatible with Ethereum Virtual Machine (EVM), which makes it easier for blockchain developers to port DApps from other EVM-compatible blockchains to TRON.
Coming back to answering how does the TRON blockchain work?
The TVM-compatible tokens are implemented on TRON via smart contracts. These tokens are executed using the TRC-20 technical standard and are completely ERC-20 compliant.
Additionally, TRON's architecture consists of three layers: Storage, Core and Application.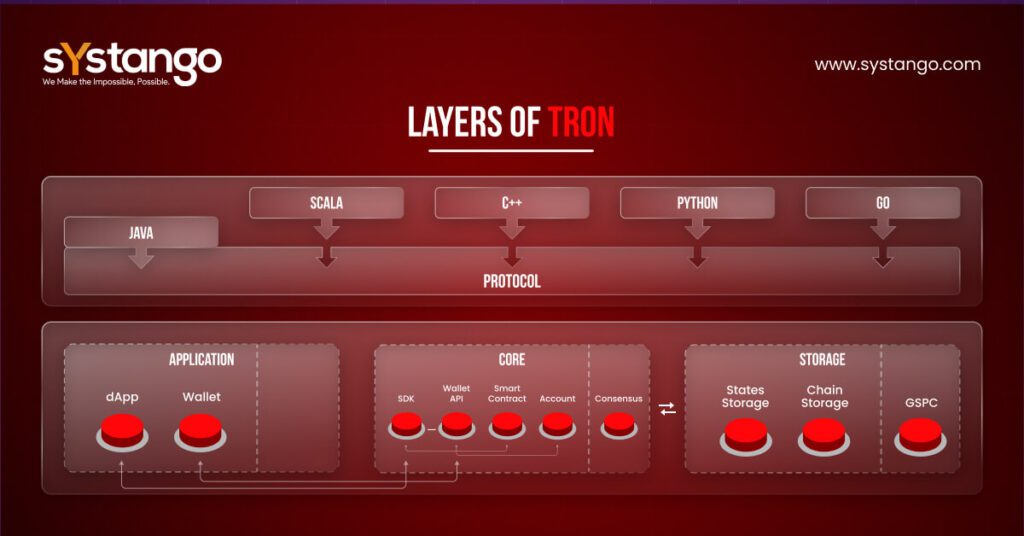 With the DPoS consensus mechanism, the users on the platform cast votes for different delegates. Post electing one, the elected delegates gain the power to decide all the crucial decisions that will affect the entire network.
The 27 Super Representatives (SRs) are deemed as representatives for keeping track of all the transactions taking place in the TRON ecosystem. They are also responsible for validating transactions. To manage the validation process, every six hours, an SR is picked and is rewarded with a TRX coin in exchange for their services.
Every 3 seconds, a new block is added to the TRON blockchain platform and the ones who add blocks are rewarded with 32 TRX coins.
Modules on TRON Blockchain
There are four core modules, which are mentioned below:
Consensus Module: you might be already familiar with the proof-of-work (PoW) system, which consumes high electric power and hence delivers a lower transaction-per-second (TPS). After extensive research and thorough investigation, TRON uses a proof-of-stake (PoS) model, making it easier to handle daily requests on the main chain. Further, DPoS will help them meet all the future demands in the blockchain development realm.
Digital Token Module: This module comprises two parts; the Configuration module and the Deployment/Issue Module. The configuration module helps users or blockchain developers to customize the digital tokens. Whereas with the issue/deployment module, the users can issue a token post its customization.
Smart Contract Module: Blockchain developers or TRON users can create smart contracts of any complexity and run them on TVM with the help of this module. All the smart contracts are written in Solidity or any other blockchain programming language.
KhaosDB Module: Utilizing KhaosDB in its full-node memory helps TRON store all folk chains and allows the witnesses to switch the active chain swiftly to the main chain.
Note: TRON blockchain platform makes use of a graph database, which allows for storing data and the structure of the network; making path-finding quicker, fast processing and boosting search capabilities.
Transactions on the TRON Blockchain Platform
TRON supports 2000 transactions/sec. Well, you must also note that TRON promises to deliver 10,000 TPS as well.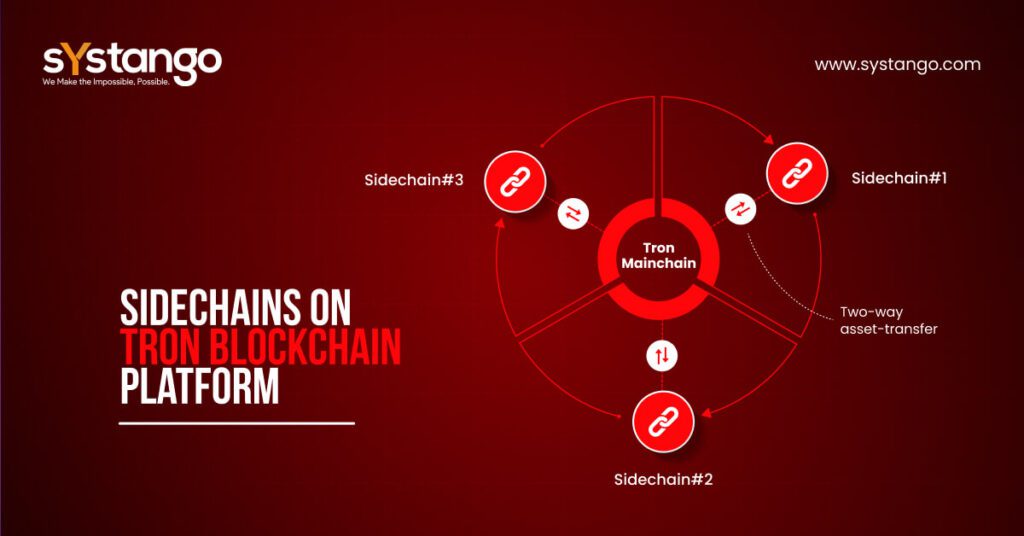 With an improved Delegated Proof-of-Stake consensus mechanism, TRON has enhanced its capability to deliver an improved throughput.
It operates on the approach of creating side-chains where users of the platform can store all the required information and then call the main blockchain only to confirm the pressing operations. With this, TRON has exceeded the throughput of Ethereum and even Bitcoin by multi-folds.
Also, if you are worried about the associated prices, you must know that TRON is very much affordable. It allows a few transactions for free, and since its launch, the number of free transactions has only increased.

Why prefer the TRON Blockchain Platform?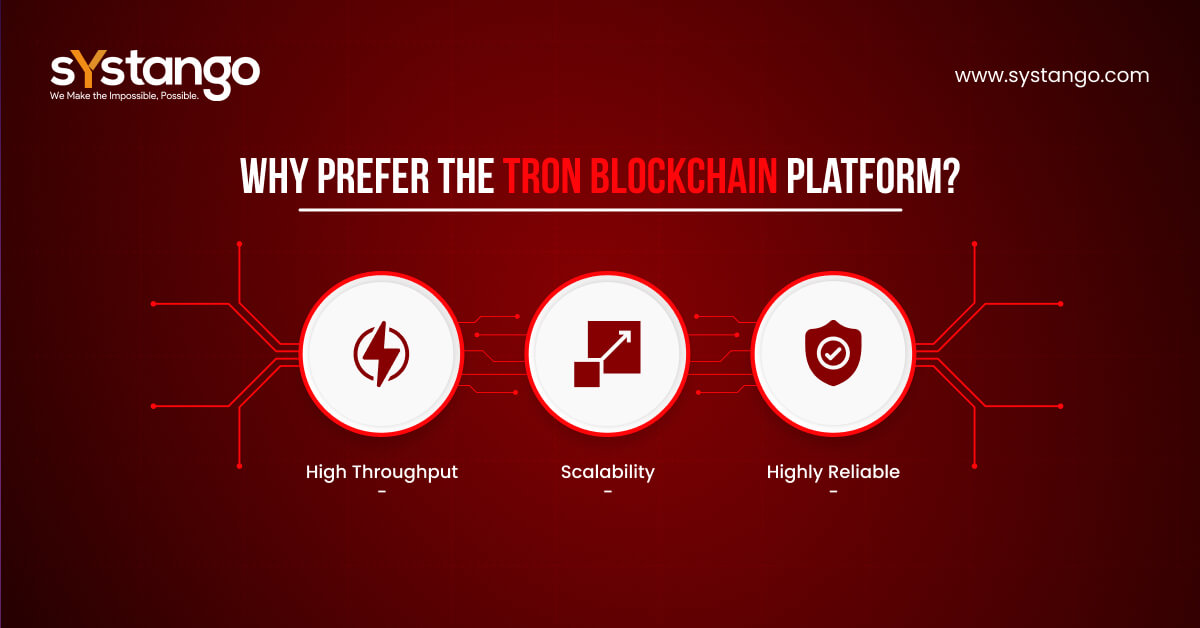 Apart from its top features of scalability, throughput, and reliability, below are the core features that the TRON blockchain platform offers in the field of blockchain application development:
Data Liberation: It aims at offering uncontrolled and free data to its users, and taking ownership of their content.
Exceptional TPS: When compared to other best blockchain platforms in the market, TRON can deliver the highest transaction rate, which is approximately 10,000 TPS.
No Transaction Fees: the platform vows to charge zero or ultra-low transaction fees to transfer currency from one source to another.
Supports Java: Unlike other platforms, TRON makes it easier for blockchain app developers to write smart contracts and develop DApps.
Personal ICO: On TRON, the users can easily run their own ICOs and own their digital currencies.
Strong Infrastructure: With already 100+ million users, TRON is bound to grow exponentially with increased usage and support from various industries.
Takeaway
TRON is not just a buzzword but is undoubtedly a blockchain platform that promises revolutions in the development of the blockchain-based application field. With its several unique features and positive offerings on scalability and transactions per second; it has outperformed its peers.
The Trust of partners like BitTorrent, Samsung, Opera, Swisscom Blockchain, Poloniex and many others makes it a more reliable blockchain platform for any application or smart contract development.
Not to forget, the market performance of TRX is exceptional as well. It is now listed on 130+ exchanges and has been recognised as one of the most promising cryptos by connecting millions of value investors across the globe.
Are you considering TRON for blockchain application development? Well, our expert blockchain app developers might help you in doing so! Connect with us for any TRON-based development requirement.
If not for development, do drop a comment to let us know what information must be added to this blog for making it more enriching!