Cost Of Building An Application
The cost of building an app can vary extremely. It can cost you from literally nothing to an awful lot of money. There's no direct answer to this as there are many factors in play. 
The top factors that affect the cost of building an app:
Type of App ( Game, social networking, Fintech, lifestyle, etc)

Platforms you want to build it for ( iOS, Android, Windows phone, etc)

Level of design ( basic, intermediate, premium)

Size of the App

Features and Infrastructure

Maintenance
Some of the most reliable mobile app industry studies have provided the following quotations for app development cost and timeline:
The median

app development price

is around $171,450 (at a rate of $150/hour), which represents 1,143 development hours. The total app price could even increase to $727,500 in the case of complex functionality implementation (

Clutch Survey

, 2015)

An average minimum app development project is between $5,000 to $10,000. The typical

cost of building an app

is likely to be far higher (

Clutch Survey

, 2017)

Enterprise

mobile app development cost

is an average of $140,000 (VDC Research, 2017)

Available

mobile app cost

calculators state a price range from $267,000 to $360,000 for complex, multi-feature mobile apps

Regarding the app development timeline: over 80% of mobile apps take 3+ months to develop; 40% of apps are built-in 6+ months (

Outsystems Survey

, 2018-19)
To understand the cost of building an app and the timeline associated with it, you need to understand which category your mobile app will fall into Simple, Moderate and Complex based on their levels of complexity. Based on that you can take below numbers to understand the approximate cost depending on the rates per hour the company you task to build the app charges: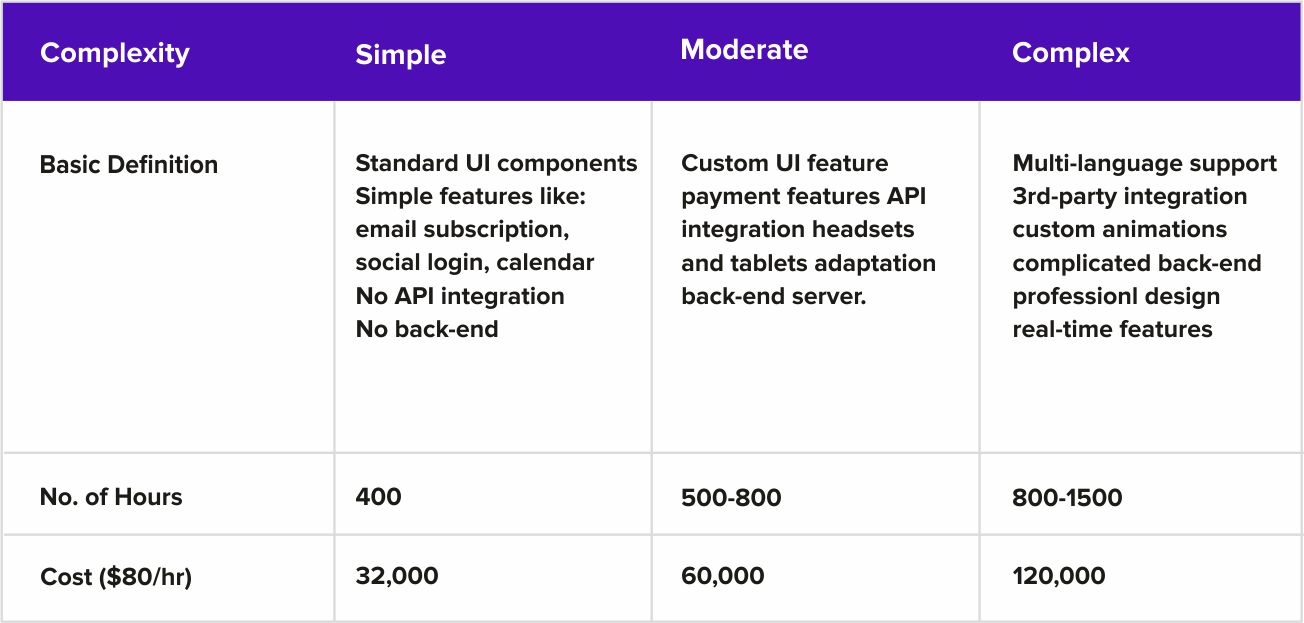 Please remember, these figures are only a representative time of building an app. You can never know the exact time without getting down to the specifications. The estimation above is for a minimum time and effort and does not include the complexity based on the technology used.   
Who Can Develop Your App?
There are 3 ways to develop your app: An established Mobile App Development Agency like Systango, Freelancers (you can find them on Upwork) and you, yourself! 
Mobile App Development Agency
Hiring a professional agency seems like an expensive idea but years of professional experience always have an edge. By collaborating with a dedicated development agency, you can ensure that your app not only functions well and looks good, but also that you have the necessary technical support and guidance that your app needs. 
Pros:
Get a Team – An agency will provide the complete team needed including project manager, developers – front-end and back-end, designer, QA specialist, etc.
You can vet them – check out their portfolio, project estimates, hourly rates, talk to the team and know them before hiring them.
Get quality work – Agencies have a lot to lose if they don't fulfil your expectations. Hence, agencies ensure that their employees do their work on time and do it well.
Cons:
Higher Cost
Freelancers
Some apps are very simple, and the security considerations are not critical. A freelancer would be fine at that end of the spectrum and may save you a lot of money.
Although, there are many cons:
Build your own team – you will have to find and interview individuals for different roles like developer, designer, tester, etc
Be ready to manage and coordinate – either you will have to hire a project manager as or you will have to become one.
Communication Gap – since the team members do not know each other and have never worked together before, it could become chaotic.
DIY
Well, if your app idea is similar to an app out there, you could buy the license for the source code and hire a designer to work on the look and feel. Appery.io, Mobile Roadie, Thrive are some tools you can use to create your own app without the need to code. If you are tech-savvy and need a small app, you can build it yourself. 
Cost When Systango Develops the App for You
Systango is a specialised software studio that provides custom web development, mobile application development, and software development. For any project, be it big or small, we equip you with a team so that a specialised person is working with you every step of the way.
For basic application development, our team and cost per hour would be:
Project Manager ($20+/hr)

Developer($25+/hr)

UI/UX Designer ($15+/hr)

QA Engineer ($15+/hr)
In the case of a complex project, this team could look like:
1 Project Manager

1 System Architect

2-4 App Developers

1 Back-End Developer

1-2 UI/UX Designers

1 QA Specialist

1 System Administrator 
Our Development Process
Systango takes its clients through a discovery, planning, design and production process. Adhering to this process has ensured a successful outcome for many of our clients. Systango's goal in discovery is to define features concretely, determine technology, integration specifics, and prioritise features so that investment is made in those areas that will provide the greatest return. After the output, the discovery phase is discussed with clients, we move on to the actual implementation in terms of designing, coding, testing and then launching the applications.
Here are the different phases of the application development lifecycle that Systango adheres to, the deliverables in each phase and the corresponding cost (for a simple application) for them.

Systango, we ensure we are cost-effective without making any compromises with quality. We ensure we spend time upfront than building a buggy app and take hours towards the end.
We have looked at the basic cost of building an app, but that's not the end of the expenses. There is one more factor that we need to consider while building an application –
App maintenance costs
Releasing your app in the App Store and/or Google Play is just the start of your journey. 
The average cost of maintaining an app is about 20% of the development cost per year. 
For example, if your app development costs $100,000, its maintenance will cost you around $20,000 per year. Additional features may drive up this cost, like:
powerful servers – $20-$60/month

push notifications – $10/month

payment gateways – up to $150/month (plus a fee on each transaction)

emergency maintenance – depends on the nature of the emergency

third party APIs charges

bug fixing

app stores developer fee – $25 at Google Play, $99 at Apple App.
But do not worry, we at Systango, try to reduce this cost as much as we can and help you understand how to generate revenues from your app to pay towards these costs. 
We hope this article helps you answer a few questions about your app costs, if you have any questions or need a more clear estimate for your idea, feel free to get in touch with us!