Create Your Own Apps – Zoho Creator
Last Updated on: April 27, 2023
We all know the value of time in business, we need to learn to use it efficiently. For this we need highly optimised use of all our resources so that we can save both time and money. Learning and implementing technology requires a lot of time, effort which is very nice. Stats show that 70-80% of businesses worldwide are small and medium-sized, so it's difficult for them to develop and maintain a costly tech team. Which is why Zoho built the zoho creator app.
There are a few low-code development platforms available today. They are designed for non-programmers who can build apps without having to learn languages like Java, Python, or writing 1000s of lines of codes. Learning and getting started with these platforms is quick and easy. It also helps save a lot of money during implementation as you yourself can build the app. Zoho creator app is one of these low-code development platforms.
In this blog, we will look at what are some of the inherent benefits of the Zoho creator app and we have included a small zoho creator tutorial to help you create your own app and we will discuss the Zoho creator pricing.
Let's get started!
Content:
What is Zoho Creator App?
Essentially Zoho Creator acts as a custom web application that helps to manage your business. You can collect all the important information about your business in one place and access it from anywhere and anytime, making everything faster.
Since the zoho creator app is available online, you won't have to download anything; people can access your zoho creator app from any operating system or from their mobile devices.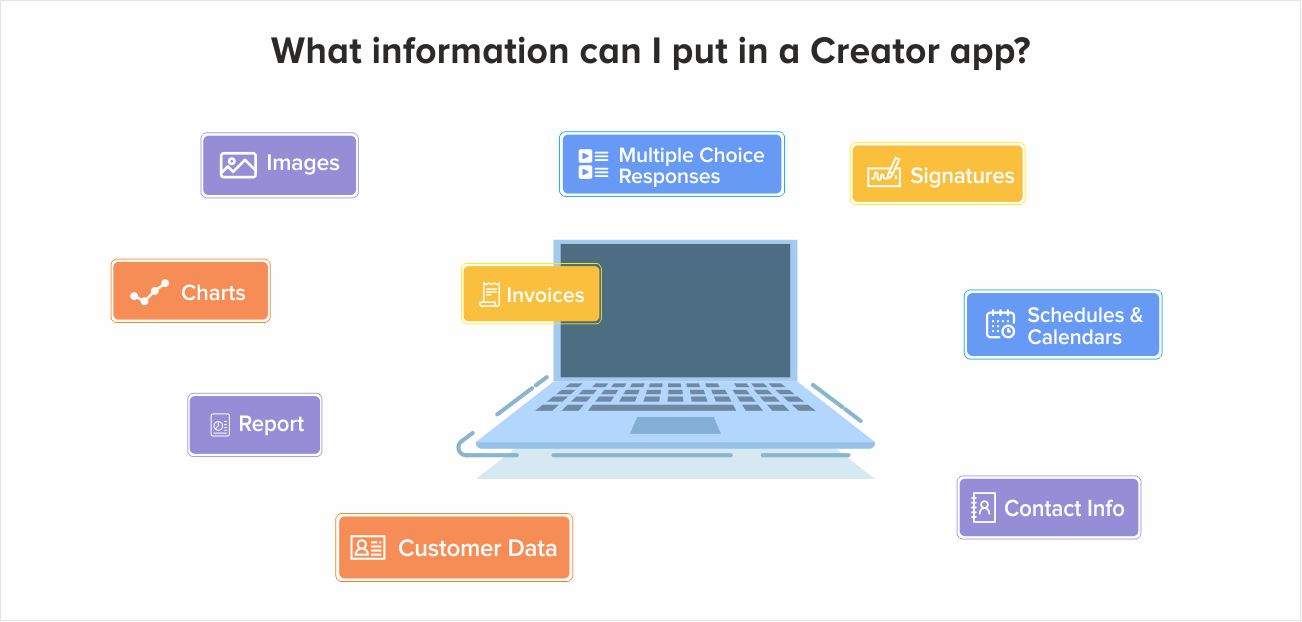 Zoho Creator App – The Low – Code App
The aim of zoho creator app is to allow businesses to build multi-platform applications be it simple call logs to complex ERPs. They want to allow businesses to build multi-platform applications be it simple call logs to complex ERPs. This would accelerate the development process by providing a rich ecosystem of intuitive visual builders, code editors, and pre-built templates.
Why Zoho Creator?
Zoho Creator allows businesses to collect data, automate processes or workflows, analyze data in reports, collaborate with other users, and even integrate with external applications. When you build an application on the Zoho Creator app, you will be able to get both a native iOS and a native Android app with it, so your users can access real-time data from anywhere, at any time. Zoho creator app allows you to take control—unify your data, processes, and people.
Means you don't need to spend lots of time to learn and not require expertise in Coding. You just need to create an application and start designing your form without HTML,CSS.
When you create an application you just need drag and drops of fields to design a form there is a collection of different types of fields including (Subform, Signature etc.).
Each form has its own table. When we submit data it stores data in tables so you don't need to worry about the database and its design. Zoho Creator app automatically stores data when form is submitted or edited. It also allows you to link between two forms by adding a lookup field in form.
Zoho Creator app provides sets of reports based on stored data in creator forms, you can easily create a number of reports to represent data in form of chart, pivot table, calendar view, matrix form etc.
This is an extended feature of Zoho Creator that provides a set of options to show statistics of any organization, it provides drag and drop components through which you can add components.
Some of these components are:
Panel: Summary of data for example total number of open lead, closed leas, won leads etc.
2. Charts: you can easily add a number of charts in the page that show data, creator support all types of chart to show accurate data (ex. Sales Funnel, Income and Expenses).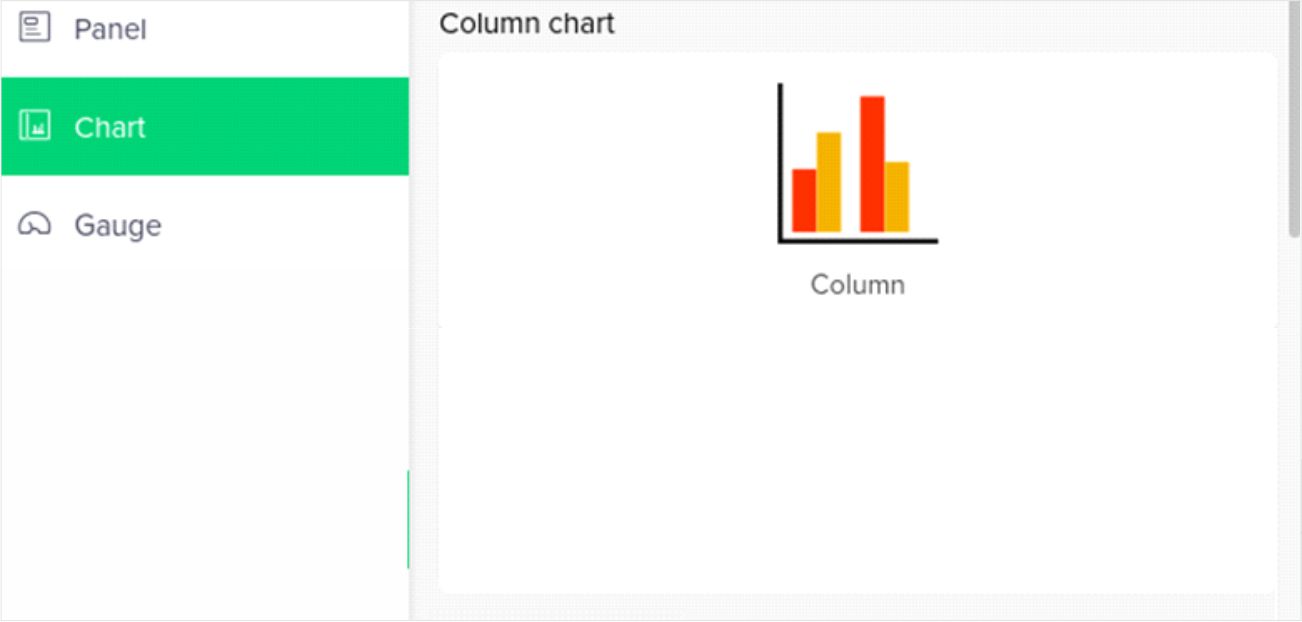 3. Gauge: You can easily add a gauge on the page to show your targets.
4. Snippets: if you have a little experience of coding (HTML) then you can create your own page to show the data as per your requirement of business, this is the advanced flexible feature of the creator. You also can easily embed your external website page in the creator app.
How Systango Can Help You?
 We provide technical consultancy to startups, enterprises, hedge funds, and banks on how to leverage the power of technology

We offer an end-to-end development team for web and mobile development

You can hire on-demand tech resources for your development nee
Reach Us
5. Widgets: Widgets are custom web components that can be reused through zoho creator application.
6. Forms & Reports: You can easily embed your forms and reports into the creator pages to show lists and can easily attach a form in page to for adding data. You can look at detailed reports from your dashboards .
Top Advantages of Zoho Creator to Create your Own App
As a leading Zoho Implementation Partner and a certified zoho developer, we find the following as top advantages for helping you create an app on zoho creator:
Automate Workflows
You can automate your whole business cycle by using 'Workflow' that streamlines communication, and automates routine tasks to efficiently manage your daily work.
You can auto populate data, collect information, perform validation and use logic to build a foolproof form.
You can see exactly what happens and trigger a set of actions based on user interactions.
Build Mobile Apps Faster
You can use Creator apps as mobile apps and keep yourself updated always.
Whether the need is big or small, as zoho implementation partners, we are here to help you build custom apps for a seamless experience.
Built-in Integrations
One of the most important features of the creator is that it allows for zoho integrations with all of zoho's applications and other 3rd party integrations without any complex configuration.
REST API
Zoho creator can access and consume data from a lot of platforms/applications. They also allow their data to be accessed by external apps using REST and RPC giving you added flexibility. It is also possible to connect with the zoho creator using programming languages as well.
Zoho Creator Tutorial – How To Create Your Own App
Now let's try and create our very own app with this simple step-by-step zoho creator tutorial. As zoho implementation partners, we have helped many of our clients build extensive apps using zoho creator. Today we will look at a simple app that we will create from scratch.
Step 1: If you are new in the Zoho world then you need to own a creator subscription from Zoho, it is very cost-effective and less expensive.
Step 2: Open https://www.creator.zoho.com in your browser and where you can see the below screen. Click on the Create Application option in the top right corner of your homepage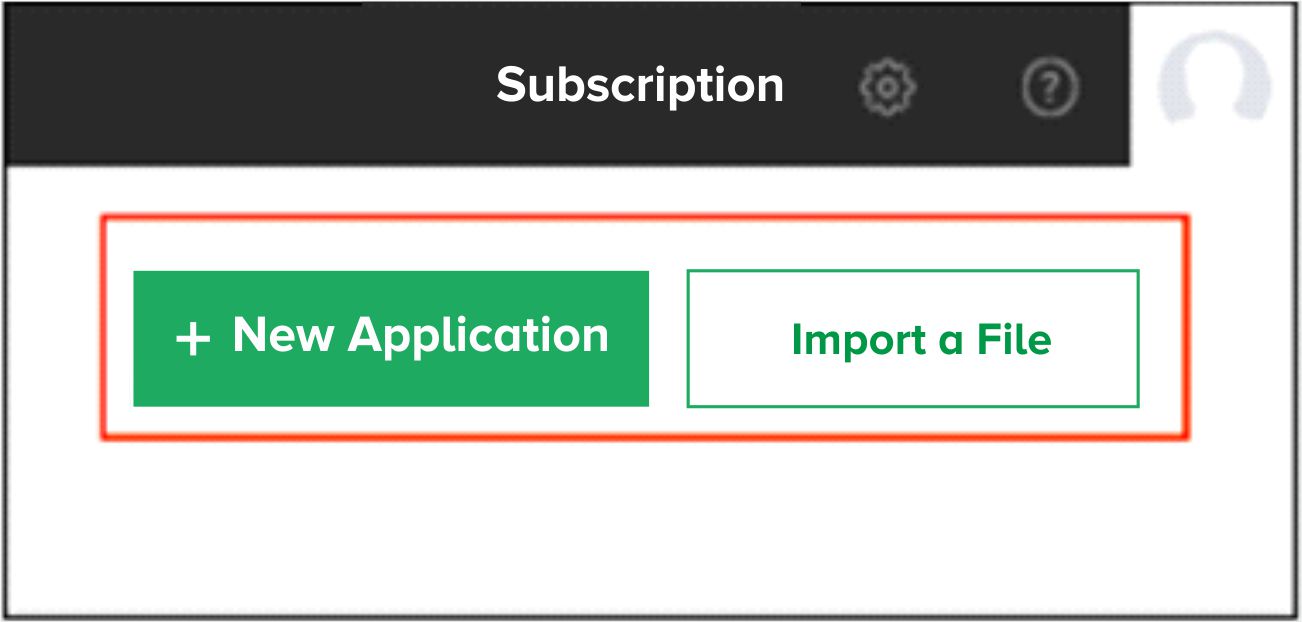 Step 3: Select the Create from scratch option from the Create Application dialog and Specify the Application Name in the text box provided.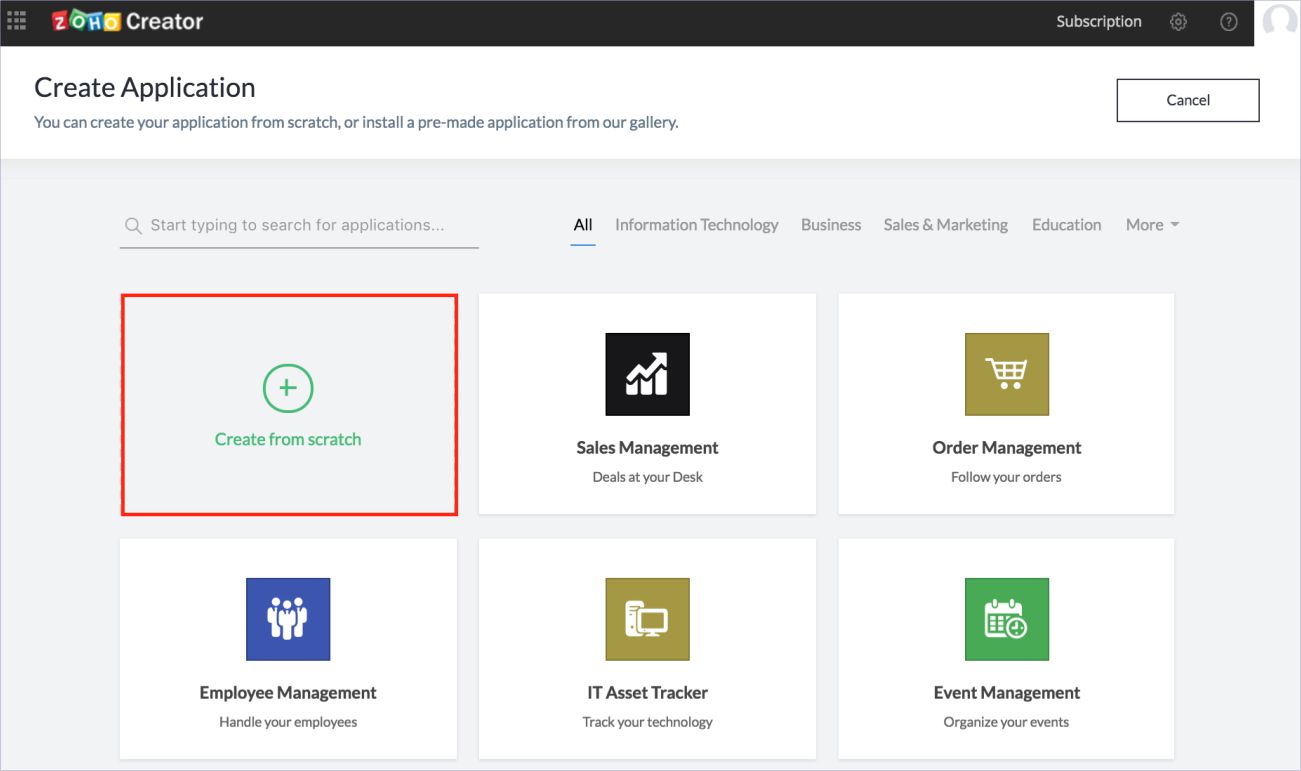 Step 4: Click on Create, and there you have it. Your first zoho creator app. Now you will see that the Application will be created and the Form builder will be displayed. You can redirect to the form builder. Now you need to add names in Title field.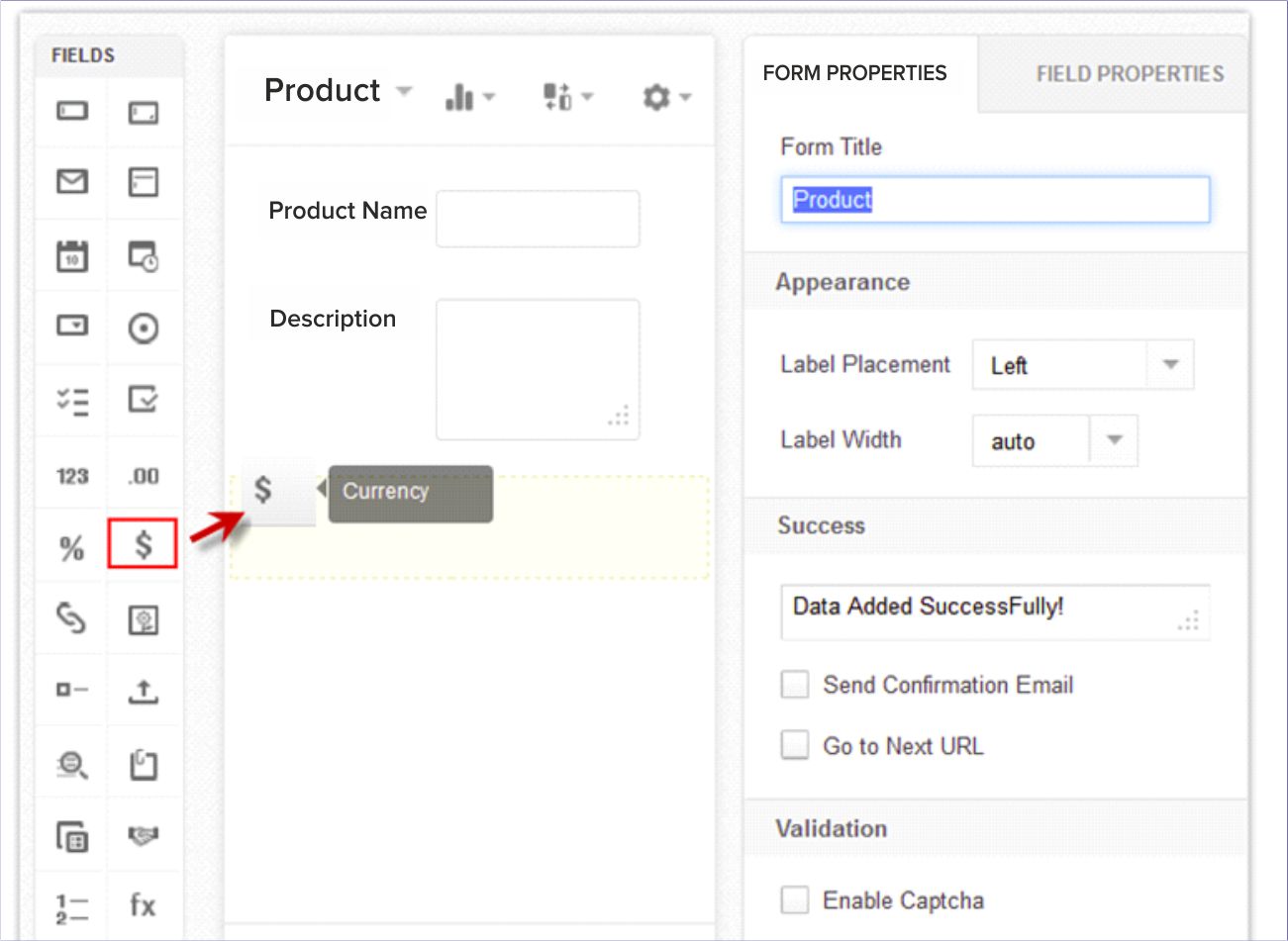 Step 5: Your zoho creator application is ready to build. You can add as many fields as you want via drag-drop.
Step 6: Now you can click on the access button for accessing the application, then you can submit the data with this form.
Step 7: As the Creator creates reports by default for each form so you can see or organise the data report from the report page.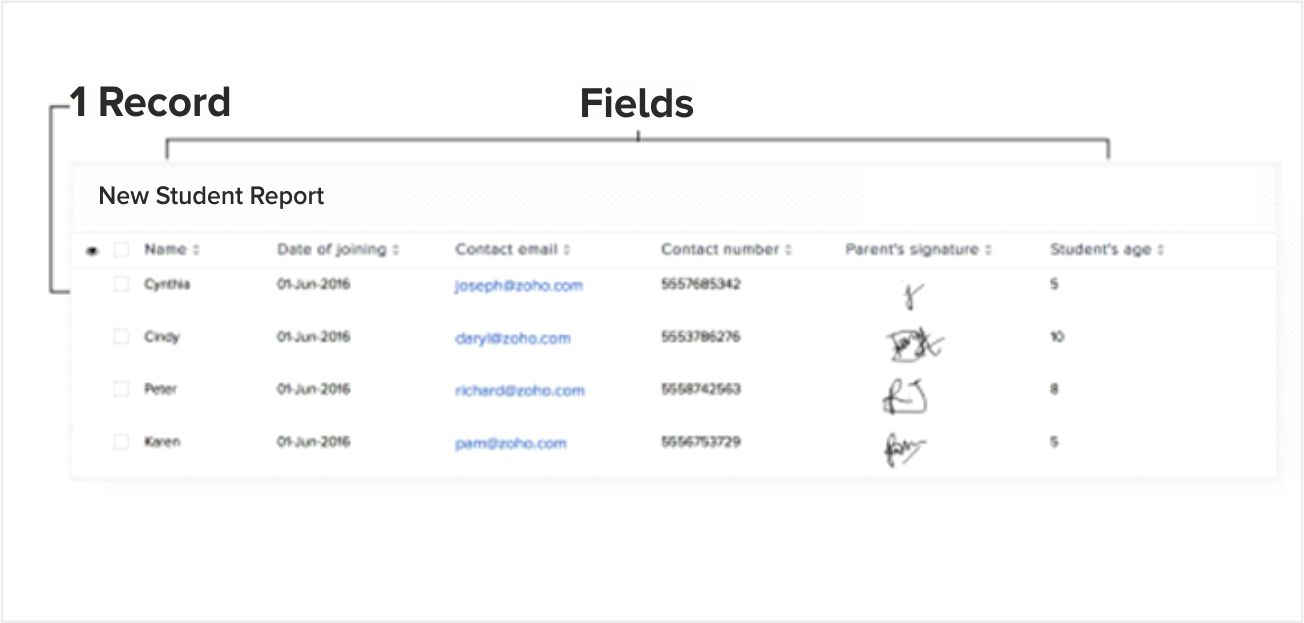 Deluge
The programming language for non-programmers
It speaks your language
One of the beauties of Deluge is that it lets you speak the language of your business, which makes it easier for you to convert complex business logic to functional workflows, and automate your process. Zoho creator pricing is a lot less compared to the benefits it offers.
Less Code
You already know how your app should work, so don't get bogged down learning complex programming to make it work. Deluge bridges the gap between your thought process and your app's logic, which helps you perform complex actions with fewer lines of code than with traditional programming languages
Save Time
Zoho Creator's drag-and-drop script builder makes advanced application building easy. You don't need to know how every line of code works to use them in your application. Just drag and drop snippets of code onto the builder, and Creator will help you format them appropriately.
Zoho Creator Pricing
A lot of businesses of varying sizes trust Zoho Creator to manage their data. There are more than 4.5 million apps on it. Zoho creator pricing starts with just $10 per month per user. They also have a Free plan which you can use to learn and play around with the Zoho creator app to understand how to build an app on it. But if you require many users and many more features they do have Premium and Ultimate pricing models as well.
As trusted Zoho Implementation Partners, we believe small and medium businesses in any industry can benefit the most as far as Zoho creator pricing is concerned.
How Systango Can Help You?
 We provide technical consultancy to startups, enterprises, hedge funds, and banks on how to leverage the power of technology

We offer an end-to-end development team for web and mobile development

You can hire on-demand tech resources for your development nee
Reach Us
Conclusion
With all these features, Zoho Creator appears to be the right tool for businesses that are looking for affordable ways to enhance the efficiency of their business operations. This tool offers solutions with workflow capabilities, ease of use, and secure cloud storage, and Zoho creator pricing is definitely not going to put a hole in your pocket. We hope the Zoho creator tutorial was able to get you started.
Zoho Creator app provides a strong set of tools with which you can build software for both in-house use and for customers. With the imminent end of Access Web Apps, we feel that this, along with Airtable and Podio, provide you with a fantastic set of options to address customer requirements. Still not sure if Zoho creator can be a great option for you, Get in Touch and our experts can help you!