In-house vs Outsourcing Software Development – Which Way to Go?
Hiring an in-house development team or outsourcing software development requirements – which one is a better choice for your company? By the end of the blog, we hope you can pick between the 2!
Content:
The 3 factors: Quality, Cost, and Delivery timeline are considered to be everything into deciding whether to hire an  in-house development team or outsource the software development needs.
Though mostly the 4th factor, project requirement is overlooked. 
So, instead of telling you which approach to take , we will share with you the pros and cons of both the methods and compare them on the 3 factors – Quality, Cost, Delivery Timeline. We will also see which companies use which approach and the cost of development for both the approaches.
Build an In-House Development Team
Whenever there's any new requirement, the first thought is to hire people. It does make sense as you get to vet, interview, and interact with each team member, you get to understand their skillset, and choose the best fit for your company culture. Your internal team is solely focused on your tasks, projects, and requirements.
So when you want to build a software product, you need to build an IT/development team. A software development team generally consists of software developers – backend and frontend or full-stack developers, web designers, UI/UX specialists, QA specialists, DevOps people, support team, and some amazing project managers. Depending on the size of the project, their numbers can vary. Now all you have to do is attract, source, and recruit these people. Believe me, that's not half as easy as it may sound. 
BTW, making sure to hire the best people who implement the best coding practices and maintain high code quality.
Pros of Having an in-house Development Team
1. Direct access to the Team. Higher Engagement. Promote Company Culture.
When you have an in-house development team and are involved in the hiring process, you know the ability of the team members and can assign tasks accordingly. It's easier to build workflows, develop corporate ethics, codes, and establish best practices right from the beginning. When you are working with your own team, you will probably be more involved in the day to day decisions, provide frequent feedback, and constantly upgrade and update with market needs. 
2. Effective Communication. Face-to-Face Meetings.
Working from the same office and having the same working hours does help in streamlining the communication process. Direct face-to-face conversations are more personal and help save time, avoid misunderstandings, and create relationships which helps accelerate the development process.
3. Expertise in your Company's Profile. Complete Understanding of Own Project.
When you are your own client, you know the requirements, and what's expected out of your team. You tend to invest time in understanding exactly what your company does and how to ease the process, optimise operations, be more effective and efficient and provide the best services for customers.
4. Increased Agility. Faster Response Rate.
An in-house team of software developers can quickly change the project's features, add new ones, and closely assess their technical background. Internal teams also deal with bugs and errors faster.
How Systango Can Help You?
 We provide technical consultancy to startups, enterprises, hedge funds, and banks on how to leverage the power of technology

We offer end-to-end development team for web and mobile development

You can hire on-demand tech resources for your development needs
Reach Us
Cons of Having an in-house Development Team
1. High costs. Full-time Employees = High Payroll.
An in-house development team is definitely pretty expensive compared to outsourcing your development requirements to an experienced and reliable company. Paying employees means insurance, increased office rent, software licensing, hardware, overhead costs, training, sick days, benefits, and much more. 
This high cost does make absolute sense if your core business is technology. Eg. Uber, for them to have an in-house team that maintains, fixes bugs, and regularly updates the app makes sense. But say, you need a static website for your local business, outsourcing this to a web development company that can do this cost-efficiently makes a lot more sense.
2. Lack of Skilled IT Experts in the Market.
Tech specialists are one of the most sought out people, so finding and hiring the right team can be really difficult. You also need to know what you want in terms of technology, skillset, and the team as a whole. And as a recruiter, you should also have the technical ability to vet and assess others accurately. 
If having an in-house development team is a requirement for your business, you can always look at top CTOs in your similar space and get them to work with you on building the team. The whole process of first finding the most suitable CTO for your company and then attracting, sourcing, interviewing, and hiring new resources could take a very long time.

FYI – For this new team to become effective and contribute to your company growth could take up to a year easily.
3. Skill Development. Versatile Team. Staying Up-to-Date.
The technology landscape is changing every day so it's important for the team to keep training and stay updated with the market needs. There are quite a few advancements in AI, Machine Learning, IoT, AR/VR, which your tech team should be able to leverage.
If you are a company selling furniture online, implementing AR in your app can really set you apart from the competition and become a huge USP for you. Similarly, leveraging AI and ML to predict and forecast future user behavior is extremely important for inventory management.
If your in-house development team is not updating their skill set, it's gonna cost your business.
Top Companies That Have Built an In-House Development Team
PayPal

has a complete in-house development team to provide the highest quality products worldwide.

CapitalOne

relies entirely on its own development team for all its tech products to ensure they meet all the regulations and for high-quality innovative deliverables.

Amazon

also employs an in-house team to handle most of its business processes to maintain a level of secrecy.
Cost of Building an In-House Development Team
Let's say you are building a mobile app like Uber or something with similar complexity. This app has 3rd party integrations, multi-language support, a complicated backend, an amazing frontend, and real-time features. For such a project, you would need to hire a team that looks like: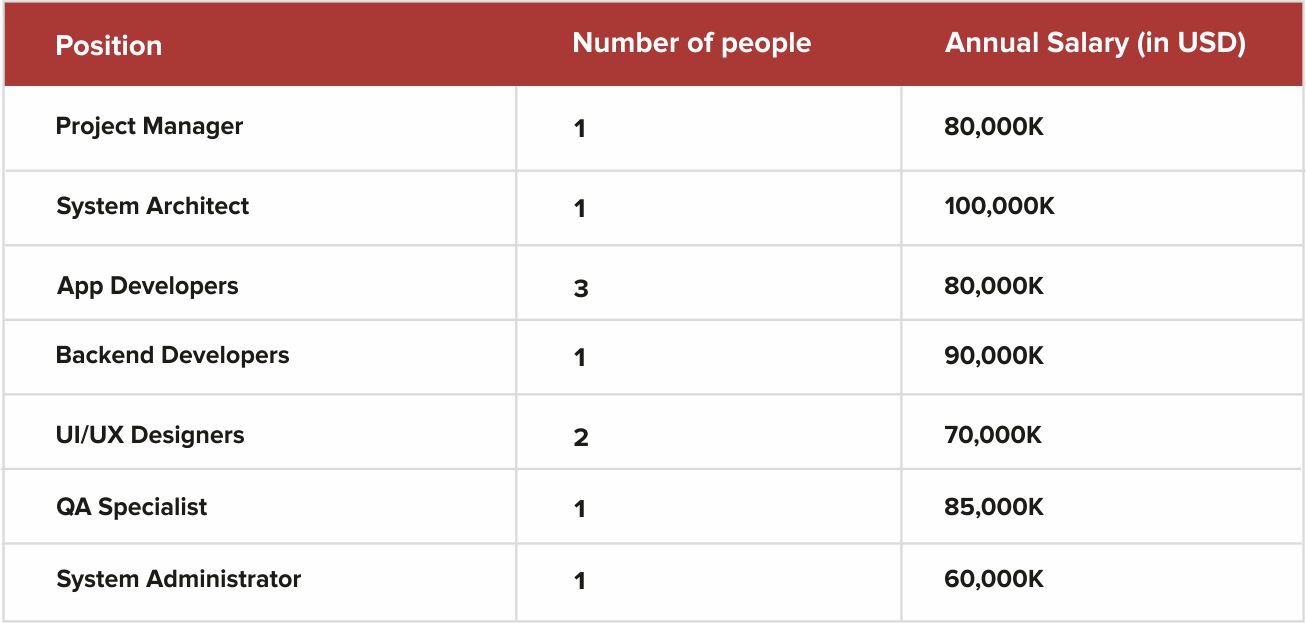 The yearly cost of maintaining this team is pretty high. So unless it's extremely important and viable for your company, shelling this much money can be a difficult decision. You also need to factor in the costs of hosting and maintaining your platforms. The salaries are average salaries in the US in 2nd tier cities.
Outsourcing Software Development
Outsourcing custom software development is no longer just a way to cut costs. A survey carried out by Harvey Nash and KPMG, found that 46% of CIOs use outsourcing to access skills, with cost savings becoming a lower priority. And about 32% of them plan to increase their spendings on outsourcing.
In the past couple of years, the way outsourcing is looked at has completely changed. Startups, businesses, and enterprises are more comfortable with hiring custom software development outsourcing companies and making them part of their teams as can be seen from the numbers below.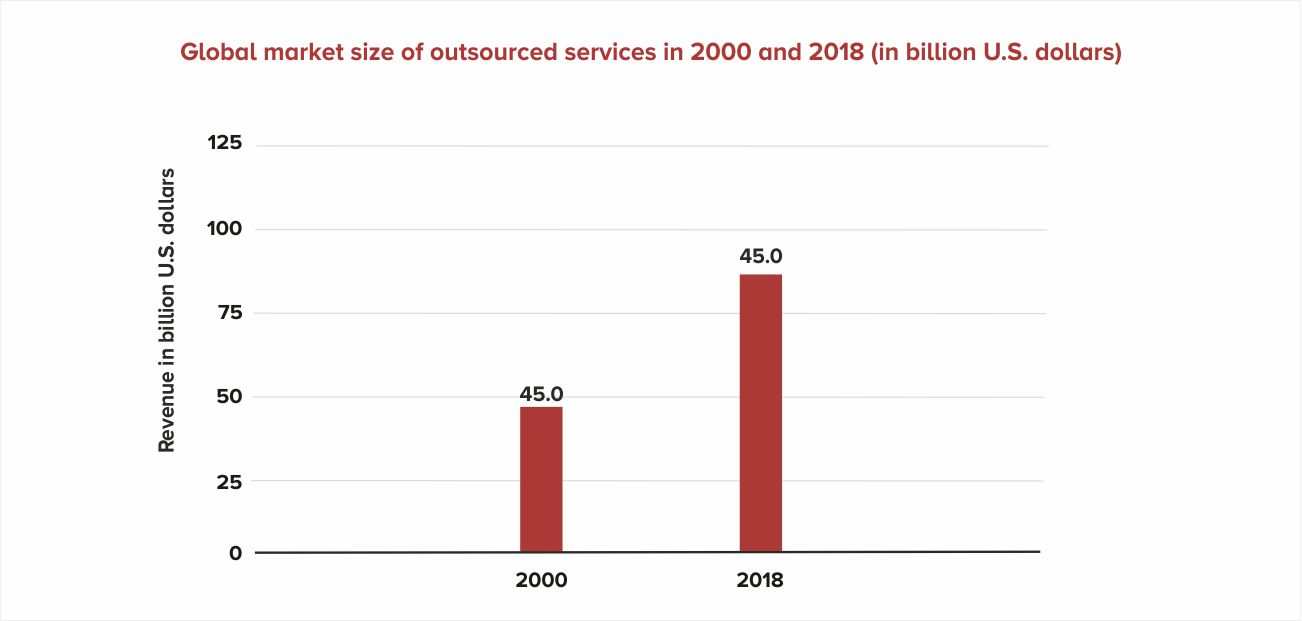 Pros of Outsourcing Software Development
1. Cost-Efficiency. Low-cost Development.
Be it a startup, SME, or an enterprise, resources are always limited and we need to use these resources efficiently. Sure, saving resources is not always the priority, but if possible, who wouldn't want to save money. Here are the average salaries of software developers worldwide which clearly shows how it can be extremely expensive to hire software developers in some countries compared to others.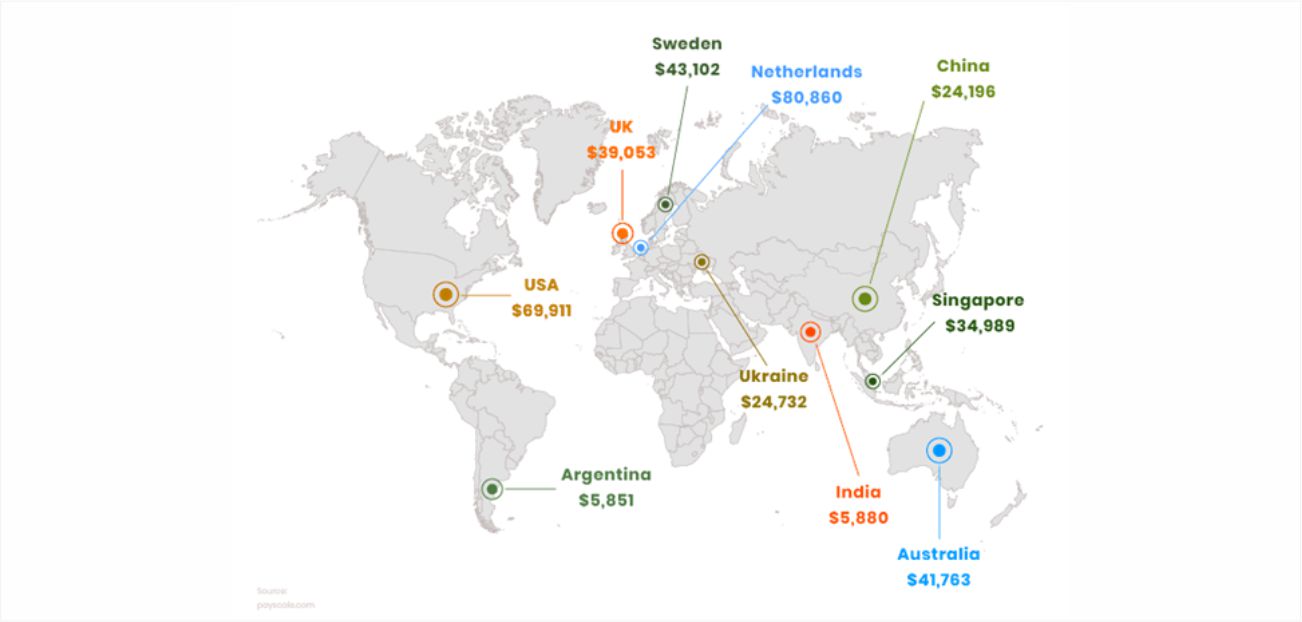 Definitely, you will have to check out a few custom software development outsourcing companies and see who fits your requirements. There are quite a few factors you should consider while choosing the right outsourcing software development company for your tech needs.

2. Recruitment Made Easy. Hire a Full-Cycle Team Effortlessly.
You do have to recruit an outsourcing custom software company, but that's about it. You don't need to worry about building the entire team from scratch. They will be able to build a team with all the skill sets needed for your development needs. This will help you save a lot in terms of not just costs but also time and effort. In the time you would spend on finding, building, and mentoring your dream team, you could actually build your entire project. Why kill yourself when you could easily hire a company that provides custom software development outsourcing and offers a full range of services along with risk management?
3. Highly Skilled Team. Get Expertise You Lack. Top Talent.
Custom software development outsourcing is no longer a stigma.  Generally these companies have a wide range of experts in various technologies. They have worked on multiple projects and come from different backgrounds, their insights and suggestions can really help you build a much better product. 
Say for eg. you already have a small team of people who built a web app for your online real estate showing platform, now instead of hiring both iOS and Android teams to build your mobile apps or outsourcing custom software requirements can solve all problems. If you would like to add AR and stay ahead of the market, they will have the expertise to do that as well.
4. Easy Scalability. Grow Your Team Fast.
When you have hired an outsourcing custom software company as your technology partner, you can scale or shrink your team based on your need. This will not only help keep your project lean but will allow for the easy address of new project requirements. 
If you have been outsourcing your software development requirements to a leading IT company for web application development, and you decide you also need to launch iOS and Android applications, this can be done very easily. Similarly, after your web app is built, you may need just one person for maintenance, so shrinking your team size will also be effortless.
5. Proven Processes. Successful Workflows.
custom software development outsourcing companies have experienced teams that have worked on 10s if not 100s of applications together. They know how to collaborate efficiently, which tools to use, and have improved processes and workflows to boost their productivity and deliver excellent results.
A software development agency can help you build a full-cycle team  – Project Manager, QA Specialist, UI/UX designers, developers. This will allow for a more holistic approach to product development.

How Systango Can Help You?
 We provide technical consultancy to startups, enterprises, hedge funds, and banks on how to leverage the power of technology

We offer end-to-end development team for web and mobile development

You can hire on-demand tech resources for your development needs
Reach Us
Cons of Outsourcing Software Development
1.Low-quality Code. No Documentation. 
If you partner with a custom software development outsourcing company and if they fail to follow proper coding standards and prepare appropriate documentation, it could be very difficult to transfer the project to another team. For us, following coding standards, peer-to-peer code reviews, outlining and preparing all documentation, providing training are all part of our processes.
2. Business failure. Company Closure. 
Every business has risks and threats. It's a possibility that the outsourcing software development company could go out of business or have to reduce staff, it's definitely a rarity but still a possibility. The best way to avoid such a situation would be to vet the company you plan to work with properly. At Systango, we have been growing at a rate of 20% year on year, we have strong risk management and business continuity protocols in place.
3. Limited Control/ No Direct Control Over The Development Team.
Your application or software development is a critical part of your business and not having a complete control over the team working on it can be frightening. We ensure that our teams follow project management standards that enable frequent communication, and regular reporting and feedback so you are as involved as you would like to be.
4. Communication Issues. Collaboration Problems.
When you partner outsourcing companies that are in a completely different time-zone and it's difficult to travel to their locations. Before we start working, we establish guidelines for communication and collaboration tools. Skype, Slack, Asana, Trello, Jira are some common tools we use for smooth working.
Top Companies That Are
Outsourcing Software Development
Grindr,

the world's largest social networking platform for LGBTQ community, hired Systango to add some functionalities and perform extensive end-to-end manual and automated testing for scalability, reliability, and stability.

Check out our work for them here.

UberConference by Dialpad,

the winner of TechCrunch disrupt,

relied on Systango

for their

custom outsourcing software

requirement to build a cloud-based conferencing platform. 

Porsche

world's top sports car manufacturer needed an iPad app and a CMS for their outreach programs. Believe it or not, we built it for them in under 3 weeks!
Cost of Building an App By Outsourcing Software Development or Hiring Systango 
Consider the same example that we used above, a mobile app like Uber with similar complexity like – 3rd party integrations, multi-language support, complicated backend, an amazing frontend, and real-time features. 
We will use the same team as above and the average cost per hour would look like: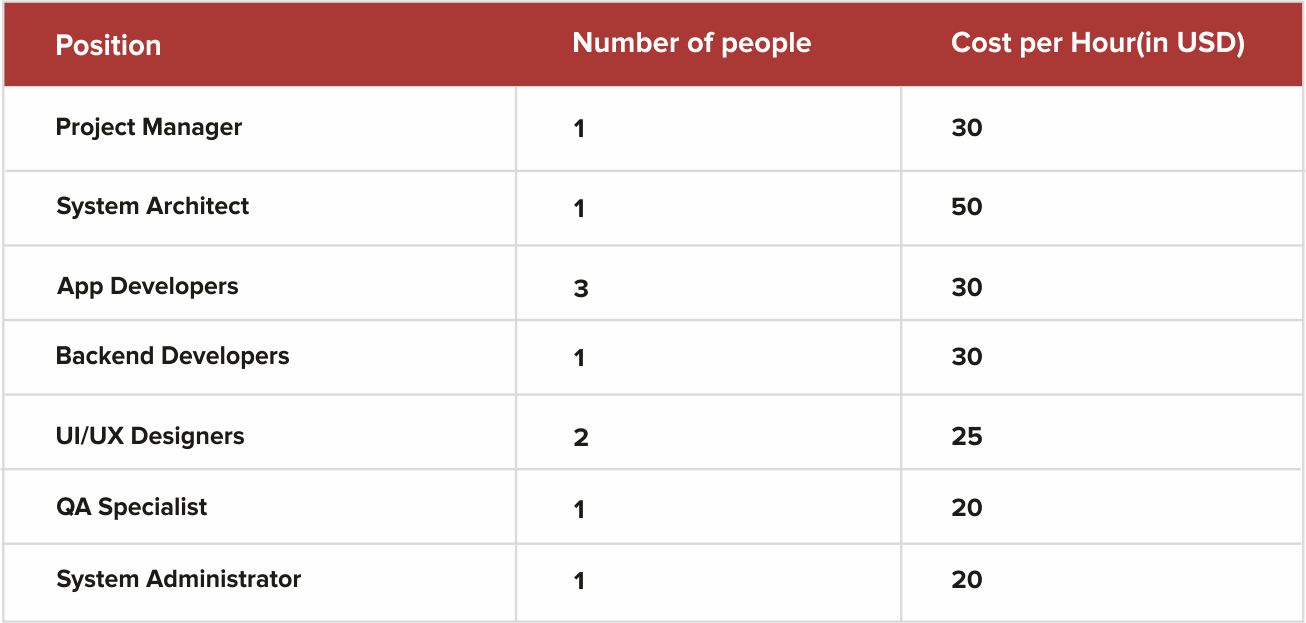 For a complete understanding of how much app development with Systango can cost, read this.
Why Outsource Your Software Development Needs to Systango?
Systango is a web and mobile development boutique agency headquartered in London. We offer high quality work at reasonable rates and have highly qualified developers. Both in-house team and outsourcing require an understanding of skills, patience, and diligence. There are three important factors to consider while picking one from a pool of custom software development companies budget, project scope, and timelines.
Get in touch to know how we can help!