Intro to iOS App Development – Hosted by Gen Ashley & Vinita Rathi, Directors Women Who Code London chapter.
Last Updated on: July 21, 2020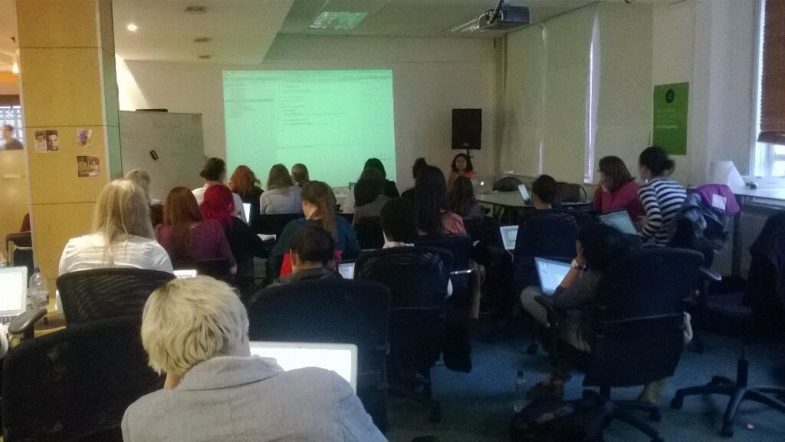 Intro to iOS App Development – Hosted by Gen Ashley & Vinita Rathi, Directors Women Who Code London chapter.
Women Who Code is a global movement inspiring women to excel in technology careers. Back in my college days I always wondered about low number of women in technology streams and if there is anything I could do about it.
Having worked at Goldman Sachs as Vice President Technology, I was always involved n promoting Women in Tech, and I jumped off my chair as soon as I came to know about this initiative. My role at Systango, Co founder hardly gives me any bandwidth to network and work anything off work but I knew this is one of the initiative I cant let go. This is something I really believe in.
At WWCLondon chapter we will be organizing various events to educate, motivate and help women to move ahead in technology careers.
One of the event of the series was on 27th May, at Makers Academy. We had more than 50 ladies signed up for the event, quite a few on waitlist and about 35 actually turned up at the event.
We began at sharp 6:30PM with Merici Vinton (Founder of Adaslist) who shared her story of how she started in tech, Obama campaign, ended up in setting up technology team for federal agency, her move to London and the work she continues to do to promote women in tech. I cant agree more that women well established in tech now need to pull more women and should develop leadership. Go definitely join Adaslist.co – its only by sticking together we can address gender gap in flourishing tech industry!
After Merici finished, I  began tech session on iOS. My goal was to start with basics – why Objective C exists, how it differentiates itself from C and C++,  Android apps vs iOS app, Google Play Store vs iTunes, XCode nuances and then gradually take attendees to build a simple hello app, app submission on apple store. We went through powerful interface builder XCode provides and did few exercises. By the end of the session each one of us had a working iOS hello app!
Afterwards few of us stayed, chatted about if we should do advanced iOS sessions, open source projects one can contribute to. There were lot of questions around how I ended up starting Systango from a stable career at Goldman Sachs as Vice President Technology. We then headed to a pub where the chat continued.
If you are interested in joining one of the advance iOS sessions – you can RSVP here.
Feel free to leave your comments, suggestions on what you would like to see Women Who code do more and how we can help you in your career progression! If there is anything you believe I personally can help you with – shout and I will do best I can.