Learning Management System – How Can It Boost Business Success?
Last Updated on: June 20, 2022
According to the eLearning Industry Reports,
Organizations can save up to 60% of the time by using an online learning management system instead of traditional training.
IBM saved $200 million after switching to online learning.
7/10 companies that offer training are using an online learning management system.
The above-mentioned stats are enough to state online training is a trend that's enhancing business success. If you are still not convinced, then go on reading this blog. Here, we will be explaining how a learning management system can boost a business's success. But before jumping into that let's have a look at:
What is a Learning Management System?
A Learning Management System is a software application or SaaS platform that supports the automation, administration and delivery of educational courses, learning and development programs and training courses. The LMS software helps you deliver training materials to various audiences and deploy a variety of learning strategies across different formats. This includes everything from formal, social and experiential learning to compliance training, certification management and sales enablement.
LMS software is nothing but an advanced version of eLearning. While the movement towards e-learning started in the education sector, the corporate world quickly picked up the trend with the learning management systems. Businesses today have diverse, remote and spread out workforce and hence they need to provide employees with anywhere-anytime learning solutions. Additionally, learning processes need continuous upgrades and tweaks to adapt to the dynamic customer demands. This organizational need makes it crucial for today's businesses to have an online training platform.
How Learning Management Systems Boosts Business's Success?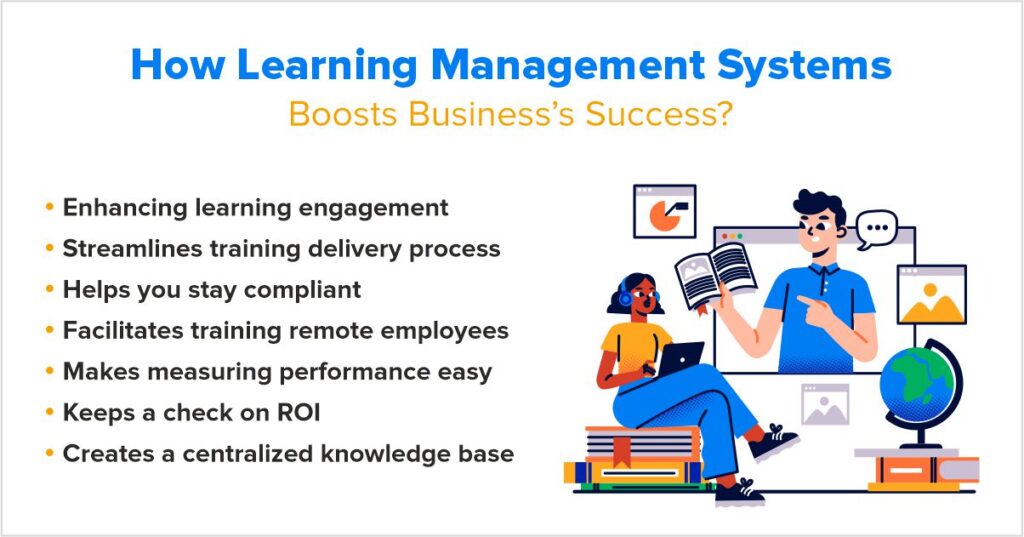 Enhancing Learning Engagement–
Learning can only be successful if it is engaging. The type of training where businesses use classroom-based practices and provide lengthy documents for workers to read and revise often results in employees not completing courses or not performing well on them.
A learning management system, like Swotter, can give HR teams and managers the tools to deliver a great training experience. Moreover, Swotter helps you welcome new hires into the organization and makes them become productive sooner with the right onboarding training.
A recent study also found that 76% of online learners are using their own devices to access course content and training materials. Ultimately, today's workforce wants the freedom to access learning from home and learn on their own terms. With a cloud-based LMS, employees get the flexibility to access their courses and complete their learning at a time that suits them.
By making learning more accessible, a learning management system makes employee training more successful for everyone and helps improve course completion rates. Thus, improving the performance of the employees and boosting the business's success.
Streamlines training delivery process–
The learning management system helps in streamlining the training delivery process. An easy-to-use solution can help managers and HR teams produce new learning material quickly so employees can continuously improve their skills and eventually productivity can constantly improve.
With LMS, companies gain the agility to keep up with the latest skills and invest more time in teaching trending skills to their employees. In this way, an online training platform can provide a competitive advantage that helps in bringing more success to businesses.
Helps you stay compliant–
Noncompliance is costly and can prove extremely damaging for businesses of all sizes, no matter large enterprises or small-scale industries. Noncompliance can lead to serious legal and financial issues and can damage a company's reputation as it is just a matter of seconds in the era of social media.
Learning management systems enable employers to extensively train employees on policies and procedures that fulfil compliance for your industry. With the flexibility for workers to access and complete training from any location and at any time, businesses can provide compliance training to the new joiners in no time. This means employees can acquire compliance training during the onboarding process or even before getting onboarded, and become work-ready as soon as possible.
Facilitates training remote employees-
According to Review42, 88% of the organizations worldwide made it mandatory or encouraged employees to work remotely after COVID19 was declared as a pandemic. Hiring remote workers has become more accessible than ever before thanks to advanced communication software. However, remote workers might not be able to receive the same level of detailed training, development and onboarding since they are not physically present in the workplace. Learning management systems eliminates these hurdles and enables HRs and managers to provide the same level of quality training. Learning management systems facilitates training remote employees and keeps them remain aligned to advanced technologies.
Makes measuring performance easy-
Employee performance is something that before the widespread adoption of online training platforms was difficult to analyze. Using LMS software, businesses can not only see how the employees are participating in training but they can also track the performance using centralized data. This helps managers to track how seriously employees are taking the training process and how well employees grasp information after they have completed the training module.
You can also add surveys in your training module to determine whether the training material is effective enough or require changes.
Keeps a check on ROI–
With LMS software, businesses can not only measure employee performance, but they can also check the overall ROI of their training initiatives. By linking your training with business goals and objectives, you can determine whether your training program is bringing a positive outcome in the overall ROI of the business. This will also help you make necessary adjustments as per the business goals and market needs.
Creates a centralized knowledge base–
A learning management system creates a centralized, streamlined place where all the crucial knowledge resources can be kept. Moreover, you can easily access, grow and share it through an online training platform. If information is not consolidated in a single place, it can be lost. The learning management system alleviates this by bringing all the courses and training content together.
Train On The Go and Improve Retention Rate with Swotter Learning Management System
Build a smart organization with the Swotter online training platform designed to help teams to grow. The platform offers a great training experience for every scenario and every team – whether it is onboarding training, compliance training, or sales training.
Here are some of the features offered by Swotter –
Reports: The platform offers real-time, custom, scheduled and dynamic reports, training infographics as well as exportable excel sheets, enabling you to keep track of training progress.
Online or In-Person Training: Whether you want to host online training for the entire or in-person training sessions, our LMS software enables both.
Create Courses: You can create courses from scratch or drag and drop all types of media like videos, presentations and docs with Swotter.
Take Tests and Quizzes: Add your own quizzes, tests and assignments, custom design certificates to appreciate your team after successful completion of courses and quizzes.
Gamify courses: Swotter lets you add gamification to courses with badges, dashboards, points, levels and rewards.
Bring together all training tools and materials in one place with Swotter. Know more about the tool here.