Mental Snapp – Document and Analyze Your Feelings and Moods
Last Updated on: July 14, 2020
How would you like to have a free app that not only lets you catalog how you're feeling at anytime, but also collect and analyse those feelings and moods? You can, with Mental Snapp.

Think of it as your own personal video diary — a way to record your feelings and emotions at any time, or schedule a recording at a certain time of day, like near a looming deadline.
The creator of Mental Snapp came to us with a concept — they wanted a way for users to create their own video journal of feelings and emotions. But with the dedication of the design, developer and quality assurance teams, it grew to become much more than that.
In addition to being able to record emotions and feelings anytime and anywhere, you can also participate in guided exercises to help relieve anxiety or panic attacks.  Using this app, you can uncover certain triggers and share your organised findings with your physician or therapist. Let's take a closer look:
The Mood Tracker
Mental health is still an uncomfortable subject for many people, and we often feel embarrassed to talk to our doctors about the feelings and emotions we're experiencing. The Mood Tracker area of the app allows you to see an overview of your moods throughout the month.  You can see specific "peaks" and "valleys" to determine if certain times of day affect your mood or aggravate stress.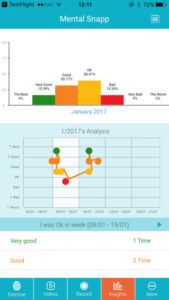 In addition to seeing the big picture of your overall mental wellness, you can also participate in exercises that are designed to lift your mood and elevate your feelings of happiness and calm.  With the Exercise section, you'll see how many different factors contribute to your mood, such as how much sleep you get, what you eat, what you drink (including alcohol) and much more.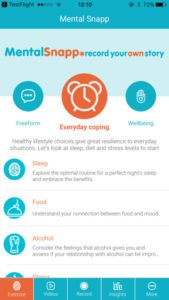 You can also use the calendar function to schedule time for well-being exercises — a great way to unwind after a long day at work!

Let's take a closer look at some of the mental health categories in detail:
How Mental Snapp Helps in Improving Mood and Mental Health 
With Mental Snapp, not only can you record and view your moods on specific days and times of day, but you can also take the next steps toward feeling greater fulfilment and higher self esteem:
Video Journals

– Engage in deeper self-reflection by recording and referencing your moods and emotions anytime for any reason
Everyday Coping –

Keep track of and reference your sleeping, eating, stress and alcohol habits
Well-Being

– Create the foundations for an improved mood, better confidence and greater expertise in your career
Relationships

– Improve your communication, appreciation, love, respect and acceptance with your partner
Productivity & Purpose –

Define your purpose, analyse your achievement, improve your productivity and employment prospects
SOS! –

Answers when and where you need them.
It may not always be easy, but with this helpful app, you can start taking care of your mental health the smart way. Download it today for free and give it a try!
We at Systango create first-rate web and mobile apps that have a substantial value of driving change and empowering people. Contact us to discuss the idea for your next digital product.