The Best Guide on App Retention Strategies and How to Increase Retention Rate
Last Updated on: April 27, 2023
Did you know that only 40% of customers continue to use an application they downloaded a month ago? This number drops to 10% after 6 months and after a year only 4% of customers are found using the app.
In business, a lot of daily grinds are needed to retain customers and mobile apps aren't different. Undoubtedly, the number of installs signal that an app is popular amongst users, however, it doesn't tell the whole story. The real success of an application is defined by the number of users who keep coming back to your app to perform an action for which the app is designed.
With over 2.96 million apps in the Google Play Store (don't forget, most of them are free), it has become very difficult to impede users from jumping the fence.
That being the case, simply pushing tons of traffic to your application and increasing mobile app downloads won't help. You need to earn loyal users and shift the focus from acquisition to retention.
In this article, we are covering every aspect of app retention as well as app retention strategies that you should be acquainted with.
Contents of the Blog
Let's start with the basics.
What is app retention rate?
Simply put, app retention rate is the percentage of users who still keep coming back to your app and perform the desired action, a certain number of days after they first installed it.
Here is how to calculate app retention rate:
App Retention Rate = No. of unique users that triggered one session a day/ total installs within a given cohort
In the case of mobile apps, the percentage of users coming back to the application in the first 48 hours after download plays a major role in deciding the success of your application. According to the study, 25% of all applications are used only once, which means the steepest drop off occurs in the initial 1-2 days only.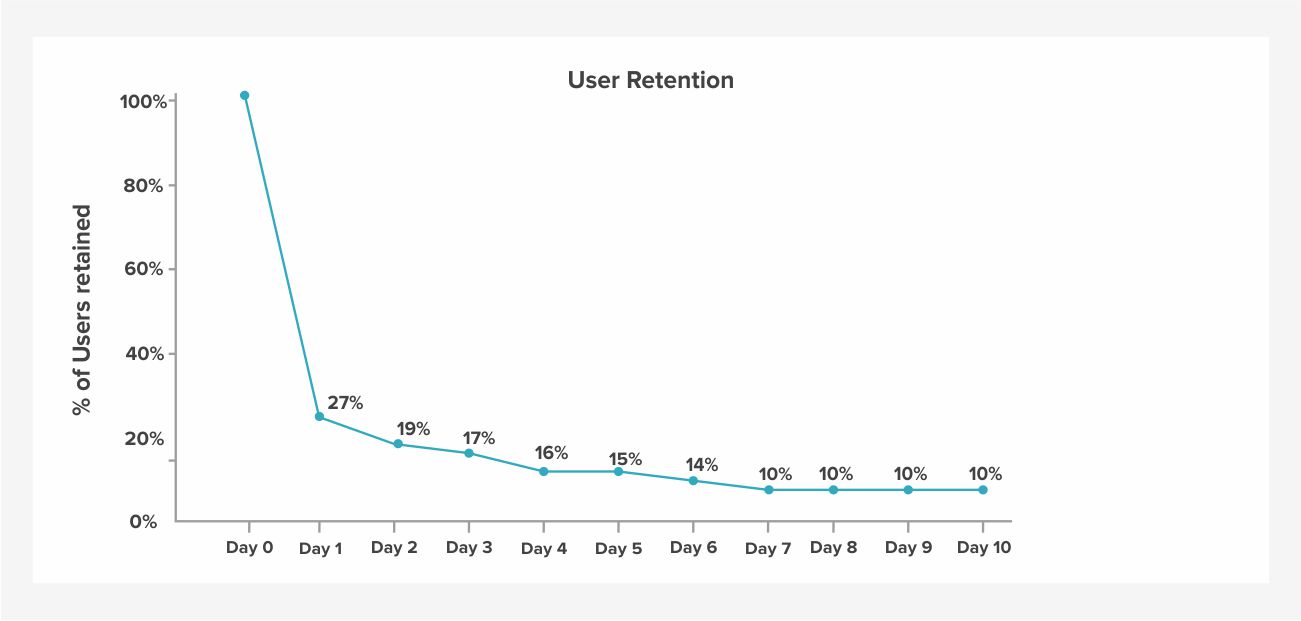 Why App Retention Rate is the Key Business Metric for Business Growth?
Now that you have understood the meaning of app retention rate and also know how to calculate app retention rate, let's try to figure out why retention rate is a potential insight into the longevity of your app? Because it demonstrates the level of customer loyalty to the app. High app retention rate guarantees that the users using the mobile app are real users of the mobile application.
However, it is important to note here that there is no one-size-fits-all approach when it comes to mobile app user retention. A gaming app having a low app retention rate is not a good sign, on the other hand, a flight booking app with a low app retention rate is not a problem as users tend to uninstall the app after use.
For apps like Uber and Zomato that survive off conversions and monetization, retention is critical as active users yield the most revenue. After all, revenue is the ultimate goal, right?
We believe now you must have got why user retention is crucial for the sustainable growth of your business. So, instead of wasting dollars on acquiring new users that might churn in a matter of hours, why not focus on retention.
Retention Over Acquisition
Acquiring new customers is a driving force on which many businesses operate, however, for a business to thrive, it must shift its focus to app retention strategies to make sure acquired customers continue using the app, rather than just pulling new ones.
A client who is loyal to your brand gives you the chance to gain referrals, provide more ongoing value, and earn positive word-of-mouth marketing.
All of this, along with the fact that it costs less to retain an existing client than it takes to acquire a new one.
Yes, you read it right.
A 10% increase in user retention can increase the value of a business by more than 30% (Bain & Company Study)
This means that if you can keep 10% of your customers coming back to your app, your revenue will increase by 30%. Does this statement make you think about how to increase retention rate?
How Systango Can Help You?
 We provide technical consultancy to startups, enterprises, hedge funds, and banks on how to leverage the power of technology

We offer end-to-end development team for web and mobile development

You can hire on-demand tech resources for your development needs
Reach Us
Customer retention is all about personalization, ongoing engagement, and value delivered to the customers over time. By analyzing factors like purchase history, customer feedback, search history, you can implement app retention strategies that target your customers with better messaging around the products or services they are already interested in.
People prefer brands that keep providing them value. And at times when customers are looking for fast and inexpensive ways, your ability to come up with highly customized offers and promotions is what will make them come back to you .
A solid, full-proof strategy is needed from the day customers on-board your app. So, before finding the answer for how to increase retention rate, you need to understand the phases of mobile app user retention.
The Three Phases of User Retention
Before moving ahead with the three phases of user retention, you need to know the meaning of the term "cohort". It sounds like a typical Physics term, however, here it is just a fancy word for a group of people who have something in common like your app.
Cohorts are defined into two categories – Acquisition Cohorts and Behavioral Cohorts. Acquisition Cohorts track the users who installed the app on the same day or through the same marketing channel. On the other hand, Behavioral Cohorts track users based on the specific action taken like purchased products.
Now, you must be thinking about how the cohort relates to customer acquisition.
With Cohort analysis you can easily compare how different user groups behave overtime during onboarding, registration, purchasing, and uninstalling.
The best way to improve user retention is to work on techniques that stabilize the user retention curve as fast as possible. And how would you do that? By optimizing your techniques for the three distinct phases of user retention- the onboarding phase, the nurture phase, and the attrition phase differently.
1. The Onboarding Phase
This is the most crucial phase for customer retention. If you fail in retention during the Onboarding Phase, then you can hardly do anything in the next stages to make up for it.
This is the phase in which users interact with your app and your brand for the first time. And, as it is said, the first impression is the last impression, failing at this stage can make you lose customers forever.
To make sure that you pass this phase without any hurdle, your app should offer an amazing user interface and user experience, must be equipped with unique features and the app must be able to solve the intended purpose.
2. The Nurture Stage
The second phase, namely The Nurture Stage is mainly dependent on user habits. Help users create new habits around the app, remind them about the abandoned carts, the fitness schedule, or the newly released song through push notifications. Push notifications are less intrusive than other forms of user engagement, which effectively aids in customer retention.
3. The Attrition Stage
The first two phases, namely The Onboarding Stage and The Nurture Stage are utterly dependent on behavioral psychology. However, The Attrition Stage is more about building a great product and improving it continuously.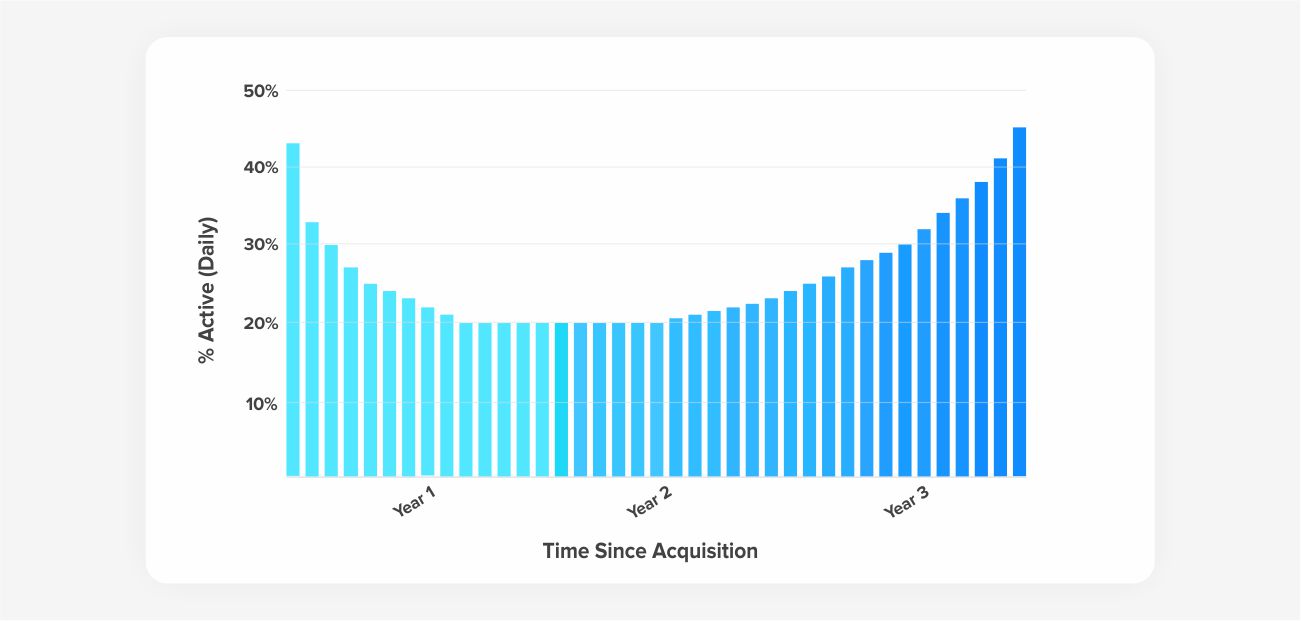 Constant software updates, checking the app for bugs, enhancing the UI and updating the features according to users' demands and feedback are some of the things that are equally needed to keep customers coming back.
We believe that so far we have managed to provide you all the relevant details about the mobile app retention rate.
Wait, we are still left with the paramount part – the answer for how to increase retention rate. Here are some of the best mobile app retention strategies to boost the retention rate:
Amazing Mobile App Retention Strategies
Track Data from the Start
The best approach for measuring your mobile app retention is to commence with cohort analysis (remember cohort, we have discussed it in the Three Phases of User Retention). Group users based on their behavior in a particular time frame.
Identify broad reasons why users stop using your application and plan for appropriate action to retain each of these groups. Use heatmaps to visualize the touch gestures, create and audit visual recordings. This will help you in understanding the obstructions that users faced while using your app and decide the right app retention strategies.
Here are a few tools that help in the calculation of the churn rate and app retention rate:
Optimize Onboarding Flow
First impressions are critical. When a user installs an application for the first time, he looks for an app that offers a seamless experience.
Mobile app onboarding is divided into three categories as follows:
1. Function-oriented onboarding: Applied when mobile apps comprise a large number of features that users need to learn.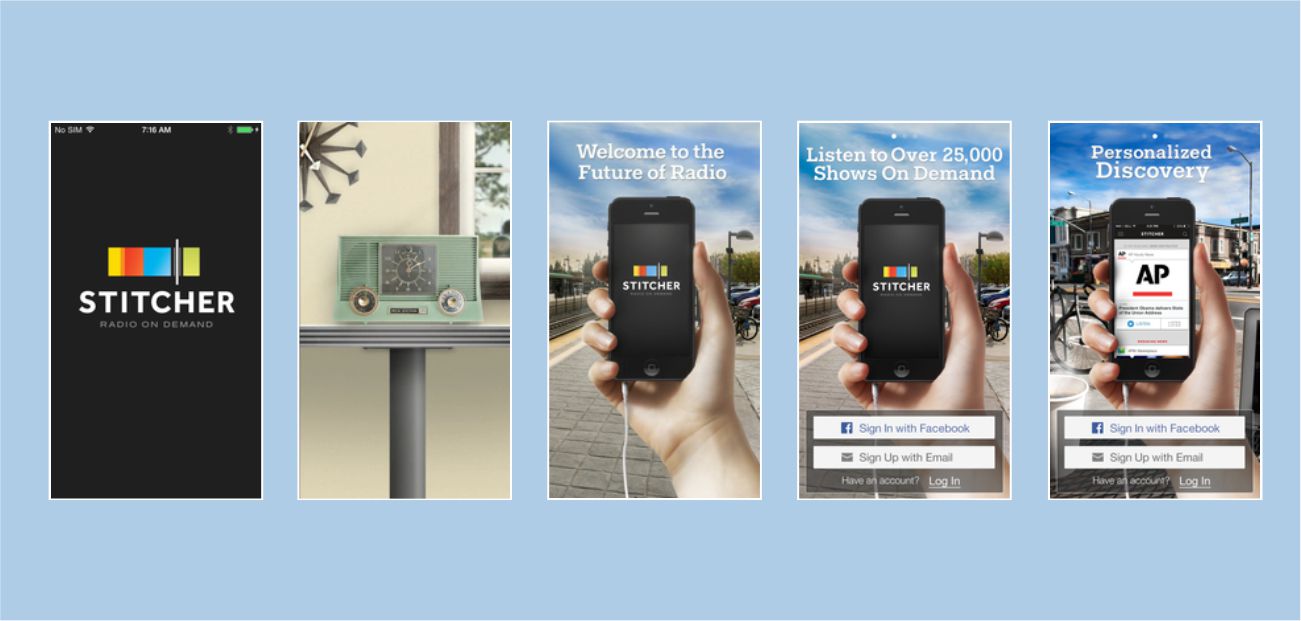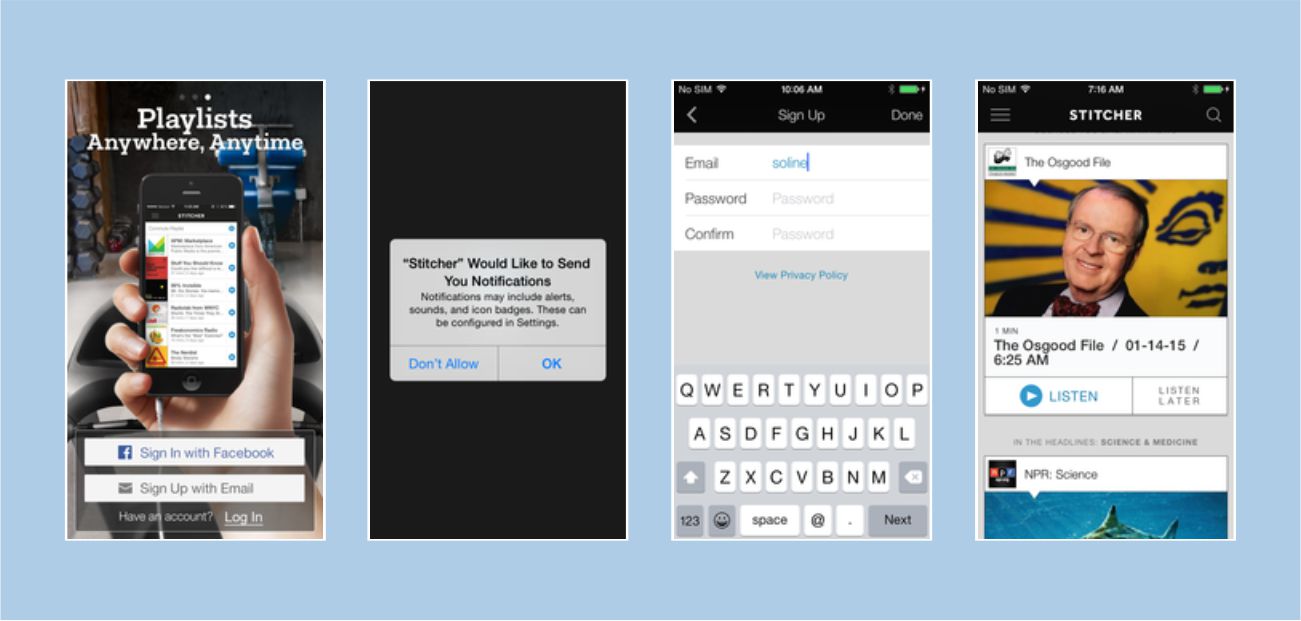 2. Benefit-oriented onboarding: Applied to give an insight of the app to users. This may include slides that highlight the purpose of the app.
3. Progressive onboarding: Applied in case of apps with complex functionality. It shows features of the app in a well-defined sequence.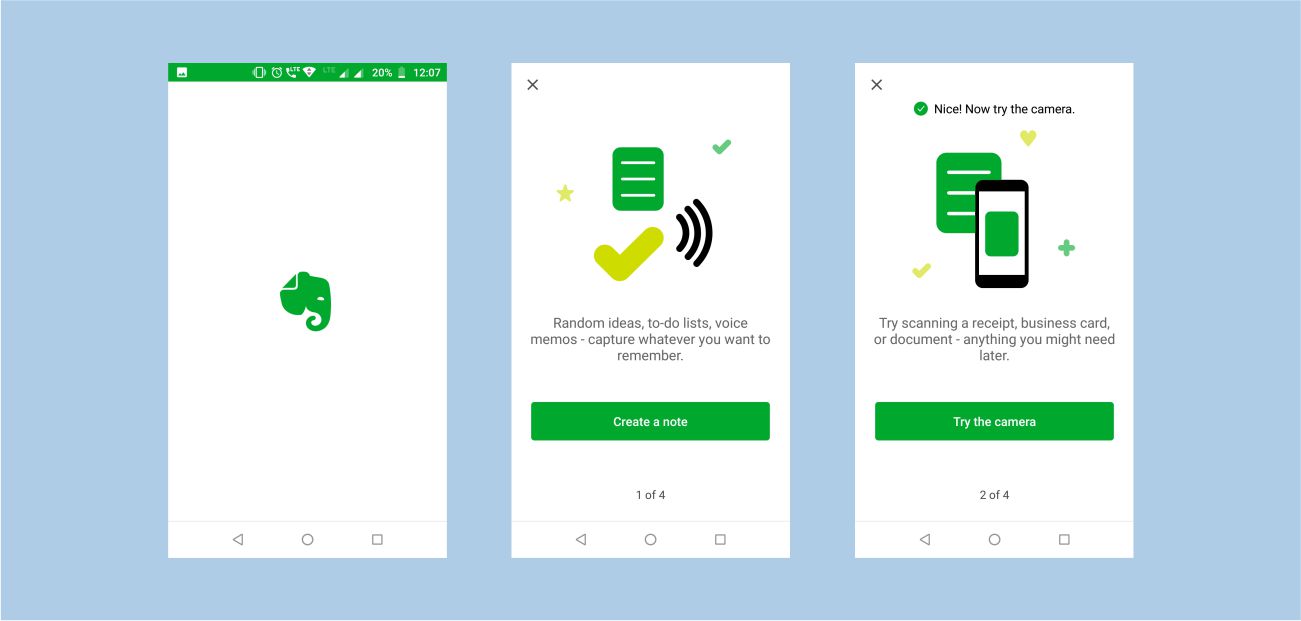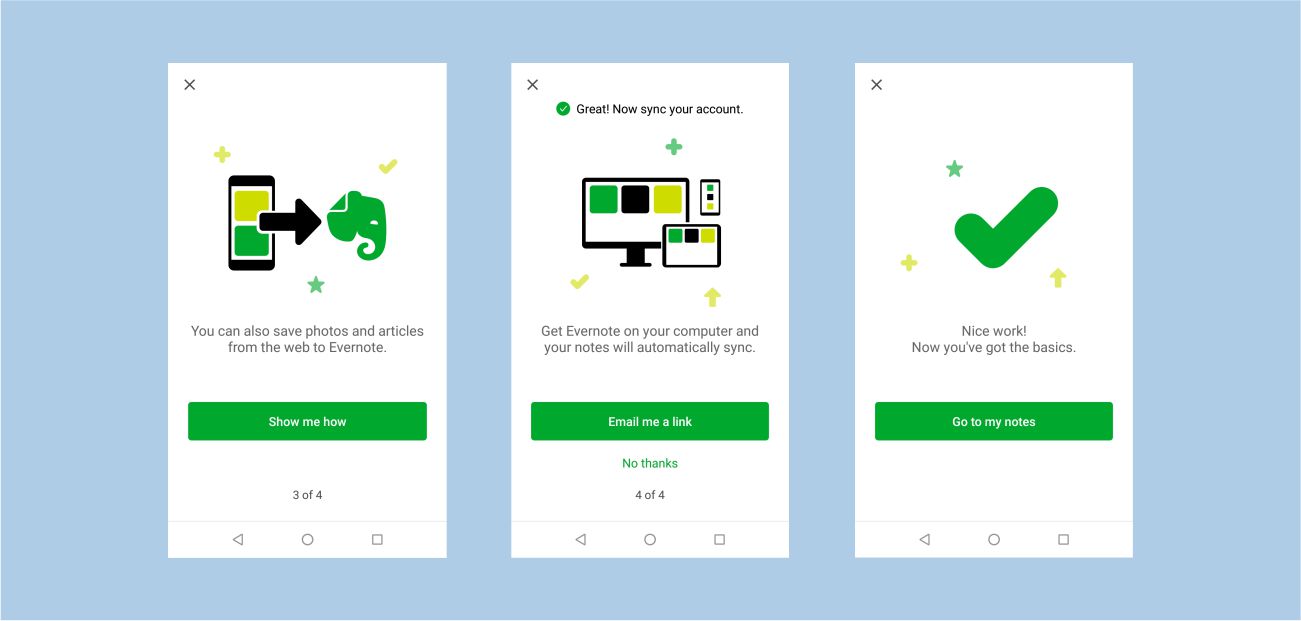 The thing that defines your success during onboarding is psychology. If you manage to provide your users with a feeling of accomplishment and all the context to build their trust, you will surely find them coming back.
Implement Push Notifications
What makes push notifications the necessary part of app retention strategies is the fact they deliver timely and relevant information to the user, even if they are not active on the app. Push notifications can be survey notifications, informative, promotional, or transactional. Funny one-liners, reminders, new feature updates, all can be used as push notifications, reminding users of your app.
The most important thing to remember here is that for push notifications to play their part, the feature should be enabled. To prevent users from turning off the push notifications, follow these tips:
Keep the time zone of the users in mind, while sending notifications.
Track users' in-app behaviors and customize notification accordingly.
Neither bombard users with notifications nor be infrequent.
Use in-app messages
In-app messages are popups, yes/no prompts, notifications, or interstitials, which are directly displayed when the user is doing something in the app. In-app messages are used to bring users' attention back to the core product.
Now, you must be thinking that push notifications, emails, text messages all are used for the same purpose then why in-app messages? And, how this will help with customer retention when the customer is already on the app.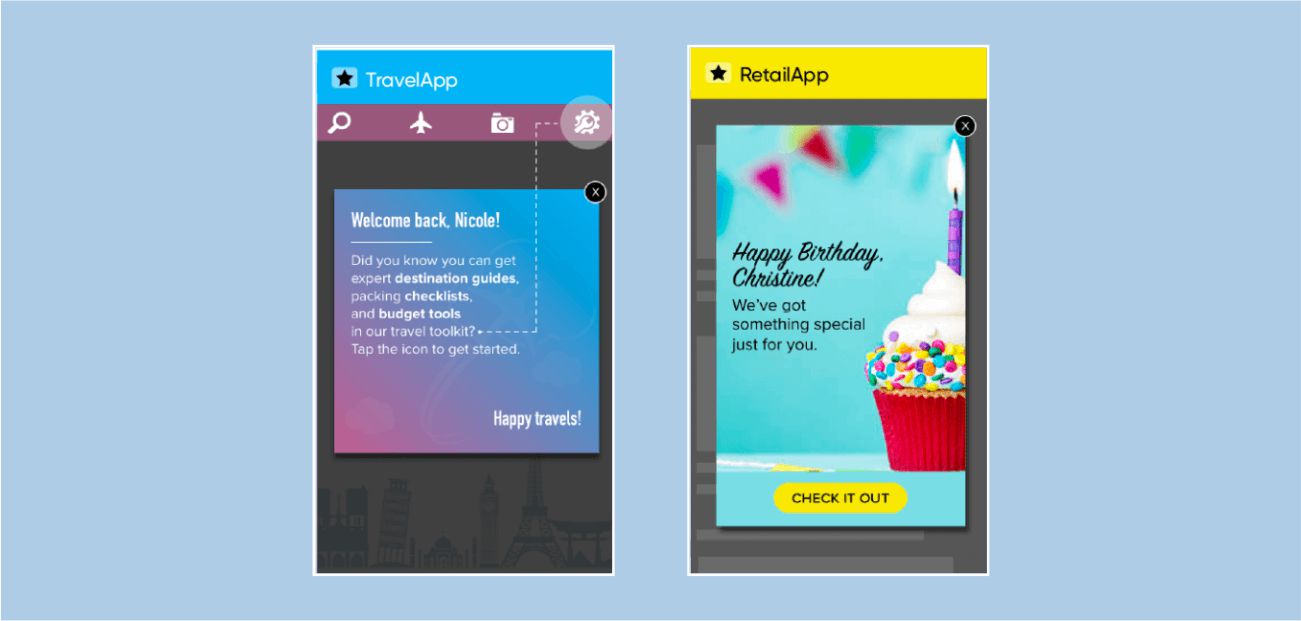 In-app messages are more of a re-engagement tool that enhances user experience. Perhaps you are reminding users that the offer is ending or giving a rundown of the latest update in the game. Whatever the use, in-app messages add value to the app instead of simply reminding users that the app exists. This more or less aids you in boosting the average app retention rate.
Email marketing:
There is no better way to retain your customers than highly personalized email marketing campaigns. Keep your app users engaged by sharing new content, updates, and the latest offers that are available. Create strategies that make you reach out to your customers when they have abandoned the cart or when it's been a while since their last travel plan, or on an occasion when you can deliver a unique promotion.
Loyalty and Rewards Program:
Offering discounted rates, points for extra savings, cashback, and more, is a great way to make your customers come back to your app for their specific needs.
How Systango Can Help You?
 We provide technical consultancy to startups, enterprises, hedge funds, and banks on how to leverage the power of technology

We offer end-to-end development team for web and mobile development

You can hire on-demand tech resources for your development needs
Reach Us
Referral rewards are also one of the effective ways to encourage customers to continue using your services or products. Referral reward policy is like killing two birds with one stone as it helps you achieve both – customer acquisition and retention at the same time.
Customer Appreciation
Last, but not the least, customer appreciation is amongst the top app retention strategies to lure customers and make them coming back to your app. Companies host customer appreciation program once a week or during festive seasons and here is how they offer customer appreciation:
Loyal customers get a chance to save on the products they have in the carts.
Engage customers in a fun contest and encourage their participation.
Such activities not only strengthen the customer relationship but also make them keep looking for such opportunities, and eventually aids in retention.
Signing Off
User retention should be at the forefront of your iOS or Android app development and marketing mix. The growth in retention also tends to increase the virality, payback period and lifetime value of your business, Hence, it would not be wrong to say that retention is the king of mobile apps' growth strategy. We hope that this blog covered every essential aspect of mobile app retention.
If you have any doubt or query related to mobile app retention, feel free to get in touch!