Tech Whispers- How to Hire the Best Python developers
Last Updated on: July 10, 2020
Python is Huge.
Powerful.
Development-friendly.
And modern businesses seem to love it.
From bootstrapped startups chasing the success horizon to globally commanding brands like Google, Facebook, Netflix, and Instagram, all have deep faith in the robust nature of this technology. They rely on Python to achieve behind the scene perfection, unlock possibilities, and shrink the development time to minimum.
Moreover, when clubbed together with Django, Flask, and other cutting-edge frameworks, Python can create everything copper-bottomed in less time and with lesser coding efforts.
Owing to all this, it feels safe to say that Python is ruling for the past decade and still has a long way to go.
Enchanted by Python? This might be an interesting read- Python Web Development – The Key to Unlock Far-fetched Possibilities
How to Hire Best Python Developers?
Now, cutting right to the chase, let's discuss how you can find and hire a dedicated python developer for your next big project.
We understand your dilemma and hesitancy to make a quick choice- after all, web development is an expensive proposition and expecting a good return is absolutely agreeable.
With so many freelancers and development companies offering Python web development services, finding a dependable development partner often turns out to be a daunting affair. Right skill set, considerable experience, and a passion to go an extra mile are some of the primary aspects that need to be in place to achieve your project mission.
To ascertain a high-value product, we would recommend you to work through the subsequent loosely-bound process and locate an exceptional Python talent-
Start Off with Business Requirement Analysis
Before hiring a Python developer, it's wise to critically examine your project expectations in the first place. Make some time and pen down the features you need alongside the technical skills each task will demand. Know how you'll communicate your idea to developers, and once you gain a crystal-like clarity, jump to the next phase.
Schedule a Technical Interview
A technical interview can ideally help you to find a developer who's adept at Python's manifold programming features and prototypes. Design an interview that challenges your potential developer with certain problem-solving questions and assesses their fundamental programming concepts to understand where they stand technically. Also, check if they have hands-on experience with powerful frameworks and if they are aware of current IT trends.
Even if you aren't a development expert, don't skip this part- instead, hire a technical interviewer from a leading software company and let them use their effective recruitment hacks to find for you a perfect candidate.
Assign a Test Task
Once you have a narrowed down list of developers or agencies, share with them a small test task from the project that stems from a requirement. This will let you judge the skills of your candidate- their ability to comprehend the requirement and its intricacies, conceptual knowledge & domain expertise, and capacity to meet the deadlines with perfection.
Freelancer or Web Development Company?
Here comes the elephant in the room- whether to make a bet with a freelancer Python developer or play safe by hiring a web development company.
Honestly, both come with their own set of pros and cons. Here's a to the point comparison-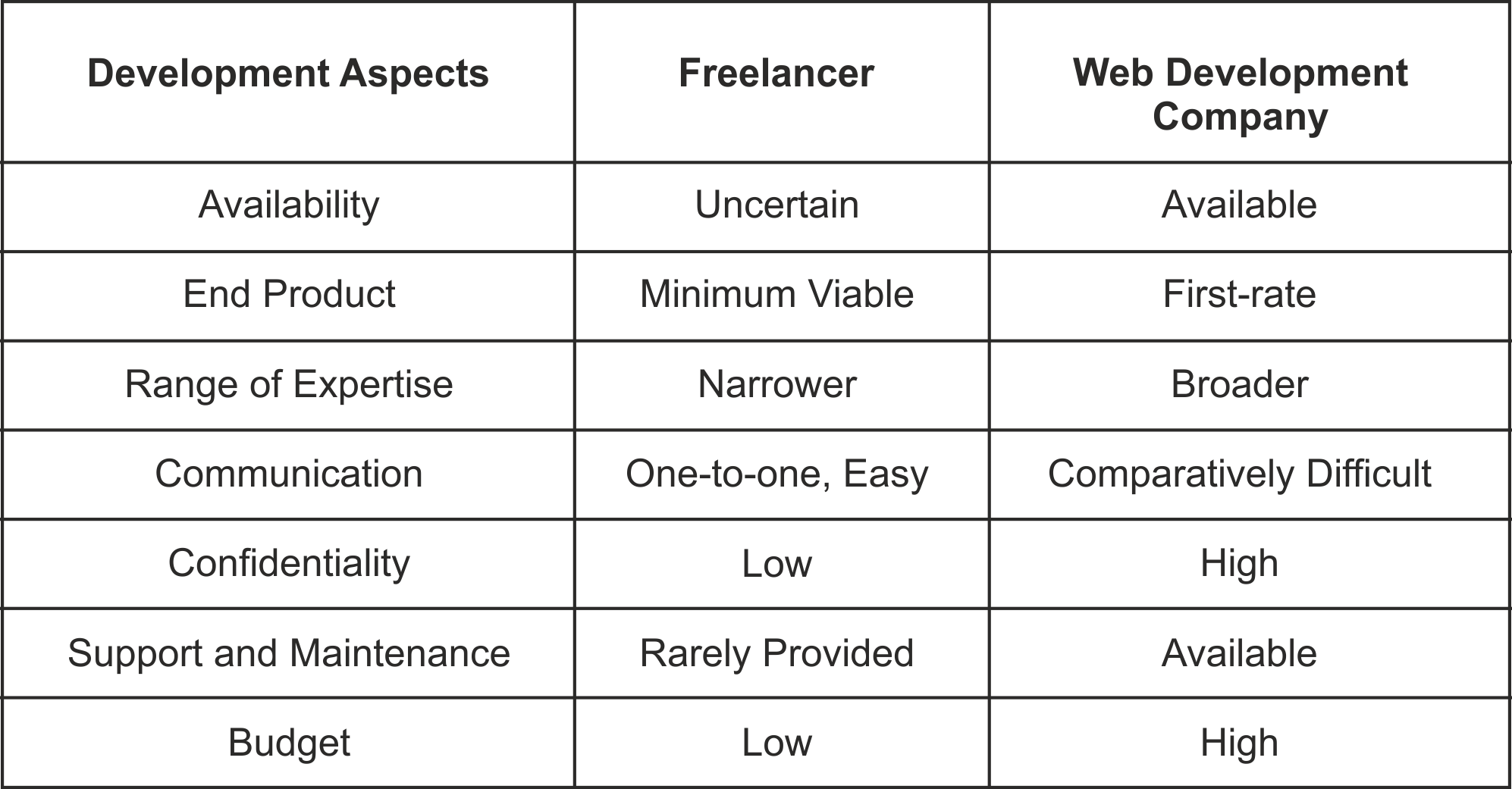 Freelancers are generally deemed fit for a small project with cost-constraints, while an advanced, quality-oriented project with truckloads of technicalities can be effectively handled by a specialised team of a leading software development company.  To make a choice to hire best Python developers, here's what you need to consider-
What skills and expertise you are expecting?

How much development time you have?

If you move ahead with a freelancer, will they be able to ensure you a successful end-to-end product delivery?

How quality and support concerned are you?

Again, if you hire a freelance Python coder, will you be able to lead and manage your project?

What's your budget? How much investment seems feasible to you?
In addition to these, it is also recommended to explore the profile and portfolio of the developer/ agency you are hiring. This is imperative to verify their claims and track record of successful project delivery. Positive reviews and testimonials are also a telltale that the one you are entrusting for your project is worth the time and money.
No matter you are trying to build a replica of Quora or wanting to innovate an truly inimitable AI app, you are always one Python expert away from rendering your idea to reality. We at Systango specialise in Python web development. Our web and mobile development company is widely acknowledged for our technical proficiency and collective experience. We're supporters of agile and use cutting-edge technologies to build awesome end products.
By far, our Python team has catered to numerous big brands like Grindr & UberConference and helped them to realise speed-of-the-light growth. With our team of technically-sound Python developers, rest assured to get a world-class product and continuous support.
Discuss your next project with us- get a FREE consultation here!