What is SocialFi? Future of Social interactions in Web 3.0
Last Updated on: April 24, 2023
Web 3.0 is introducing new technology fields that combine with decentralized finance (DeFi) elements to blur the lines between web2 and crypto, which includes GameFi and now also SocialFi.
What is SocialFi?
SocialFi is the fusion of social media and Web3.
It refers to social media on top of a decentralized platform. The concept brings together the principles of decentralized finance (DeFi) and social media to create, manage, and own content generated by the users on the platforms.
SocialFi applications are meant to offer better data control, freedom of speech and the ability to monetize engagement and following brought by content creators, participants, and influencers on the platform.
The key takeaway from its introduction is that such decentralized social media will not be censored and will be capable of directly rewarding its users with tokenization.
For example, users can directly transfer payments to other users of SocialFi platforms without resorting to a third-party vendor. That means, users will receive payments quickly and will have to pay no additional fees for the transfer.
Quick Features of SocialFi
Censor free

Direct payments, no shares for a central authority

With tokenization, direct rewards can take place

Decentralized governance gives more control

Enhanced experience from Web 2.0
What initiated the concept of SocialFi?
For almost the whole 21st century, Web2 companies have monopolized the online landscape. We saw them bring the joys of search engines and then the world was all about social media.
Even social media critics will agree that it has been one of the most successful creations of Web 2. Social media has brought hundreds of billions in ad revenue for companies and subscription fees for the ones who were able to crack it.
Unfortunately, the companies that became tech behemoths from online content creation and social interaction are now a monopoly.
Facebook's Cambridge Analytica scandal is a classic case of users' information being used as a commodity, which is being traded and sold to companies without users' consent, leaving us in doubt over data privacy. Post this event, there have been several modifications and transformations to the user data policies, but the damage has been done and users' are skeptical about using these freely.
Challenges with Social Media on Web 2.0
Monetization
Over half the world's population is spending an average of 2 hours 27 minutes ( approximately 147 minutes) on social media. Yet, who is earning from all the interactions, attention, engagement, and data? A few centralized companies and their stakeholders.
Freedom on Speech
You might also have noticed several users, influencers and content creators being banned for sharing their opinion on a certain topic or sharing a particular image that seems derogatory to a group of people. While all these norms are being followed to protect the broader base of users from detrimental posts, decentralization in this space would be more aligned with Web3 ethos.
Digital Ownership
Digital piracy has been one of the biggest concerns for online creators and artists. Web2 applications lack the proper management of digital ownership, which opens up loopholes for digital piracy.
How does SocialFi Work?
Firstly, the monetisation will happen in cryptocurrencies on SocialFi networks. While digital ownership and identity management will be driven by nonfungible tokens (NFTs).
Secondly, the concept of SocialFi is all about empowering users and helping them earn from every interaction. That means revenue can be generated from creating content and the advertiser revenue can be pretty distributed without any central figure taking a majority of the profit share.
So, providing freedom to post and delivering a fair share of revenue without overreach establishes SocialFi as an eminent platform to generate passive income through social activities.
Top SocialFi and Decentralized Social Media Platforms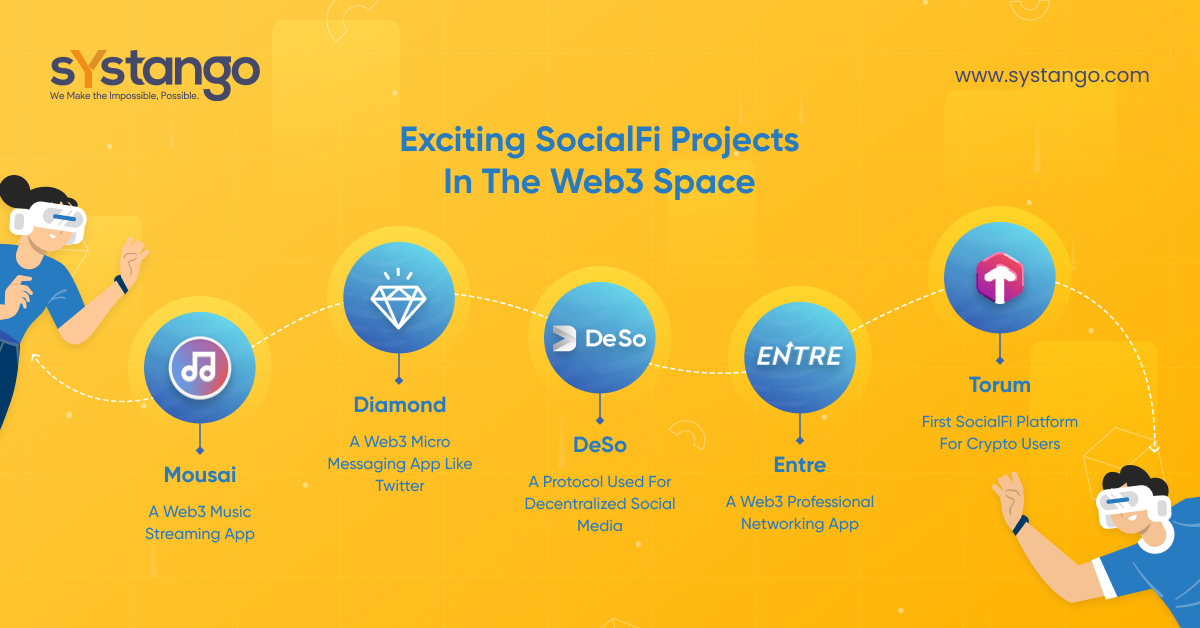 In response to resolving the concerns with social media on Web 2.0, multiple SocialFi platforms are emerging in the market. Let's discuss the ones that have marked a dent post their launch:
DeSo: Decentralized social (DeSo) can be referred to as layer-1 blockchain built from scratch to scale SocialFi applications that can handle one billion users (yes, that's what they claim!). The participants on DeSo will not only be able to monetize and own their data but will also be able to maintain the privacy and security of their data.
Mousai: Mousai is redefining the monetization of streaming video or audio content. Users on Mousai can discover, support and connect with creators. It offers features of earning from social tips, NFTs and even creating own coins.
Diamond: Diamond is fairly a new introduction to the SocialFi club. It's a decentralized version of Twitter. The platform allows users to own the content and get rewarded for any post or engagement on the platform.
Entre: Entre is a decentralized web3 professional community that offers AI introductions, matchmaking, hosts meetings, livestreams, allows users to earn rewards for being active and much more. It can act as your go-to platform for instant access to connect with other web3 professionals and monetize your expertise and content.
Torum: Abbreviated as XTM, Torum is one of the most talked about SocialFi project. It has established itself as a revolutionary SocialFi metaverse ecosystem, which aims at connecting crypto users and communities on a global scale.
Future of SocialFi
SocialFi has emerged as a new beacon of hope for preserving freedom of speech and data sovereignty.
Blockchain is bringing decentralization to almost every possible industry. With web 3.0, SocialFi platforms may deliver the following functionalities:
Since data is immutable on blockchain architecture, nothing can be altered or removed. This gives users the power to create content and post anything without fear of being censored or de-platformed.

Elimination of middlemen and increased transparency will allow content creators to book a fair share of profits.

Users get the control to decide whether to sell their information and to whom. Such platforms will be capable of providing a choice to users to choose the types of products and services they wish to see ads for.

Additionally, the power of NFTs and tokens and DeFi opportunities such as yield farming, lending and more will make such platforms more engaging and tempting for users.
Conclusion
We agree that SocialFi platforms are still in their infancy stage, however, a few initiatives have shown tremendous potential to attract users.
Projects like DeSo have been able to secure funding of over $200 million, while others such as Torum have already penetrated the market with their versions of the application. Torum can be classified as one of the successful SocialFi projects, as it has achieved a mark of 200,00 users.
All in all, SocialFi can bring a positive impact on the way users interact on social media. Users get rewarded for putting up ads, content creators receive a fair share of revenue and information sharing without the wishes of a central authority.
SocialFi is capable of bringing a similar boom in the industry, as the one brought by DeFi in the summer of 2020. It has all the potential and can act as a new wave of establishing platforms which are highly interactive and decentralized in nature; accelerating its adoption by the masses.
If successful, many disappointed users from Web 2.0 will welcome SocialFi to depart the era of social platforms like Facebook and Twitter with joy.
Are you looking to build such a social platform?
If yes, our blockchain developers and architects can not only guide you with your plan of action but can help you in building a fully functional SocialFi platform.
Connect for your blockchain development needs today!