What Is The Cost To Develop A Cryptocurrency Exchange App Like Coinbase?
Last Updated on: April 27, 2023
The question of "what is the overall cost for cryptocurrency exchange app development" is more relevant than ever before because cryptocurrency has aroused the interest of traders, investors and miners from all over the globe. For example, Barclays, a British multinational universal bank, has collaborated with bitcoin-retailer Safello to look for the best ways of using blockchain technology in the financial sector. In addition to this, a large French bank named BNP Paribas is seeking possibilities of integrating bitcoin into the currency reserves.
The above examples are enough to state that this is the right time to be part of a billion-dollar revolution with cryptocurrency exchange app development.
To have a crypto exchange platform of your own, you must first understand how a cryptocurrency exchange platform works. Let's have a look into it right away.
Blog content –
How does Cryptocurrency exchange work?
Cryptocurrency exchange platforms match buyers with sellers. The platform enables crypto traders to buy and sell various cryptocurrencies by inputting either a limit order or a market order. In the case of a market order, the trader authorizes the exchange to trade the coins for the best available price in the online marketplace. On the other hand, with a limit order set, the trader permits the exchange to trade the currency for a price below the current ask, or above the current bid, depending on whether it is a buy or sell.
To transact in cryptocurrency on a crypto exchange platform, the user has to register with the application and go through all the required verification processes. Once the authentication is successful, the account is opened after which the user is required to transfer funds into this account before they can purchase any cryptocurrency.
The user needs to place a "buy" order on the exchange, requesting to buy cryptocurrency. When someone places a buy or sell order, the exchange adds this to its "order book". An order book includes the list of amounts at which cryptocurrency
The crypto exchange platform will have an API via backend service that will be common for both iOS and Android platforms –
Creation of accounts.
Request for the money deposits.
Requests to send money.
Currency exchange proxy APIs.
Management of bank accounts.
Now that we know what a cryptocurrency exchange platform is, let's look at the Steps to Build Your Own Cryptocurrency Exchange–
Note:
You will need an orders list – A table that includes all the transactions made by market players.
Trading charts – Charts and graphs that display digital currencies volatility index. The charts will help users compare different trading pairs before they make transactions.
Transaction History – The platform should include a complete history of the most profitable transactions for analysis. This will help in determining the bidder's demands as well as accurate forecasting, which is the foundation of any trade.
Also Read: Key Cryptocurrency Exchange Features That Your App Must-Have
Cryptocurrency Exchange App Development: Timeline
We, at Systango, offer all-inclusive crypto exchange development services with core functionalities that ensure seamless, efficient, secure and instant transactions.
Based on our calculations and previous project delivery, it takes us 4 to 6 months to build a cryptocurrency exchange development.
How Systango Can Help You?
We provide technical consultancy to startups, enterprises, hedge funds, and banks on how to leverage the power of technology.

We offer an end-to-end development team for web and mobile development.

You can hire on-demand tech resources for your development need.
Reach Us
Cryptocurrency Exchange App Development: Team Required
1 backend developer working full-time for 6 months.
1 Android developer for 6 months.
1 iOS developer for 6 months.
1 front-end developer working for 6 months.
1 graphic designer for 3 months.
2 QA engineers for half a year.
1 project manager who organizes all the work for 6 months.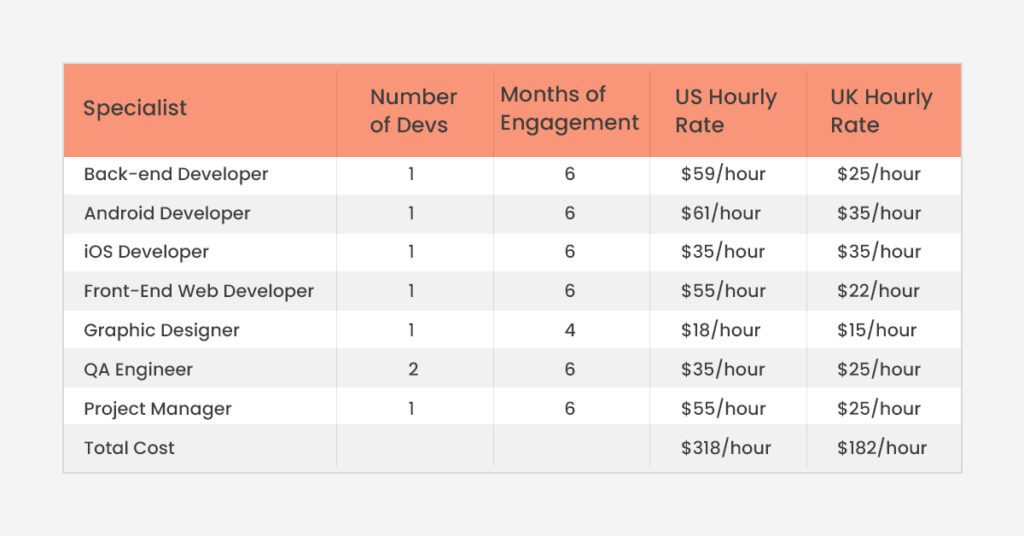 How Much Does It Cost To Create A Cryptocurrency Exchange
To help you with easy comparison, we are showing the approximate rates for an identical project outsourced to the USA and Europe.
Factors Influencing Cryptocurrency App Development Cost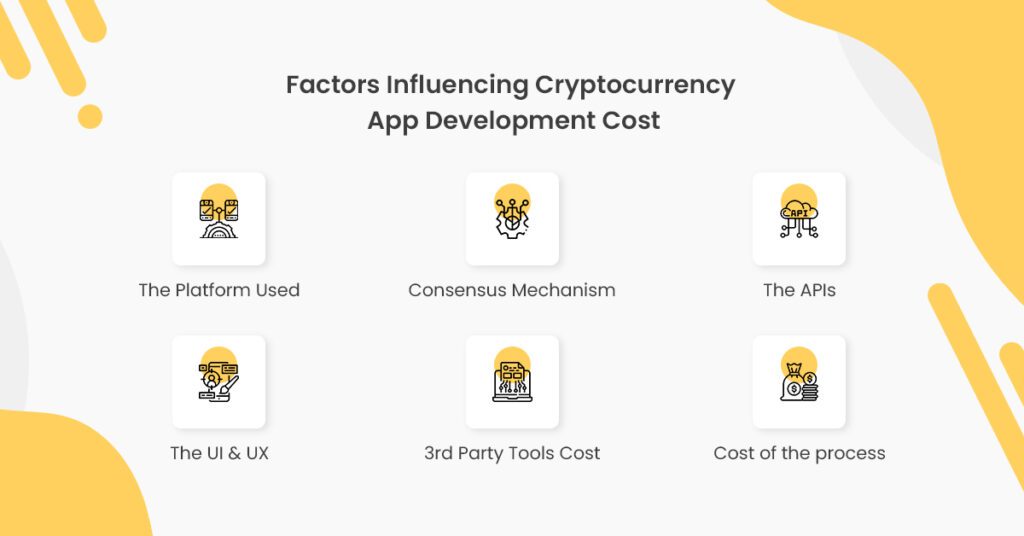 1.The Platform Used:
When it comes to developing a crypto exchange platform, there is a myriad of platforms to choose from. Some of the famous ones include BigChainDB, Hyperledger Fabric and Quorum. It is suggested to consider a few (if not all) available platforms, figure out which one best matches your application and then move ahead.
2. Consensus Mechanism:
Each and every crypto exchange platform utilizes consensus algorithms. Consensus algorithms include a method that allows participants to decrypt transactions. For instance, Bitcoin uses Proof of Work while other arbitrary crypto-based systems might use Delegated Stake Proof, Federated, Proof of Elapsed Time etc.
Other main elements such as user approval, key management and arrangement, atomic transfers, hand-shaking, signatures and address formats should also be considered.
3. The APIs:
Although there are various pre-constructed APIs accessible on the market, you might build a new API for particular use cases such as performing data authentication, creating key pairs and addresses, monitoring, handling smart contract interaction with the system and more.
4. The UI&UX:
Once you have decided on the backend technology part, the next step is to build a console for UI and admin. Here you have to define front-end languages, servers and external repositories for your cryptocurrency app development process.
5. 3rd Party Tools Cost:
Amazon Web Services – Computing, Delivery and Storage ($100 to $1000).
Notification Services – Twilio, Amazon SNS, Kumulos.
Bug Tracking Tools – Instabug and Bugsee for collecting and reporting live bugs (available at $10 to $100 per month).
Analytics – Tools like Flurry or Mixpanel for analytics of data, funnel, insights and reporting ($0 to $150).
6. Cost of the process:
The cost of crypto app development can be divided into different stages of the development process:
Design – This will cover System Blueprint, user interface/experience design including wireframes, high-fidelity designs with a prototype and low-fidelity designs including app flow.
Development – This includes coding and testing.
Deployment – This covers delivery and DevOps, Deployment of the application on cloud platforms.
Maintenance – Maintaining the new updates and making sure that the app runs smoothly every OS release.
Third-Party Tools – Notification System, Hosting, Collaboration and Storage
All in all, cryptocurrencies have never received more attention than today. The market is still new and has a lot of potential for innovative concepts. We, at Systango, a cryptocurrency app development company, believe that there are many accomplishments in the industry that can be had. Let's collaborate to give your idea a kickstart with superlative crypto app development services.
Choose Systango As Your Cryptocurrency App Development Company
How Systango Can Help You?
We provide technical consultancy to startups, enterprises, hedge funds, and banks on how to leverage the power of technology.

We offer an end-to-end development team for web and mobile development.

You can hire on-demand tech resources for your development need.
Reach Us
We, at Systango, develop centralized crypto exchanges like Coinbase and Binance with advanced features and security mechanisms.
Apart from this, we also provide you with decentralized exchange app development services and hybrid cryptocurrency exchange development services.
Systango holds a leading name as a crypto app development company and the reason behind this is the expertise of crypto app developers that deliver our clients with crypto exchange platforms perfectly equipped with security, connectivity and a seamless environment.
Avail fast, scalable and highly secure cryptocurrency app development solutions with Systango. Reach out to crypto app developers today!