What is Zoho Analytics? What are the Zoho Analytics Features and Benefits to Business?
Last Updated on: April 24, 2023
Data management and reporting are two of the most daunting tasks for any organization. But at the same time, raw data handling and management play a vital role in the generation of reports and the analysis of various sales and marketing campaigns. Zoho Analytics is the best tool you have to transform your data into actionable reports and dashboards. Zoho Analytics, also known as Zoho Reports, allows users to create dashboards and visualizations which present data in an easy and self-service model.
In this blog, we will help you understand what Zoho Analytics is, what its features and benefits are to business, and how Systango as Zoho Analytics partner helps businesses with Zoho Analytics integration services.
Let's dive into what all this blog post covers:
What is Zoho Analytics?
Various Zoho Analytics Features
Benefits of Zoho Analytics for Businesses
Systango as Certified Zoho Analytics Partner
Here is How Systango Helped Inovelli, The Consumer Electronics Company in Overcoming the Zoho Analytics Challenges
What is Zoho Analytics?
With a rising need of efficient CRM solutions and platforms, Zoho Analytics is a comprehensive self-service business intelligence and data analytics software that empowers the businesses to leverage the Zoho benefits and scale their CRM. Zoho Analytics allows the businesses to visually analyze their data, create unparalleled data visualizations, and discover hidden insights. The data analytics integration offers metrics and insightful reports to the business data and eliminates the need for any IT assistance or data analysts.
You can collaborate with Zoho Analytics partners to crunch huge datasets, perform various analytical tasks, import data, blend that data, create custom reports and visualize the results in graphical formats to uncover the insights. Integrating with Zoho allows businesses to make data-informed decisions and comes with flexible on-premise or cloud-deployment models.
Now that we know what is Zoho Analytics, let's look at the Zoho Analytics features in the next section.
Here are some of the key features of Zoho Analytics:
Connect To Any Data Source:
If your business data remains scattered in google sheets, cloud storage, web feeds, and other online applications, then fix an appointment with our Zoho analytics consultant to understand how you can connect Zoho Analytics to the many data sources you have for in-depth reporting and analysis.
Get assistance from a certified Zoho Analytics consultant to get your data analyzed, uploaded and blended from flat files and spreadsheets, text files, Microsoft Excel, NoSQL databases, popular business applications. You can seamlessly connect to flat files like HTML, JSON, XML and business applications in Finance, HR, Help Desk via Zoho Analytics ready made connectors. It also offers powerful data integration and import APIs to develop a custom connector quickly. The custom APIs also help you get data from any offline/online application for better analysis.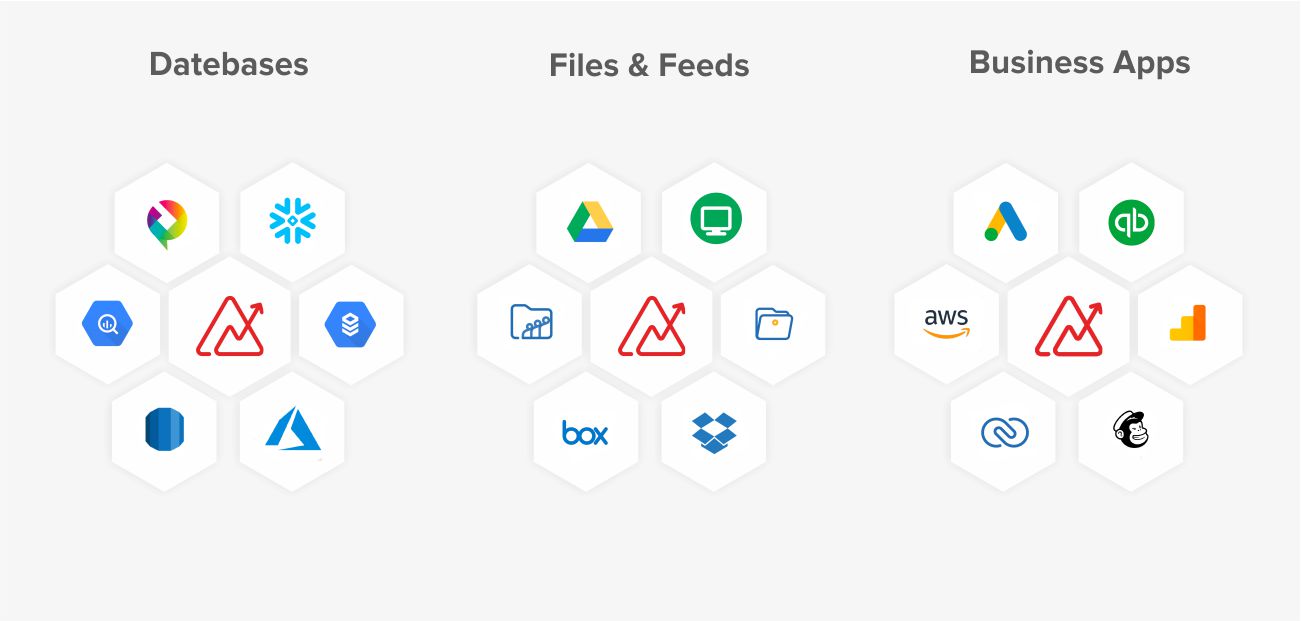 Data Preparation and Management:
Zoho Analytics offers self-service data preparation and management application called DataPrep for seamless data creation and management. It helps you auto model, smart-cleanse the raw data, transform and enrich it for an in-depth analysis.
Builts Insightful Reports and Dashboards:
With Zoho Analytics' intuitive drag-and-drop interface, you can present insightful reports to your clients. With a plethora of visualization components such as charts and widgets available, Zoho Analytics helps you create engaging and easy to understand tabbed dashboards. These tabbed Zoho Analytics dashboards have a dynamic range of interactive components like drill downs, contextual filters which can perform ad-hoc exploratory analysis. You can also combine multiple reports into a single dashboard, making it easier for your team to track the Key Performance Indicators.
Along with the tabbed Zoho Analytics dashboards, this CRM software also offers geo visualization to analyze the geographical data using interactive map charts and image-based visualizations to enhance the visual appeal and readability of your reports.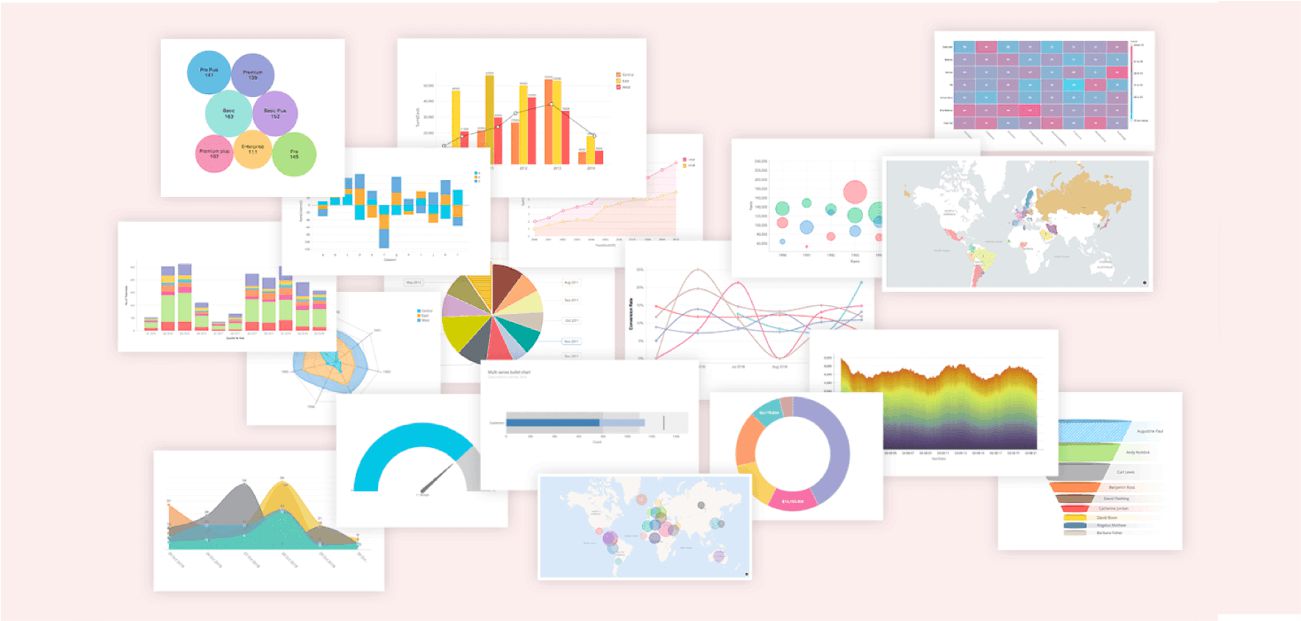 Enable Performing Deep Analysis:
Zoho Analytics comes with simple to use and pre-built analytical functions which can be used for performing deep analysis and deriving the key metrics. It also comprises a spreadsheet-like interface for data addition, analysis of the metrics and reporting. Zoho Analytics offers various types of analytics like augmented and collaborative analysis.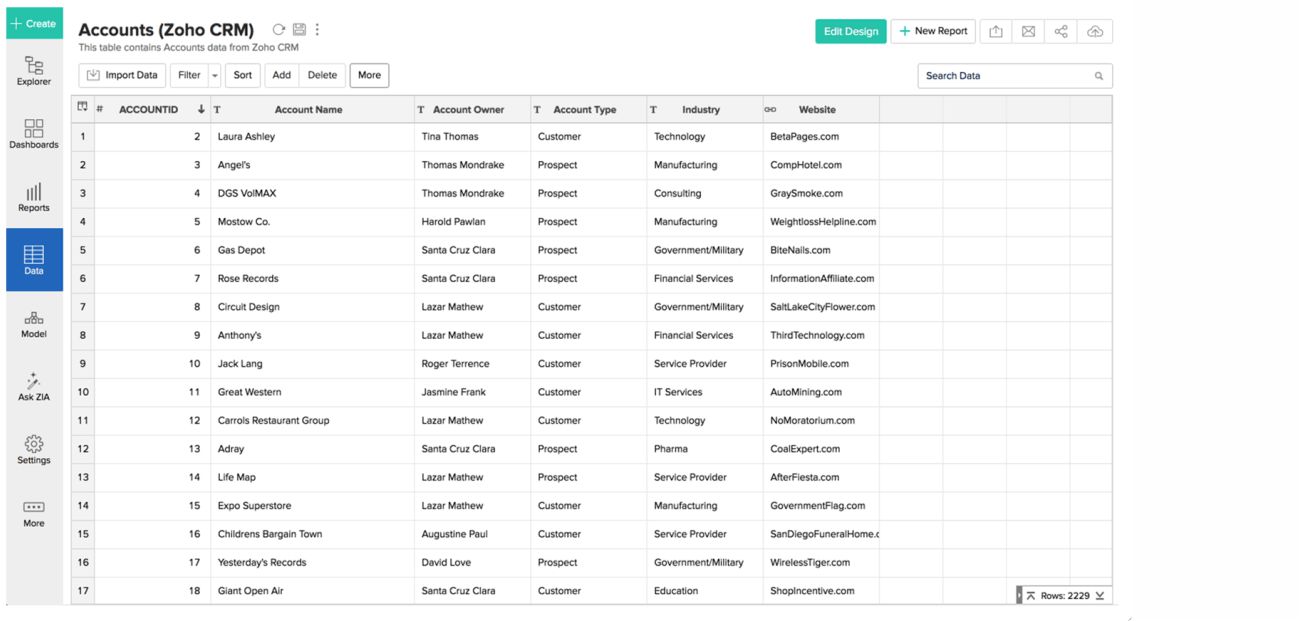 Moreover, you can get relevant answers for queries in the form of a report and KPI widgets with Zia, a smart analytical assistant integrated into Zoho.
Ease of Reporting and Collaboration:
Establishing a workspace in Zoho analytics can help you develop reports together with colleagues and even have fine-grained access control with options like read-write, read-only, drill-down, export and more. Zoho Analytics also allows you to easily publish your reports/dashboards and users can access them even without logins. Consider getting in touch with Zoho Analytics partners to leverage the benefit of ease of reporting and collaboration.
Unified Business Insights:
Zoho Analytics also lets you unify your business data by amalgamating it from different teams like marketing, sales, finance and support. It offers seamless analysis of the unified data with unique end-to-end insights via easy connectors, pre-built analytics and smart data blending.
Data Storytelling:
For an engrossing data report, Zoho Analytics offers a creative data storytelling which will represent your vast business data analytics in an intriguing way. You can do this by creating immersive analytics presentations using the Zoho Show, developing purpose built analytics portals using the site builder called Zoho sites; and by embedding the AI assistant Ask Zia and Zia insights in the workflow to enable data driven decision making throughout the organization.
Mobility:
In terms of mobility, Zoho Analytics helps you access and interact with your business reports, data and dashboards from different gadgets like mobiles and tablets. It offers mobile application, Zoho Analytics dashboard applications, conversational analytics via Ask Zia, and collaboration over mobile which includes comments reporting, meaningful conversations with your colleagues.
Security and Governance:
For robust security and governance, Zoho Analytics provides Zoho Security Practices which includes constant support for periodic data backup, data confidentiality, design privacy, redundancy, clear demarcation of workspace roles, user login and access within the application in regards to accountability. All this ensures safety and security at all levels of the business organization and is extremely helpful during the entire process of auditing.
Embedded BI Solution for Software Vendors:
Zoho Analytics lets you set your own reporting portal and also provides you with an embedded business intelligence solution option. The comprehensive APIs and fully customizable design elements enable you to tailor the portal, Zoho Analytics dashboards, and reports as you desire.
Deployments:
Tailor the Zoho Analytics deployment according to your business needs. Zoho Analytics offers subscription to Zoho Analytics cloud and also deployment options on public clouds like Azure, AWS and Google. You can also use the embedded white labeled version of the Zoho Analytics during deployment.
Extensibility and Elasticity:
Zoho Analytics offers a scalable and powerful analytics portal which allows all the system integrators and developers to build and launch tailored analytics integrations and applications. The Zoho Analytics platform is made up of APIs, Zoho Marketplace, big data analysis for data integration, authorization, etc. This allows for spontaneous customization and extensible no-code/low-code integration with any technology suite of your choice.
Benefits of Zoho Analytics
Here are some of the benefits of using Zoho Analytics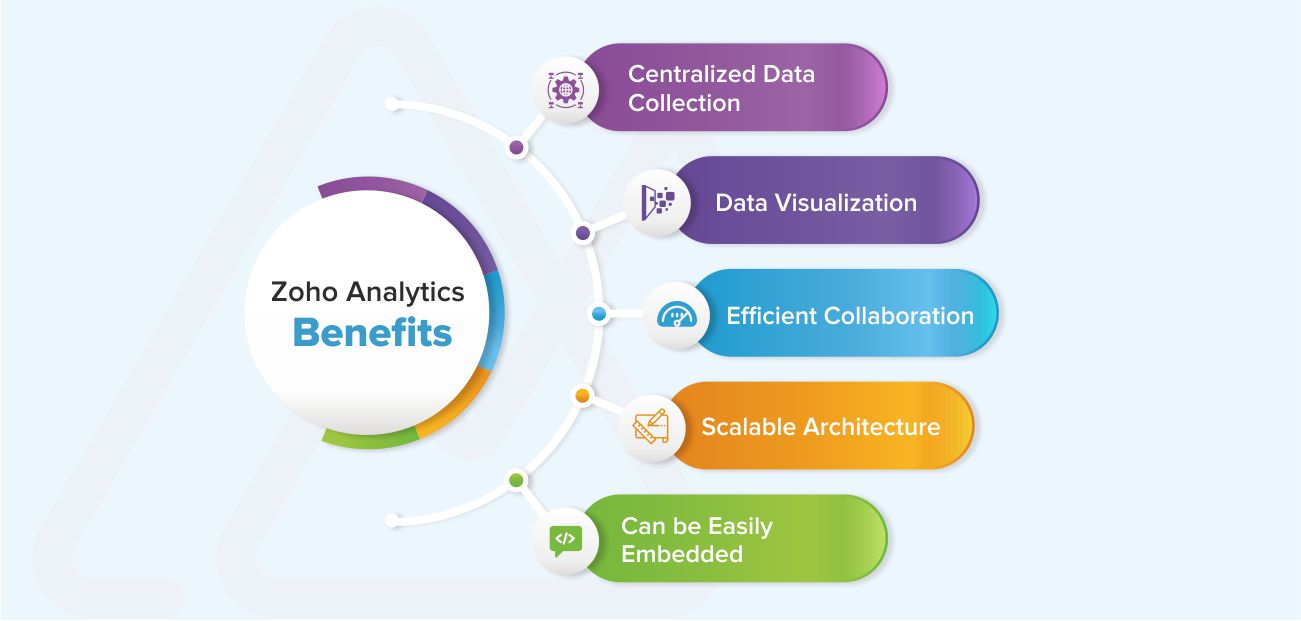 Centralized Data Collection:
Thanks to Zoho Analytics' easy-to-navigate smart assistant Ask Zia, Zoho Analytics centralizes the collection of data. Streamlining data from Zoho collection helps businesses to develop a 360-degree view of their company as well as allows the businesses to answer questions related to operational efficiency, financial status and customer behaviour. In addition to this, Zoho Analytics simplifies the complex processes such as data splitting, formating, merging, feed calculation and ensures optimal productivity.
Zoho Analytics dashboards is a one-of-its-kind business intelligence dashboard which is engaging, intuitive and insightful in functionality and helps you to comprehend important information. Once synced with Zoho Analytics, the software offers businesses with a library of visualization techniques and also ensures organizational trends are recognized easily. Collaborate with Zoho Analytics consultants to understand data visualization that enables business teams to make effective decisions to enhance the bottom line of the business.
Zoho Analytics enables efficient collaboration between business teams by providing team leaders and managers with fine-grained access over the data that colleagues and clients can view and edit. Depending upon the access, users can create comprehensive reports and embed them to websites or share them with other team members via email for collaboration. At the same time, it also allows you to create annotations, images and create comment threads to communicate more productively.
Scalable architecture is one of the prominent benefits of using Zoho. Zoho Analytics is extensible and can be scaled as the business grows. The scalable architecture of the platform allows you to integrate Zoho Analytics into applications of any size. It can be configured to generate reports and handle huge volumes of data by utilizing the scalable column database technology.
How Systango Can Help You?
 We provide technical consultancy to startups, enterprises, hedge funds, and banks on how to leverage the power of technology

We offer an end-to-end development team for web and mobile development

You can hire on-demand tech resources for your development need
Reach Us
Users can easily embed Zoho Analytics' software capabilities into other solutions like ERP tools and CRM platforms. The solution offers seamless integration as well as a fully re-branded user portal for unparalleled user experience across platforms.
All in all, businesses and organizations leverage the Zoho benefits and are empowered to make smarter decisions using Auto-Blending of Data and AI-Powered Assistant.
Systango as your Certified Zoho Analytics Partner
We, at Systango, offer comprehensive Zoho Integration services and are a certified Zoho Analytics partner. We work with our clients to build a fully customizable system for your business. Our services mainly cover Zoho Consultation, Zoho Development and Integration, Zoho Training and Support. Over the last 7+ years, we have worked as Zoho Authorized partners with several clients and helped them set up and integrated Zoho Products. Our Zoho offerings include configuration, implementation, and development of more than 40+ Zoho products.
Here is How Systango Helped Inovelli, The Consumer Electronics Company in Overcoming the Zoho Analytics Challenges.
Inovelli is a consumer electronics company that offers customized solutions and allows its customers to have full control of their smart home devices, no matter where they are. The company had already implemented Zoho CRM but they were facing challenges managing inventory as they were using Skubana for syncing orders from various eCommerce channels to Zoho inventory instead of direct integration with eCommerce channels( Amazon, eBay). Also, they were facing challenges tracking customer order history and the ability to make business decisions based on data.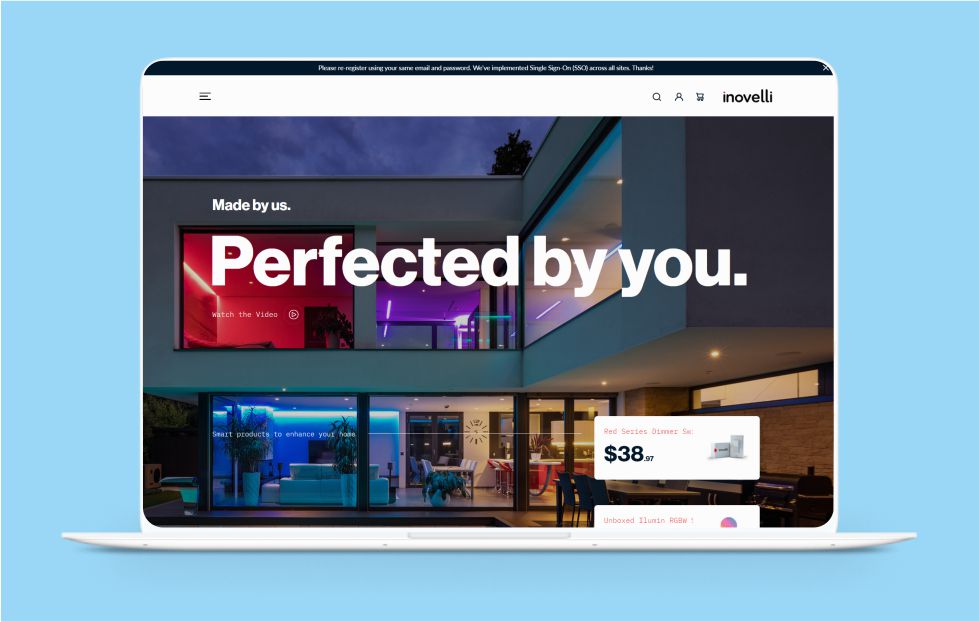 So, in summary, Inovelli needed a solution that could do the following:
Integration and a blend of data from all data sources without manual intervention.
Analysis and creation of insightful and customer support dashboards.
Global and secured report sharing with user-based permissions.
Solution We Offered
As we mentioned above, Inovelli was already using Zoho CRM and they thought that Zoho Analytics could be an ideal for integration and blend of data. We collaborated with the CEO of the company and implemented Zoho Desk, Zoho Inventory, Zoho Analytics, Zoho Campaigns in 6 weeks time and within the budget. We automated their entire sales funnel, reduced manual processing, and increased customer engagement and improved decision making.
Because of the benefits gained from Zoho Analytics, Inovelli identified the gap in customer experience and was able to bridge those gaps with effective strategies.
As a certified Zoho Analytics partner, here are the milestones that we helped Inovelli achieve through our Zoho Analytics Integration services:
Cost cutting and manage inventory from one tool

Manage customer orders from one tool

Make business decisions based on historical data

Increased customer engagement
Visit our portfolio section to learn how we helped our clients Inovelli, Squirrel Hub, Diener Law and ExpertLabels with Zoho Analytics and CRM integration.
Get in touch with us today to leverage the Zoho benefits, streamline your Zoho Analytics integration and get support from expert Zoho Analytics Partner to boost the bottom line of your business.