How Zoho CRM Integration can Lead to Improved Business Efficiency
Last Updated on: April 27, 2023
Want to streamline your marketing, sales, customer support and everything in between? If yes, then Zoho CRM integration is the best solution. In the present highly competitive world, building and nurturing relationships with customers is what matters the most. Even though "human touch" is imperative to take care of your potential clients, however, with the aid of advanced software technology you can streamline customer relationship management altogether. Zoho CRM is one such effective solution that can be easily integrated with other tools to boost your sales result.
According to the recent stats by Superoffice.com, CRM software is one of the fastest-growing markets in the world. Moreover, CRM is now expected to reach more than $80 billion in revenues by 2025. The biggest benefit of using Zoho CRM is that it is a powerful software that covers several business areas like marketing, finance, HR, sales, IT & Help Desk and more. Moreover, email integration in Zoho CRM is also easy.
In this article, we will be providing you insights on how Zoho CRM integration can lead to improved business efficiency. But, before that let's understand how Zoho CRM helps various businesses and what are the various modules of Zoho CRM?
Contents of the blog
How Zoho CRM helps various businesses?
Zoho CRM can be easily customized to meet the needs of various businesses, irrespective of their nature and sizes. From startups to large-scale enterprises and business verticals like insurance, legal, travel, banking, healthcare and non-profit organizations, all types of businesses utilize CRM software to increase their sales, marketing and customer support efforts.
B2B Businesses:
Zoho CRM helps B2B businesses stay on the top of their sales operations by helping them stay up to date with payments, reports and deals. With Zoho Integration, a B2B business can create a common platform for their vendors, partners and stakeholders of the business.
B2C Businesses:
B2C companies have a shorter life cycle and they need a solution that aids in the quick management of the business. Features like lead management, marketing automation and instant surveys help B2Cs reach out to their customers easily.
SMBs
Zoho CRMs free version can help SMBs in competing against the bigger fish in the market.
Enterprises
Zoho CRM comprises exceptional features like workflow management, territory management, order management, sales and marketing automation. Zoho CRM helps in reducing the sales team tasks that are monotonous, in turn allowing them to concentrate on their customers.
What are the key modules of Zoho CRM?
SalesForce Automation
Marketing Automation
Order Management
Contact Management
Inventory Management
Customer Support
Activity Management
Vendor Management
Workflow Automation
Website Integration
Billing and Payment Management
CRM Analytics and Reporting
How Systango Can Help You?
 We provide technical consultancy to startups, enterprises, hedge funds, and banks on how to leverage the power of technology

We offer an end-to-end development team for web and mobile development

You can hire on-demand tech resources for your development need
Reach Us
What applications integrate with Zoho CRM?
Out of all the CRM options available out there, Zoho CRM offers the widest range of integration options. Along with email integration in Zoho CRM, you can integrate Zoho CRM to Office 365, Dropbox, LinkedIn Sales Navigator, Gmail, WordPress, Facebook Ads, Slack, and many more. Here is a detailed list from Zoho.
How Zoho CRM Integration can lead to improved business efficiency?
Integrating Zoho CRM with other tools and platforms can enhance the efficiency of your business. Zoho CRM comes with a number of its own apps, which are further add-ons that help businesses boost their sales. Here are some of the benefits of Zoho CRM Integration that will help you understand how Zoho Integration can lead to improved business efficiency: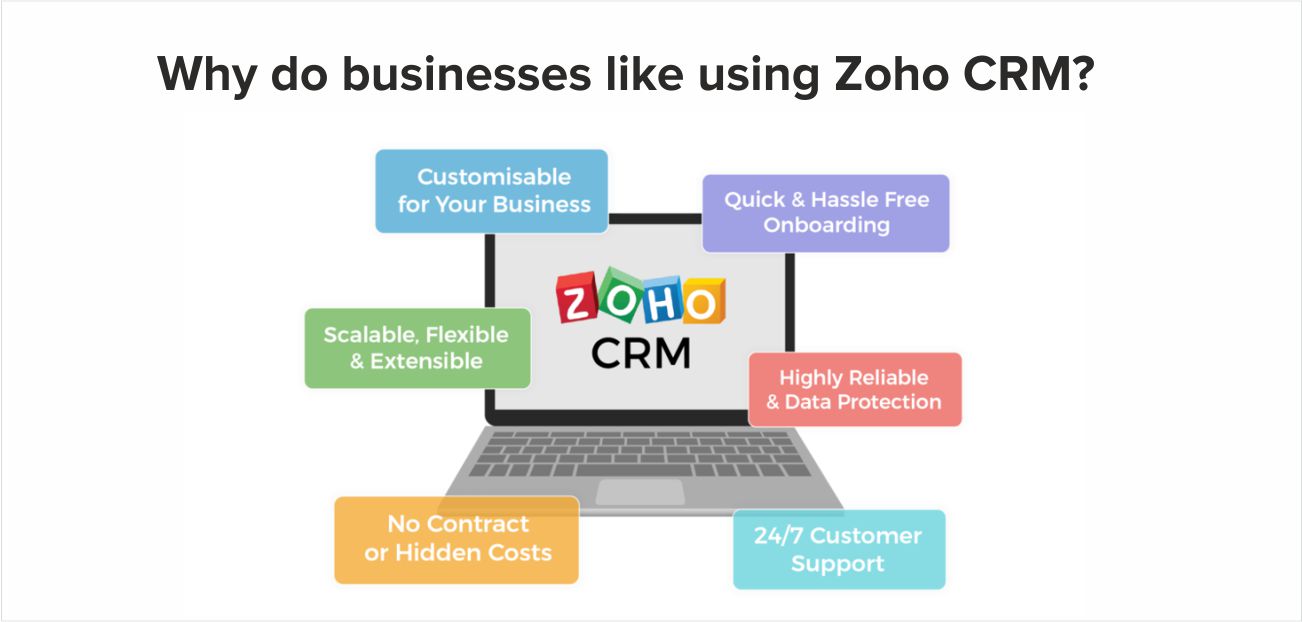 Pain-Free Migration:
Zoho CRM helps in the ease of migration of valuable data. By simply putting your data in the required format, you can simply import files to the modules with the CRM. Even in the case when there is no relevant field to map, you can create it using Zoho CRM. The migration process is a breeze with Zoho's CRM support, knowledgebase and your very own Zoho CRM Integration provider.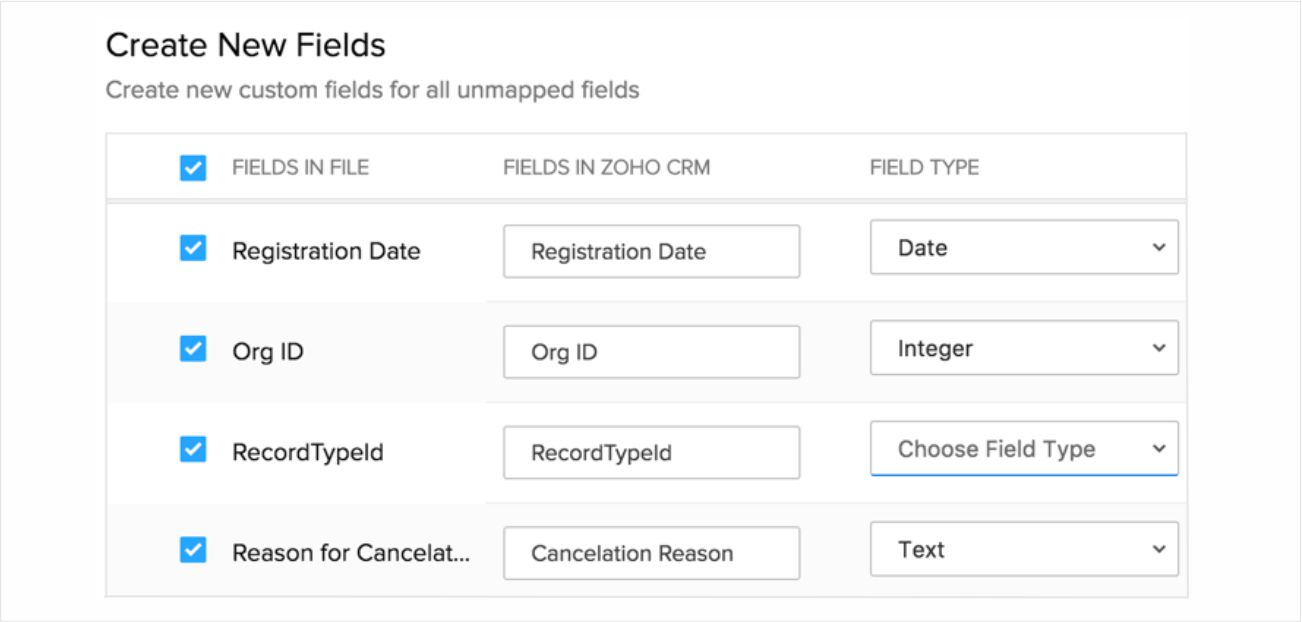 Real-Time Notifications
No matter where you are, you can remain notified about the leads as Zoho CRM is accessible across all the channels such as telephone, emails, social media, web forms, live chat, and more. Hence, with Zoho CRM, you can easily maintain effective communication with your customers.
Simple and Easy to Use:
Unlike other CRM platforms, Zoho CRM is simple and easy to use. You don't need any technical knowledge to monitor and customize the platform. The CRM is divided into different modules such as Deals, Leads, Contacts, Vendors and more for accurate data management as a shared database. Not only this, but the platform also provides you with real-time access to contact history, deal size, sales cycle and much more, which helps you target the right customers.
Automation of Tasks:
According to Business Wire, office workers lose one-third of their time to the admin tasks which are mostly repetitive. Automation of tasks helps in managing the mundane tasks and thus helps your team to focus more on streamlining the lead nurturing process and boosting the conversion rate. Zoho CRM triggers instant actions and enables adding automation of tasks, which saves both time and cost.
Easy Integration with Third-Party Applications
Zoho CRM can be customized for any business or industry according to their specific needs. From the wide range of options available on Zoho Marketplace, you can pick and choose the best third-party applications that can be added to your CRM according to intended functions. Most of these third-party applications can be integrated without any additional cost and zero codings. Email integration in Zoho CRM can also be performed without much hassle.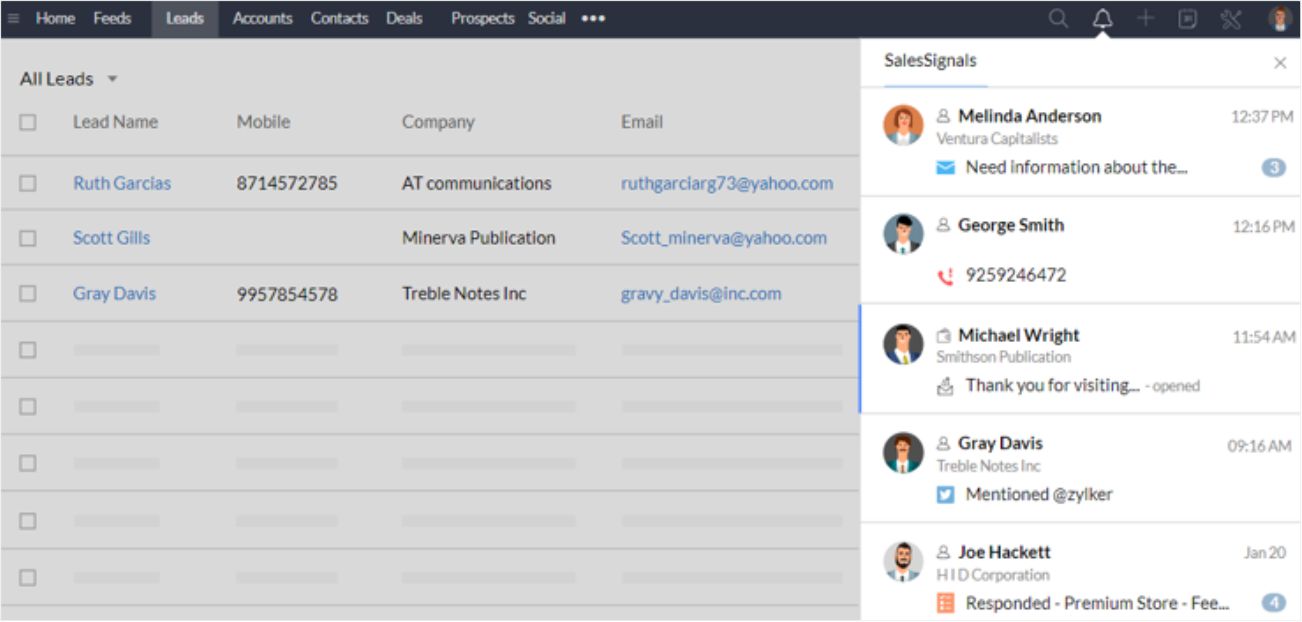 Unparalleled Reports and Analytics
The more you grow your business, the more insights you would need. With Zoho CRM, you can easily track the performance of every sales activity, create dashboards, and stay on top of key performance indicators. The platform provides you with real-time reporting on sales trends, marketing activity, and team performance.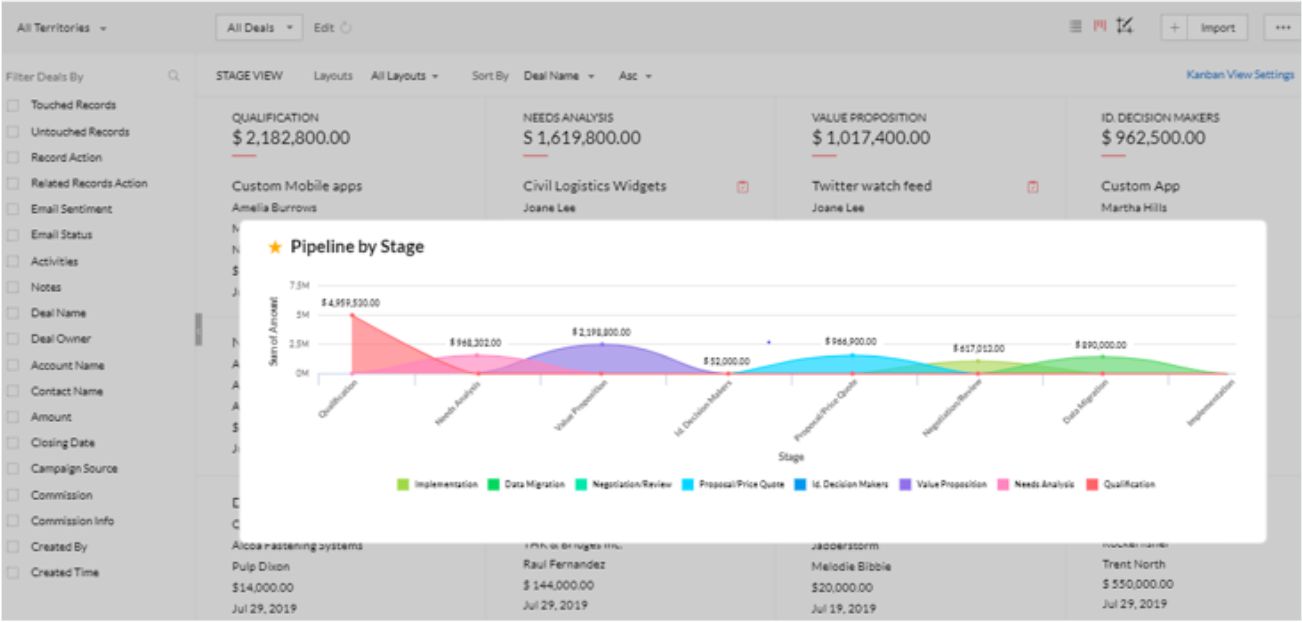 Predictive Sales Intelligence
Zia, an AI assistant included in Zoho CRM aids in managing CRM in a more intelligent and automated fashion. Zia can gather and summarize the information, automate the tasks for your team, detect anomalies and much more. Zia can also predict the likelihood of success for every lead and deal in the CRM.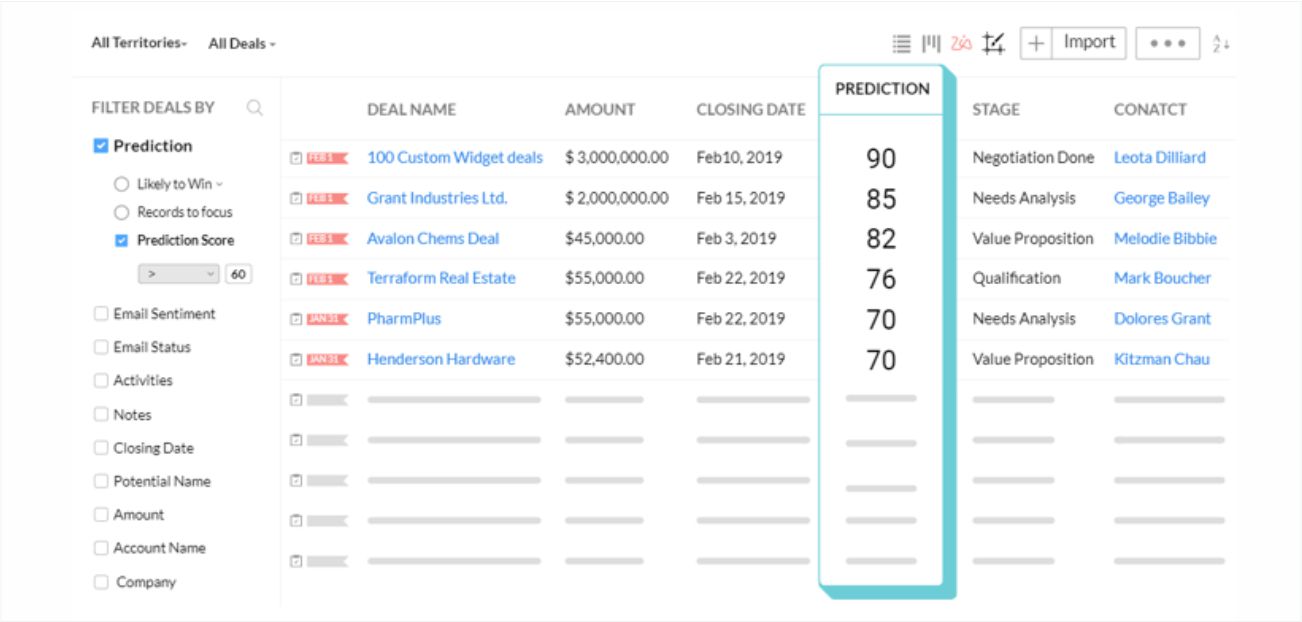 Affordable Pricing
Along with being one of the easy to use and feature-rich CRMs out there, Zoho CRM is highly affordable for small and medium-scale businesses. Zoho CRM comes with a pay-as-you-go service and you are not bound to commitment. Standard, Professional and Enterprise – these are the three plans available with Zoho CRM. There are no hidden costs and payment can be made on a monthly or yearly basis with the flexibility to make changes in the plan as per your requirements.
Zoho CRM aids in managing business workflow effectively and efficiently. If used properly, Zoho CRM can take away a huge chunk of mundane work and helps you focus on the tasks that can bring you more business. If you are not sure whether Zoho CRM integration can benefit your business, then you can start with Zoho CRMs free version and see how it feels. Zoho CRM's robust features such as sales and marketing, secure cloud storage are all available for free. We have pointed out all the features of Zoho CRM to help you understand how it can benefit your business.
How Systango Can Help You?
 We provide technical consultancy to startups, enterprises, hedge funds, and banks on how to leverage the power of technology
We offer an end-to-end development team for web and mobile development
You can hire on-demand tech resources for your development need
Reach Us
How Systango can help you with Zoho Integration?
Whether you own a small business or large-scale enterprise, you need to stay on the top and we, at Systango, help you use the Zoho CRM tool effectively and enjoy benefits like increased revenue, improved customer retention, enhanced lead conversion rates and decreased marketing costs. Systango specializes in Zoho CRM implementations and enables you to kickstart your business by mapping customer requirements.
We are a Zoho Authorized partner in London and we work with direct clients and Zoho partners, covering key areas such as sales, customer behaviour, finance and organizational productivity. Our Zoho developers have helped several Zoho partners in setting up different products for their business. We can help you with everything right from Zoho Consultation, Zoho Development and Integration and Zoho Training and Support.
Here is how we have helped our clients with Zoho Integration:
Squirrel Hub, a consultancy that provides CRM focussed advisory, strategy and integrations to other businesses – relies on Systangos engineers for their CRM integration Expertise. Squirrel Hub approached us for CRM integration expertise. We've helped 50+ of their clients with a variety of third party app integrations like Zoho, Xero, Infusionsoft, Cliniko, TradeGecko, PandoDoc etc
To enable flawless collaboration, our engineers work during Sydney and Melbourne Timezones.
What started as one person engagement is now a 5 people dedicated team. Over the last 4+ years of relationship, we have successfully delivered 100+ Zoho projects, upgraded Zoho 1.0 API to Zoho 2.0 API.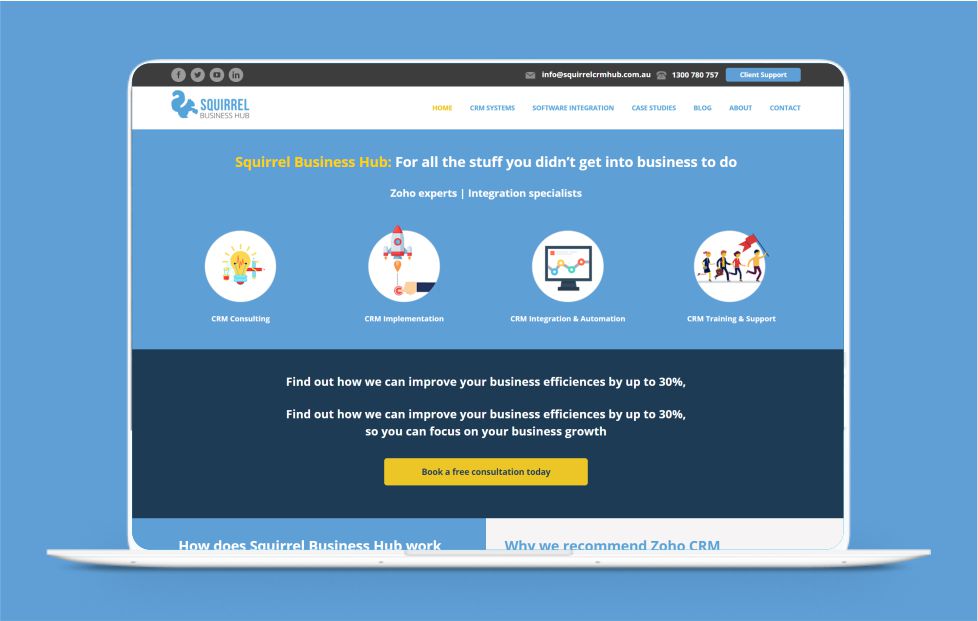 4iiz is a software for law firms currently used across the USA. Firms using 4iiz have recorded an increase in revenues by 200%, 300% even 400%! 4iiz offers solutions for law firms to manage intake and retention of new clients. With a huge demand for their solution, they started to experience bottlenecks and needed to shift from their current systems.
Our team of 5+ Zoho certified experts worked with 4iiz technology team to build a fully-integrated solution for them and helped them migrate from their current system to Zoho. We are also involved in looking at the data and building meaningful insights. The team has now become integral to the 4iiz internal technology team reporting into their CTO, CEO and CMO.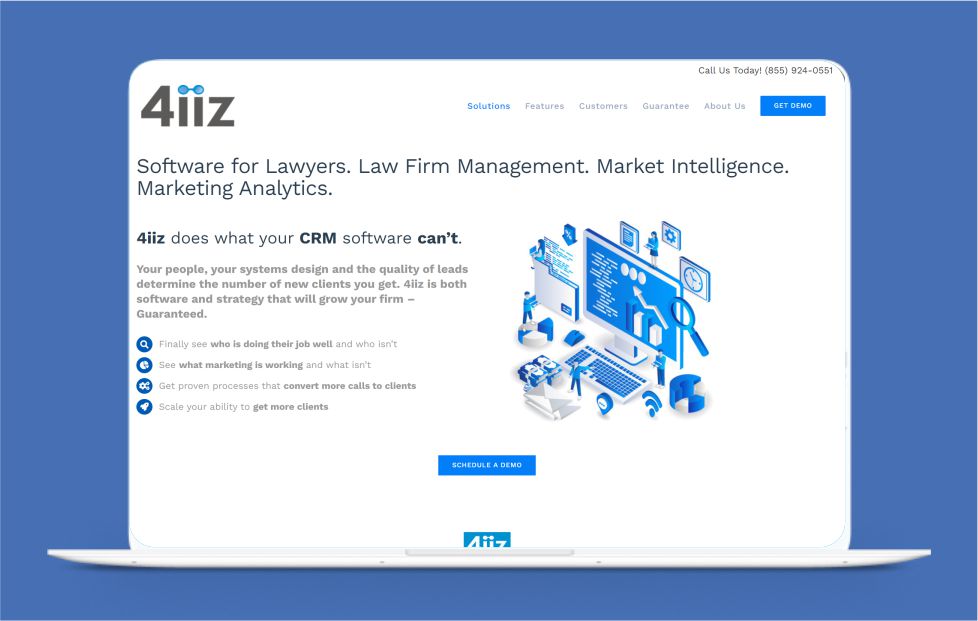 Be it Brewery, Cosmetic, Foor, or Pharmaceutical products, ExpertLabels can label it for you. We helped ExpertLabel unleash the full potential of the Zoho Products Suite for leads capture, engagement and delivery and built an integrated business solution.The client was facing serious order processing delays in terms of order to fullfillment times. They needed to upgrade from their manual processes to a powerful system that's scalable and powerful.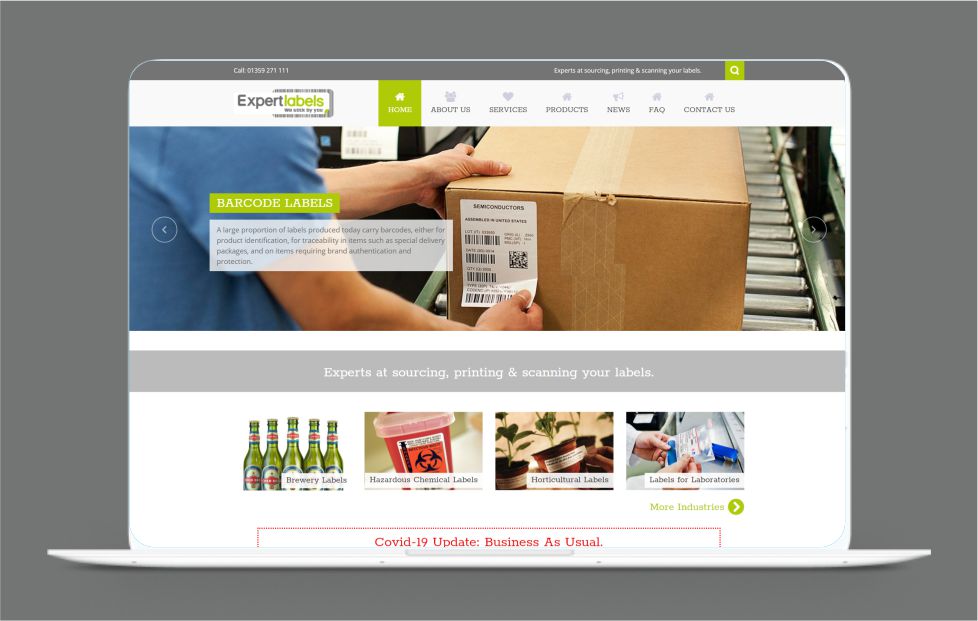 We identified exactly what the issues were and recommended integration with Zoho. We did a full integration of their current system with Zoho Inventory, Zoho Books and Zoho CRM. We connected their current Discourse forum to Zoho ASAP and then involved Zoho inventory integration that synced all contacts, products, and vendor related information.
We built a Zoho CRM for them by connecting all Zoho platforms and transferred all data from Quickbooks to Zoho Books, setting up B2B invoicing.
To streamline your Zoho implementations, Get in touch with us today!