3 Trends To Watch For As SocialFi Era Rises
Last Updated on: April 24, 2023
SocialFi, the fusion of social media and Web3 is here to exist besides GameFi and DeFi. It has attracted more than 400 projects with almost 5 million active users.
Thinking about decentralized social applications might sound bizarre at first, but when you learn about their implications and user benefits, there are higher possibilities of you getting excited about their existence.
SocialFi has been introduced as web3's answer to social media for the future. Online users are currently in transition from a web2 to a web3-driven world. The existence of SocialFi will bring a combination of networking and finance to build decentralized social networks.
The concept of SocialFi is promising three most crucial features:
Freedom of speech (no centralized authority)

Better data control (owning the content)

Monetization from online content for users
Users on web2 are obviously dealing largely with the above three points. The ambitions to resolve these problems are far from certain, but if you see what SocialFi platforms have to offer, you might get intrigued in learning if it will emerge as a temporary fad or become the next big thing.
Quick Facts About SocialFi
The SocialFi market size is estimated from $2 to $20 billion.
14 Million users registered on SocialFi projects, out of which 5 million are active.
More than 400 projects are there in the field of SocialFi. The majority of them were launched from 2018 to 2021.
Ethereum, Binance Chain and multi-blockchains are key players in SocialFi initiatives.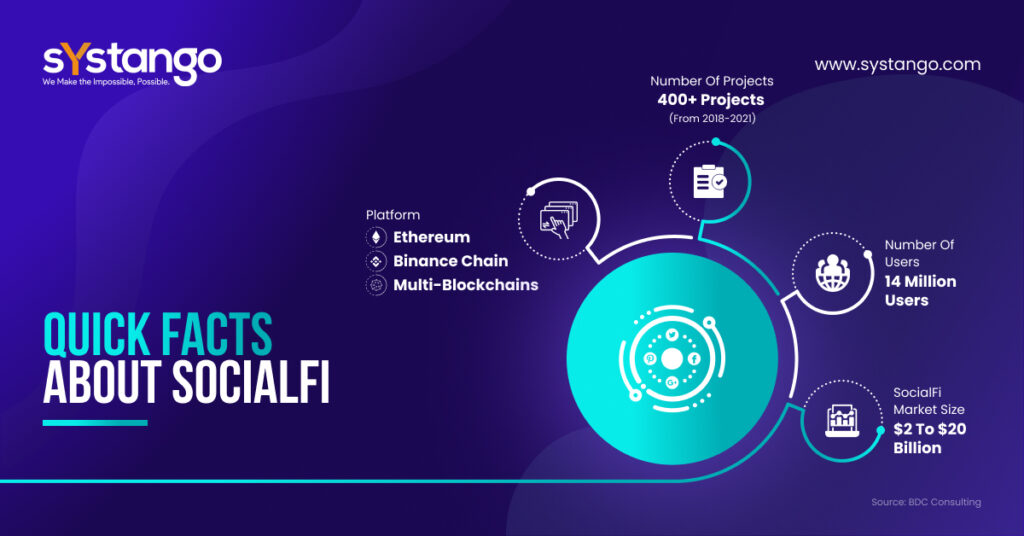 The stats around the evolution of SocialFi are uplifting for the industry and its users. But whether it will boom or bomb, only time will tell.
You might ask, how is web2 social media different from web3 social media?
Well let me suffice the answer in just two sentences for you;
On web2, the platform is the seller and you're the product.

On web3, you're the owner and the platform is just a facilitator.
Let's discuss three key trends that SocialFi will put focus on; Users, Metaverse and Experience.
Handing over the Ownership to 'The Users'
One of the core foundations of any social media network is its users. Social networks are nothing without their users. Be it Twitter, Facebook or Instagram, they have made it big only with the users who have shown interest and been active on the platform.
In order to attract crypto and non-crypto users, SocialFi offers data rights and token incentivization to its users.
Such an offering will address web2's problem of being centralized and being obligated to investors since it's publicly traded on the stock market as well.
How is SocialFi going to give ownership to users?
On decentralized social platforms, users will be the sole owners of their data/content, they will be free to do whatever they want to do with it. The users can choose to monetize their data on their own. For example, an artist who garners good followers can create a subscription model in their social token for giving premium access.
The existence of social tokens will allow users on SocialFi with meaningful brand equity to begin charging for their content or creative offerings. Wouldn't it be enticing for modern content creators and influencers? If done right, we will see some exclusive and shareable content on web3, increasing the number of eyeballs.
Upcoming Digital Life: 'The Metaverse'
The other next big thing that online users are going to witness at the mass level will be the metaverse. At Least that's what we all have been speculating with all the discussions and hype around it in the tech world. With its plan to deliver an immersive integration of virtual reality and augmented reality, the idea consists of several projects. The users can make purchases, play games, socialize and conduct several activities on the metaverse.
What is amazing about Metaverse is that the users can work and live in the shared virtual space. It becomes a platform where users can congregate and socialize in a whole new manner.
The Metaverse is currently facing infrastructural limitations, the networking is fairly immature and there is not yet enough hardware in consumers' hands. On the contrary, there are many private events and launches surfacing to give a glimpse of how Metaverse will unwind.
The introduction of SocialFi will take this collaboration and interoperability from a closed-door meeting to a public platform; where we will witness engagement on a mass level.
Enabling Mass Adoption To Deliver: 'The Experience'
Decentralization is good, but any application that's being built on blockchain demands users to deal with crypto wallets or blockchain addresses. In short, convenient and easy aren't the words that might be used to describe SocialFi right now. To go mainstream, SocialFi will have to accommodate the user experience for the masses.
Many new projects are working hard towards bridging the gap. For example, Unipass is one project that's allowing users to authenticate social accounts and multi-chain addresses cryptographically, enriching their identity in the metaverse. Another project Nametag describes itself as the 'username of the future', providing a universal login name across web3.
The above-mentioned projects are focused on simplifying the experience of users and easing the onboarding of new ones to the world of blockchain or SocialFi.
SocialFi and its Future
Undoubtedly, there's so much to be done for inviting users to SocialFi. But with what we see right now, the future is bright for all it has to offer. The shift of younger users from web2's legacy social media is taking place.
However, legacy social media is also playing the catch-up game with its users. They are embracing new technology. For example, Meta's Instagram is all set to allow its users to connect their digital wallets and share collectables. Recent reports have also revealed that Meta is planning to surface a feature allowing users to create and sell NFTs.
No matter what new features they come up with, these web3 tech upgrades to web2 platforms won't give the right to own the data; that's where SocialFi has its edge.
Modern users are digital literates who are keen to spur innovation and become champion adopters of SocialFi in the coming years.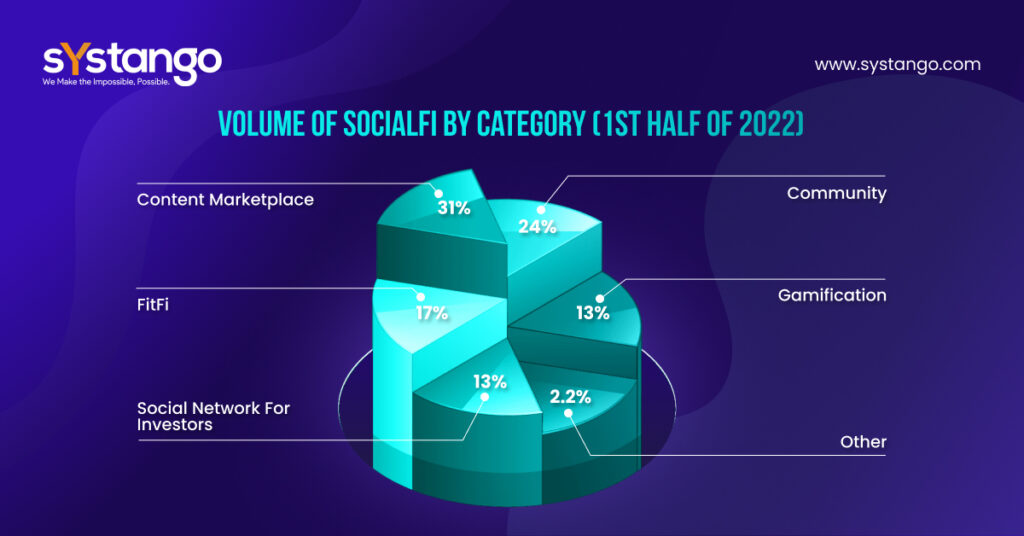 The future of SocialFi seems flourishing as the space is witnessing founders and investors who have been part of building platforms with 100M+ users. These people have invested years in blockchain development, they understand the quality of code, and they have the capability to find a market fit for a product.
They too are instrumental in shaping the next generation of social platforms.