Best Blockchain Development Platforms in 2023 – Insight into Blockchain App Development
Last Updated on: July 13, 2023
33% of organisations, on average, are willing to engage with blockchain technology. (Source: Study By IBM)
Are you considering becoming a part of the blockchain community? And contemplating on what blockchain development platform you must pick to develop your application?
In a world driven by centralised terms, Blockchain has certainly revolutionised how industries can operate in a decentralised environment.
With a massive adoption rate and ever-increasing demand for business scalability; blockchain development has emerged to be developers' go-to platform. While exploring the potential of the technology; blockchain architects have introduced us to a myriad of platforms to build decentralised applications and smart contracts.
To your curiosity, there are 1000+ blockchain development platforms. Wouldn't it be a herculean task to scrutinise each one of them?
Well, that's when you turn to blockchain experts. You can find a suitable blockchain platform to create the desired application, based on your business and industry niche. Let's dive into learning about the best blockchain development platforms available at your disposal:
Quick Comparison Chart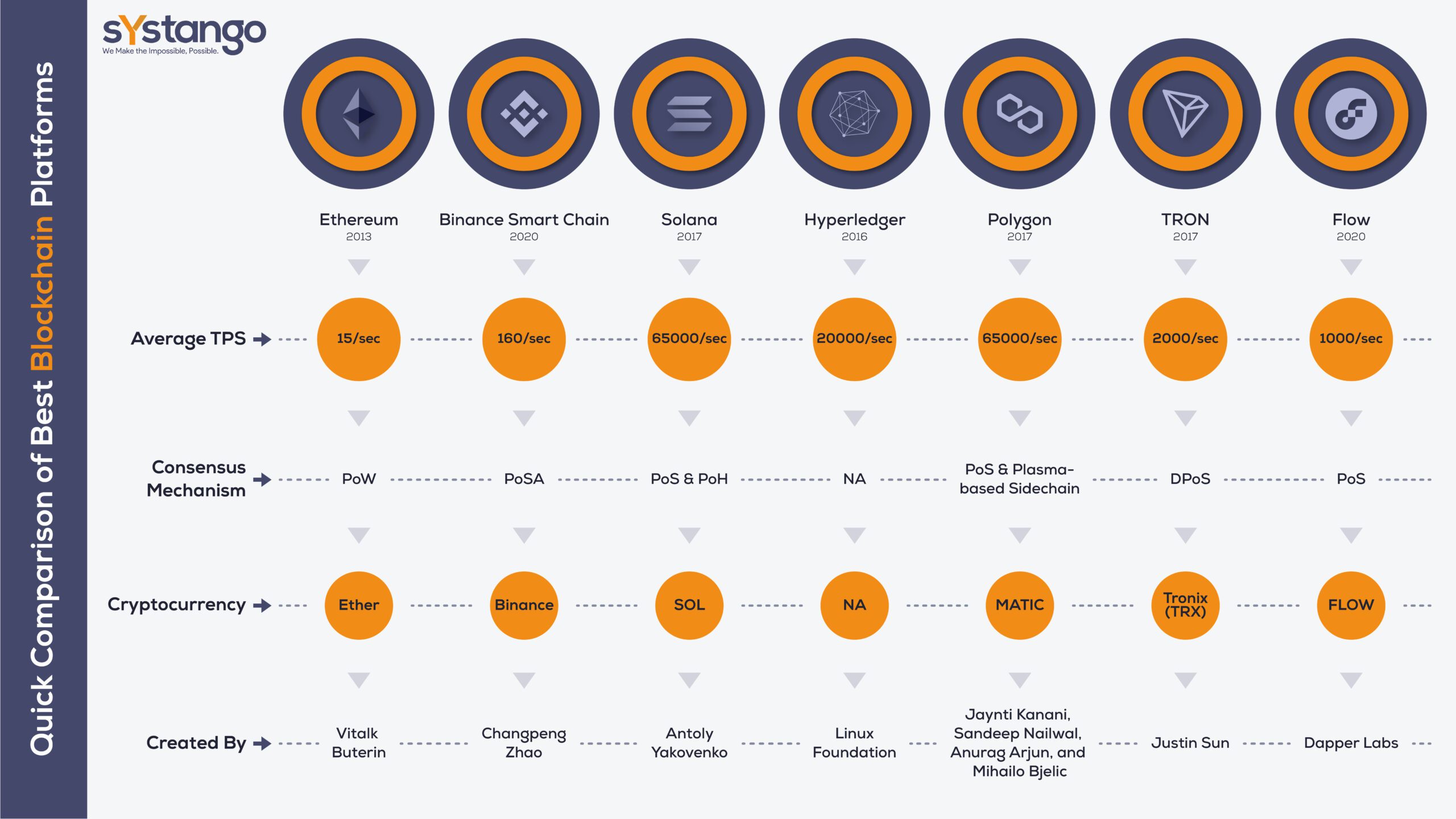 Top Platforms to Develop Applications on Blockchain
Here's a list of the top 7 blockchain development platforms you can build dApps, smart contracts and other technological innovations.
Ethereum
The DIY platform for decentralized applications has marked a dent by becoming an ideal choice for developing NFTs, smart contracts and dApps. With all the fuss of Ethereum moving from Proof of Work (to become Ethereum Classic) to Proof of Stake; it has garnered large online support to become an outstanding blockchain development platform.
Ethereum Enterprise Alliance (EEA), is a non-profit organization with 250+ members. It connects active developers from start-ups, academics, and Fortune 500 companies. A few top brands embracing Ethereum as their blockchain platform include Intel, J.P Morgan Chase, Microsoft and many more. Overall, with Solidity as its programming language, Ethereum offers a mature ecosystem for developers and tech enthusiasts to create decentralised applications.
Quick Facts About Ethereum
Created By: Vitalk Buterin
Inception Year: 2013
Ledger Type: Public
Cryptocurrency: Ether
TPS: 15/sec
Consensus Mechanism: PoW
Binance Smart Chain (BSC)
Binance Smart Chain complements Binance Chain, its first blockchain, launched recently in 2019. With its introduction, the Binance ecosystem now has smart contract functionality. BSC is mostly referred to as a centralized version of Ethereum since it heavily relies on the Ethereum developer community. In terms of transaction and adoption rates, BSC has been performant over Ethereum.
Supporting dApps and smart contracts; BSC does offer significant opportunities over competitor blockchains with a multi-functioning, highly-dynamic cross-compatible ecosystem. It is fast, affordable, and offers decent scalability to meet modern business needs.
Quick Facts About Binance Smart Chain (BSC)
Created By: Changpeng Zhao
Inception Year: 2020
Ledger Type: Public
Cryptocurrency: Binance
TPS: 160/sec
Consensus Mechanism: PoSA
Solana

Solana with its impressive 2000 transaction per second (TPS), Solana has attracted many eyeballs to host decentralized applications, NFTs and even blockchain-based games. With a praising response from blockchain enthusiasts, Solana has demonstrated itself as a tough contender to Ethereum.
Furthermore, Solana delivers exceptional scalability by adopting a novel technology dubbed Proof of History (PoH) to complement PoS. Another reason why tech fanatics prefer Solana for their application is it being an independent layer-1 blockchain network without any parachains. It has emerged as one of the fastest, most affordable and eco-friendliest blockchain platforms.
On a journey to becoming the largest blockchain network in market capitalization, Solana is certainly serving the blockchain app development community with multiple advantages over its competitors.
Quick Facts About Solana
Created By: Antoly Yakovenko
Inception Year: 2017
Ledger Type: Public
Cryptocurrency: SOL
TPS: 2000/sec
Consensus Mechanism: PoS & PoH
Hyperledger

Founded by the Linux Foundation, Hyperledger offers a diverse suite of frameworks and projects for businesses to develop blockchain applications. It is free from any sort of consensus mechanism and acts as a hub for various decentralised ledger libraries and frameworks. Hyperledger Foundation is thriving in developing an interactive landscape with numerous graduated (Fabric, Iroha, Sawtooth) and incubating projects (Cactus, Bevel, Caliper, Cello).
The blockchain platform operates on consensus and smart contract layers comprising 10 projects, including 6 tools and 6 frameworks. Hyperledger is being embraced by 250+ organisations including tech giants like IBM, SAP, Samsung, American Express, Huawei, and many more.
Quick Facts About Hyperledger
Created By: Linux Foundation
Inception Year: 2016
Ledger Type: Private
Cryptocurrency: NA
TPS: 3000/sec
Consensus Mechanism: NA
Polygon

If you're looking to scale the Ethereum blockchain platform and desire to develop an application on it; Polygon can be a more efficient platform. Polygon is also referred to as the 'Internet of Blockchain for Ethereum' as it exclusively focuses on enabling the multichain ETH ecosystem. The platform offers interoperability with all the current and future infrastructure scenarios for ETH; making it scalable for any (or every) business. Additionally, it offers scalability through multichain and plasma-enabled sidechain functionality.
The platform is capable of processing 65,000 transactions per second, making it the first choice for many blockchain app developers and their clients. With the hosting of more than 19K decentralised applications, it has already been widely adopted by businesses for infrastructure development.
Quick Facts About Polygon
Created By: Jaynti Kanani, Sandeep Nailwal, Anurag Arjun, and Mihailo Bjelic
Inception Year: 2017
Ledger Type: Public
Cryptocurrency: MATIC
TPS: 65000/sec
Consensus Mechanism: PoS & Plasma-based Sidechain
TRON

This blockchain development platform abides by its tagline "decentralise the web". TRON has been established with its primary purpose to decentralise the distribution and content creation industry. Since its inception, TRON has successfully ensured the implementation of more democratic content creation processes within its applications.
TRON can be readily leveraged for developing, dApps, and Defi. It uses a fork of Solidity to make Ethereum smart contracts compatible with the TRON ecosystem. With three-layer architecture, much like EVM, TRON Virtual Machine (TVM) is majorly responsible for executing smart contracts on this blockchain platform. Although its code-base was originally a copy of Ethereum, with constant updates, TRON aims at overcoming the scalability issues in Ethereum.
Quick Facts About TRON
Created By: Justin Sun
Inception Year: 2017
Ledger Type: Public
Cryptocurrency: Tronix (TRX)
TPS: 2000/sec
Consensus Mechanism: DPoS
Flow

Originally conceived by the team behind CryptoKitties, Flow promises all its predecessors' features such as immutability, decentralisation, and transparency. Particularly designed for decentralised crypto games and NFT marketplaces, it supports exceptional user experience at a mainstream scale. Flow is designed for extensive scaling without the use of sharding. Yes, you read it right; Flow blockchain employs a distinctive multi-role architecture protocol to enhance the scalability of applications.
Blockchain developers can create smart contracts on Flow with Cadence's resource-oriented programming language. All thanks to Dapper Labs, Flow has affirmed itself as a blockchain platform for new generation apps, games, and virtual assets.
Quick Facts About Flow
Created By: Dapper Labs
Inception Year: 2020
Ledger Type: Public & Private
Cryptocurrency: FLOW
TPS: 1000/sec
Consensus Mechanism: PoS
With the blockchain app development market advancing incredibly, it's crucial to know which one is most suitable for your enterprise. Below are a few aspects most innovation leaders and development architects advise considering:
Adoption Rate

Core functionalities

Programming Language

Transactions per second

Transaction Cost

Consensus Mechanism

Development Capability

Scalability

Security

Community support
Note: A few of the above factors might not be relevant if you are going to hire blockchain app developers to work on your project.
Conclusion
You have read about almost all the trending and efficient blockchain development platforms available. We hope you might have received a comprehensive idea of how or what platform can work for you!
In case you're still confused, get on a call with our blockchain app developers and get your queries answered!