Must-Have Features for FinTech App Success
Last Updated on: June 20, 2022
Every industry in the world is reeling with intense competition. In this long list, the FinTech industry is the newest addition. The rise in technology related to finance has been rapid, and today has become deeply intertwined in domains like personal finance, trading and investment apps, equity apps, blockchain apps, and more.
This blog delves deep into the features that the right FinTech app needs to possess to impact a highly competitive industry.
Contents-
According to a Statista report, there were a whopping 10,605 FinTech startups in America alone, whereas Europe, Middle East, and the Africa region accounted for 9,311 startups. The Asia-Pacific region has 6,129 such startups.
All these numbers unanimously depict just one thing- FinTech will continue to make waves as long as technology continues to evolve. This is why it's crucial to ensure that your FinTech application development stays future-proof for a significant period.
Before going into details about how to build a FinTech app, let's first have a look at the fundamentals briefly.
What is a FinTech App?
You might already be aware that the word FinTech is the combination of two words, 'finance' and 'technology'. A good FinTech application enhances the experience for customers as well as service providers, which is a good enough reason to boost the overall company revenues.
A FinTech app developed rightly helps in making transactions and payments simple and smooth. These apps allow the users to keep a track of all their financial activities making their lives easier. 
But that is all after an app has already reached the market. FinTech application development entails a lot more, and features comprise the most important part for the same. Given how competitive the entire digital ecosystem has become, it's important to build a FinTech app that ticks all the right boxes in terms of the features on offer.
Let's look at some of the must-have features for a FinTech app.
Must-Have Features to Build a FinTech App
While many features work with users in tandem to make a FinTech app appealing to a large user base, a few must-have features make the overall experience of using a FinTech app to the next level.
The must-have FinTech app features to be kept in mind during FinTech mobile app development for more sales and ROI are as follows-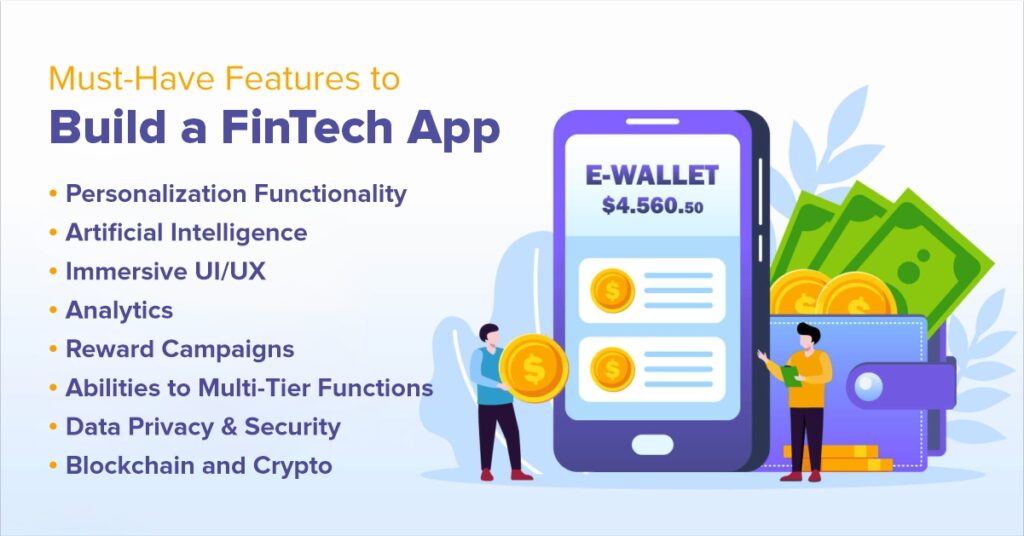 Personalization Functionality
Instant gratification is a reality for customers today, and FinTech application development is no different. Integrating features that deliver personalized experiences for different users is surely a great way to make a FinTech app stand out.
This personalization becomes better when the gathered data can help to predict user behaviour and give them something that brings them back to the app. For instance, if there's an investment app, then the app should be proficient enough to guide them in the correct direction. 
No recent technology has been able to thrust innovation better than Artificial Intelligence, or AI. If the FinTech app features AI integration with them, there's bound to be a remarkable boost in aspects like better efficiency in operations, automatic customer support in chatbots, improved wealth measurement tactics, and more.
AI brings customer support automation to the fore, allowing the team professionals to focus on other important tasks at hand for business improvement and generate favourable ROI with time.
The interface of a FinTech app can greatly determine the extent of its utility. Professionally done FinTech mobile app development allows developers to create a highly immersive interface to make a user-friendly app that delivers a very smooth experience for every user.
The biggest advantage of a simple UI/UX is that it offers users a high level of flexibility and enhanced power. Other than the great features on offer, the right UX also enables smoother financial operations, taking user engagement to a different level. 
How Systango Can Help You?
We provide technical consultancy to startups, enterprises, hedge funds, and banks on how to leverage the power of technology.

We offer an end-to-end development team for web and mobile development.

You can hire on-demand tech resources for your development need.
Reach Us
Accuracy in financial data is of utmost importance, which is why the users of FinTech apps use them in the first place. It's a big reason why data analytics integration is so important while you build a FinTech app.
With the right analytics plug-in, users can easily be sent customized reports of their financial transactions so that they are kept in a great loop about the state of their finances. Given how competitive the present scenario is, most of the well-known apps are making use of this feature, while more are adopting it every day.
Reward programs and campaigns are an excellent way of bringing users back to using the concerned FinTech app. There are already many FinTech apps that feel similarly, making use of consistent reward campaigns, of which, Robinhood is the best instance.
With referral and usage rewards, FinTech application development presents some great opportunities for users to earn a few freebies for using the app. This is an unmissable feature.
Abilities to Multi-Tier Functions
Multi-tier functionality is a feature that powers FinTech apps to be flexible and highly efficient at the same time. It gives out the feeling that the particular app is truly purpose-driven and efficient where it should be.
This feature allows the app to work seamlessly while also running different sessions together. Multiple activities can be managed and tracked by the users effortlessly, leading to increased sales for the company.
Privacy and security are two very crucial elements that are subject to the utmost attention during FinTech mobile app development. For the right data security measures, there is a lot of need to ensure the right compliance so that there are no chances of any legal trouble for the app in the future.
Regulations need to be explicitly specified and the authentication process needs to be simple enough so that every user can take care of their financial data details.
Blockchain has become a key driver of innovation in the FinTech industry for all the right reasons, out of which elaborate levels of transparency during financial transactions in the least possible time. It ensures that every transaction is authentic by validating and recording every transaction.
By using Blockchain, companies get to increase the frequency of their P2P payments, reducing the transaction fee for payments, saving time and money for all involved parties in the transaction.
Blockchain also brings with it the virtue of quick and safe data sharing through various platforms without involving any intermediaries like banks or other related institutions. 
FinTech is here to stay, the major credit of which goes to the many immersive features that are offered with the technology. With the integration of the right features, your FinTech app will surely help maximize your revenue and achieve formidable ROI for your business.
Systango is a leading FinTech mobile app development company, offering its expertise across varying FinTech sectors, delivering seamless value and super levels of connectivity.
How Systango Can Help You?
We provide technical consultancy to startups, enterprises, hedge funds, and banks on how to leverage the power of technology.

We offer an end-to-end development team for web and mobile development.

You can hire on-demand tech resources for your development need.
Reach Us
Here are some of the finest fintech applications developed by our team so far-
FutureBricks
FutireBricks is a peer-to-peer lending platform where SME House Builders can raise investments for their projects. FutureBricks needed a technology partner to roll out the platform, build mobile apps and be FutureBricks core technology partner to help them get through the FCA regulation process.
We worked alongside the Futurebricks team to set up an iron caste vetting process, both for the lenders and the borrowers. Given that the platform allows money transactions and in some cases also holds funds, they needed FCA regulations compliance.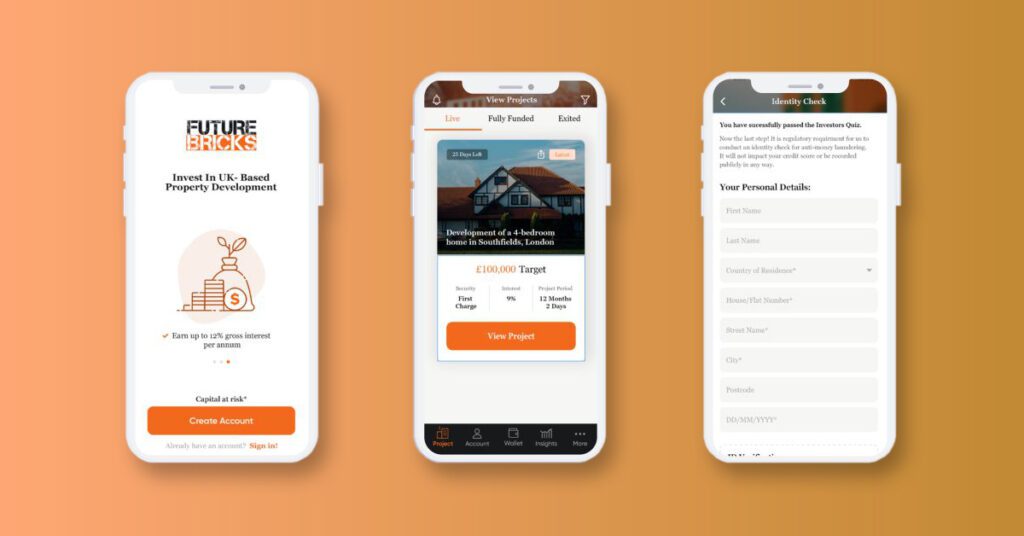 We delivered an intuitive application that let investors analyze UK based property development projects and invest. We helped them launch their P2P Lending web app within a short span of 3 months including successful pen testing! We then rolled out an Android and iOS mobile app that now enables 1000+ lenders to invest on the move.
Fintify:
Fintify team needed a tool for budget and personal finance management. Our team designed and developed a superlative React Native based budgeting, personal finance aggregator and monitor app that allows its users to calculate their net-worth and monitor investments across multiple geographies. 
Tech Stack includes:
React Native
Python-Django
Yodlee API
PostgreSQL
Hosted on Amazon Servers
To jump into the growing fintech industry with an amazing application, connect with our team of FinTech app developers today. We offer native app development services for iOS and Android as well as cross-platform app development that saves your cost and reduces time-to-market. We have one of the biggest cross-platform app developers team in Central India, who are equipped with all the latest frameworks and tools to deliver seamless application. Get in touch today to turn idea into reality.