Fintech App Development – Types & Their Key Features
Technology has transformed everything around us -from shopping to socializing, booking travel tickets to buying groceries. It has also turned the financial service industry on its head. Over the last few years, quite a good number of fintech startups have emerged with exceptional fintech app development, utilizing technology to make it easier for people to transfer money, make payments, invest, get a loan and much more.
The fintech sector has witnessed a tremendous rise over the past few years. According to a 2019 Fintech EY report, the global adoption of fintech services has drastically increased from 16% in 2015 to 64% in 2019. The awareness of fintech is also unexpectedly high. Out of 27,000 consumers surveyed, 96% were aware of fintech transfer or payment offerings and three-fourths have used one before.
For millennials, the fintech technology is appealing because they grew up using mobile devices and now feel at ease to conduct financial transactions the same way they share pictures or order food.
This is the reason why Fintech today is a multi-billion dollar industry, dominated by startups. The number of players in the industry is growing every day with solutions that counter investing, cryptocurrency trading, crowdfunding and more.
If you also intend to launch your fintech app, begin your journey by understanding what is fintech and the types of fintech applications to win fintech app development.
What are the Types of Fintech Applications?
There are many different use cases of Fintech technology. Below we have some of the types of applications in the industry along with the Fintech app features-
InsurTech (Insurance):
The InsurTech concept represents the convergence between digitization, disruptive innovation technologies and the insurance sector. InsurTech is nothing but Fintech applied to the insurance sector from an expert and focused perspective.
Insurance CRM software helps insurance companies to collect, store and manage the user's data in one place and use it effectively to enhance customer experience.
The main motive of designing Insurance CRM software is to assist clients in improving client relationships.
Key Fintech App Features of Insurance CRM Software –
Task management features to help employees manage daily activities, task schedules and summaries
Document management – to aid in the management of documents in one place.
Commission tracking features – to help managers track agent commissions, their progress and be informed about how employees are performing
A workflow engine that enables automatic document, commission generation and drip email marketing campaigns and increases operational efficiency.
If you are planning for insurance based fintech mobile app development, then here are some good examples to check –
Credit Karma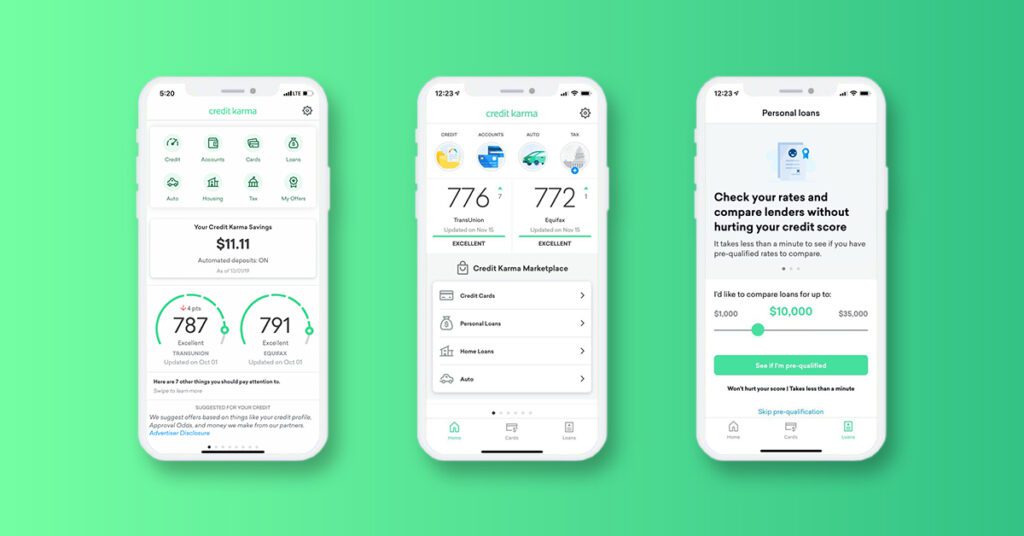 Main Features –
Provides access to credit scores and reports from Equifax and TransUnion with weekly updates.
Analyze your credit profile and make recommendations that help you save money.
Features members reviews on loans and credit cards so you can make informed decisions.
Bitrix24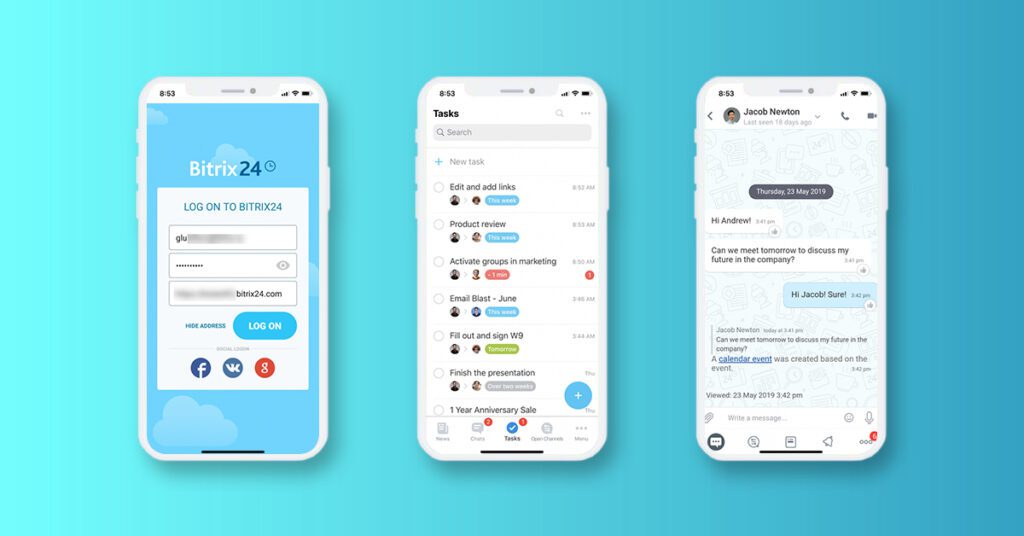 Main Features –
Detailed reports, sales pipeline, invoices.
Lead tracking and web forms
Marketing automation and sales analytics.
Systango as a fintech app development company designs and deploys seamless InsureTech based software and apps. Get in touch with our team to know more.
2. Investments –
Robo-Advising Apps
Robo-advisors are online investment management tools that utilize mathematical algorithms to offer financial advice to users and this process involves minimal human intervention. There are different types of Robo-Advising systems such as Risk-averse, Risk-seeking and Risk-neutral.
Key Features of Robo-Advisors-
Portfolio Management – Robo-advisors create portfolios based on the preference of investors. Typically, portfolios are created based on the Modern Portfolio Theory, which focuses on allocating funds to stocks that are not correlated.
Tax-Loss Harvesting – Robo-advisors help users with tax-loss harvesting and aids them to save on capital gains tax.
If you want to build Robo-advising investment apps, check out the good examples –
M1 Finance –
M1 Finance is a completely free platform that offers the best of both worlds – a simplified Robo-advisor with the capability of selecting your stocks.
Key Features –
Using the "Pies" and "Slices" methodology of this application, you can pick a variety of investments and the percentage you want them to hold in your portfolio.
Borrow against your investments at 2-3.5% without any additional paperwork.
Incorporates digital banking as well.
Betterment-
Betterment provides users with the tools, inspiration and advice to become better investors.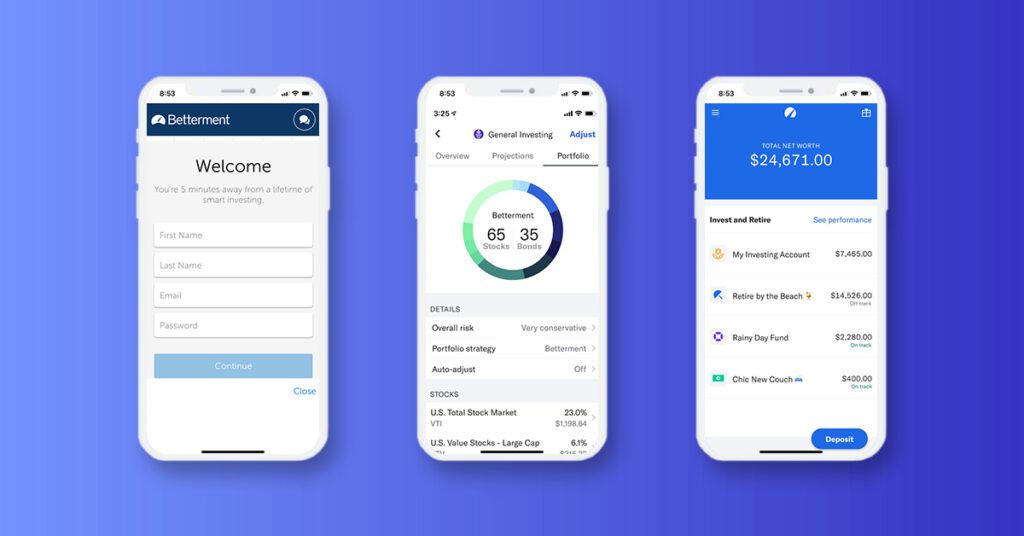 Key Features –
Betterment's investments core products and access to licensed financial experts and CFPs through a mobile messaging interface.
Enables users to open sub-accounts that use different portfolios for reaching various goals.
Stock-Trading
Stocking trading applications allow you to manage your portfolio and trade stocks on the go. These applications charge affordable fees and provide a plethora of options to trade.
Key Features –
Real-time streaming of stock quotes and charts –
This is updated every second to generate the most accurate analysis, efficient strategies and price patterns.
The above-mentioned charts and quotes should be derived using all kinds of technical, fundamental and descriptive metrics to gain an advantage when stock-picking.
Relevant and timely news customized according to the user's watchlist.
If you want to build stock trading apps, check out the good examples –
Robinhood-
Robinhood is a true pioneer of commission-free trading. It is known for providing a simplified trading experience without any hassle of fees.
Key Features
Commission-free trades on options, stocks and ETFs.
Access to popular cryptocurrencies.
Acorns –
Acorn is a mobile-friendly option for investing your money into a nest egg that grows gradually.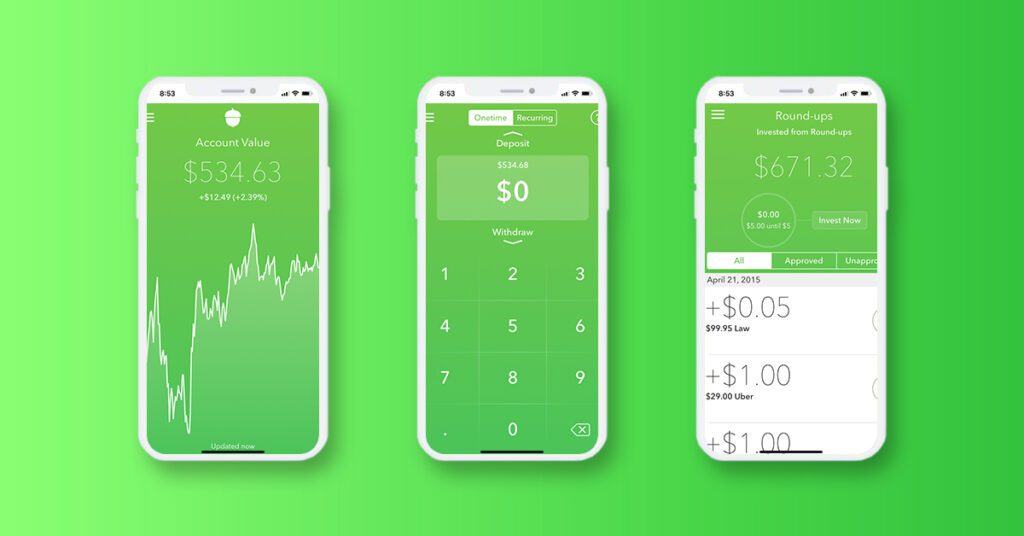 Key Features
Easy to use with very little investment costs.
Automatically invests spare cash to grow your savings.
Free management is available for college-goers.
Systango as a fintech app development company designs and deploys both stock-trading and Robo-advising apps. Get in touch with our team to know more.
Digital Payment applications –
When we talk about how digitalization is evolving the financial service industry, it can get difficult to not mention digital wallet apps. Following the popularity that digital wallets are receiving, several startups have started connecting with sound fintech app development companies to come with seamlessly designed digital solutions around e-wallet.
Key Fintech App Features –
Seamless transfer of money to the bank account as well as credit from a bank account.
Bill payments through the e-wallet apps.
Payment through contactless technology using QR code and NFC.
Dashboard to show credit/debits.
If you are planning for digital payment based fintech mobile app development, then here are some examples to consider –
PayPal –
PayPal is the granddaddy of payment companies. It started as one of the preferred digital wallets for eBay transactions but has emerged as one of the most dominant names in the online payment industry.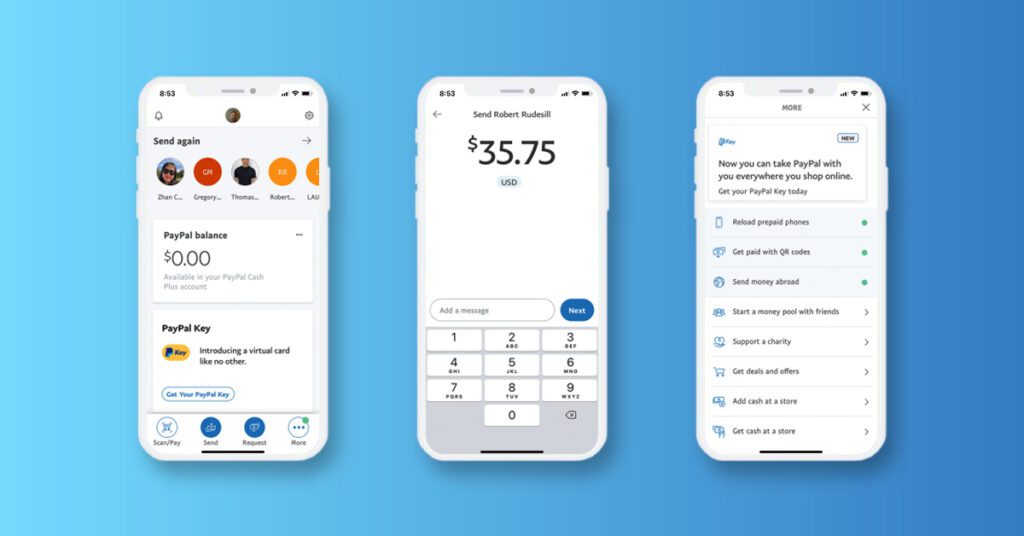 Key Features –
Enables transferring money to and from any US-based bank accounts and many other foreign accounts.
Incorporates strong encryption technology that keeps accounts secure.
No fees if you are transferring money to a family member.
Zelle
Zelle offers a unique way to transfer money to friends and family right from your bank. If a user holds an account at a participating bank, you can send cash with same-day transfers to anyone who holds an account at a participating bank. The growing list of participating banks includes Bank of America, U.S. Bank, Wells Fargo, Ally, Capital One, and more.
Key Features –
Most of the known and large banks such as Chase and Wells Fargo are associated with Zelle.
There are no fees for sending or receiving money via Zelle.
RegTech
Regulatory Technology, popularly known as RegTech has become a buzzword in the global financial and compliance community.
RegTech is defined as the management of regulatory processes within the financial industry with the aid of technology. The main functions of RegTech are regulatory monitoring, compliance and reporting.
Types of software that can be build using RegTech –
Financial Risk Management Software
Financial risk management software helps risk managers to identify risk and be proactive about it. As fintech app development partners, we enable our clients to enhance the risk management infrastructure and framework to improve business performance, improve risk management culture and strengthen risk management.
Key Fintech app features of financial risk management software –
Offers real-time account value and risk exposure. It captures orders, evaluates for risk, and update market data.
It automates emails and schedules them according to the specified time.
It identifies data security risks and optimizes compliance processes.
Incorporates built-in analytics and compliance task management.
Here are some of the examples of financial risk management software –
Kyriba
Kyriba enables financial leaders and their teams to manage liquidity and generate value mitigating financial risks. Internal applications for risk, payments, treasury and working capital with crucial external sources such as trading platforms, banks, ERPs and market data providers are connected by Kriyba's Active Liquidity Network.
Key Features –
Treasury Management
Fraud Detection
Risk Management
Payments
Supply Chain Finance
SmartRisk
A financial risk management tool designed to help financial advisors in analyzing portfolio risk, guide clients to make necessary portfolio changes, retain clients during the down market and prevent them from making investment mistakes.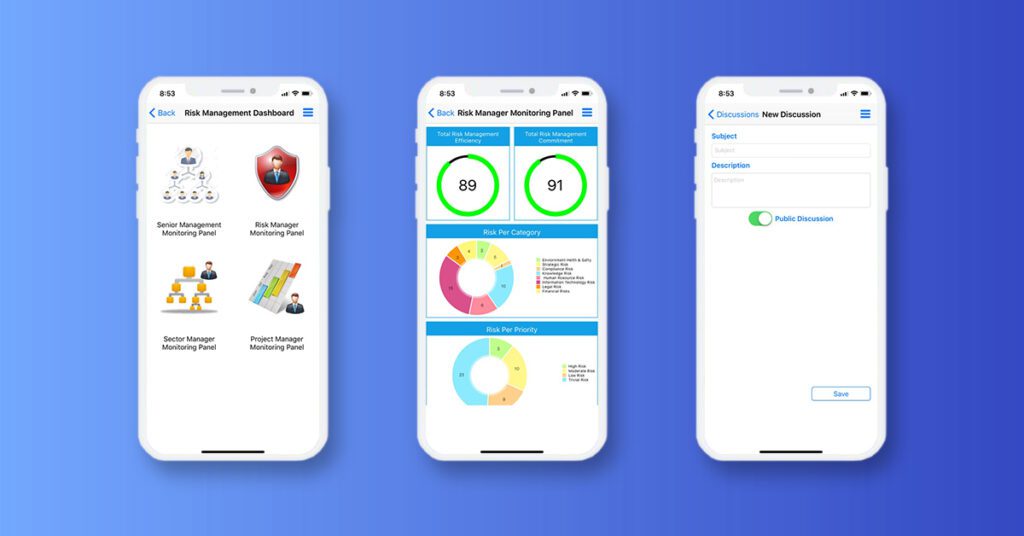 Key Features –
Portfolio Modelling and Management
Risk Analytics
Market Risk Management
Risk Analytics
Stress Test
Financial Fraud Detection Software
RegTech incorporates KYC and anti-money laundering solutions that help companies improve the overall identity management of the system. By integrating advanced technologies such as "Biometric", companies can identify fraud and money laundering attempts.
Key features of financial fraud detection software –
Raises flags against suspicious transactions.
Stores the data concerning the assessment of user risk.
Detects fraudulent activities.
Real-time monitoring.
Here are some of the examples of financial fraud detection software –
ClearSale
ClearSale is a comprehensive eCommerce fraud prevention solution that leverages artificial intelligence, a team of specialized fraud analysts and advanced statistical techniques to provide results to their customers.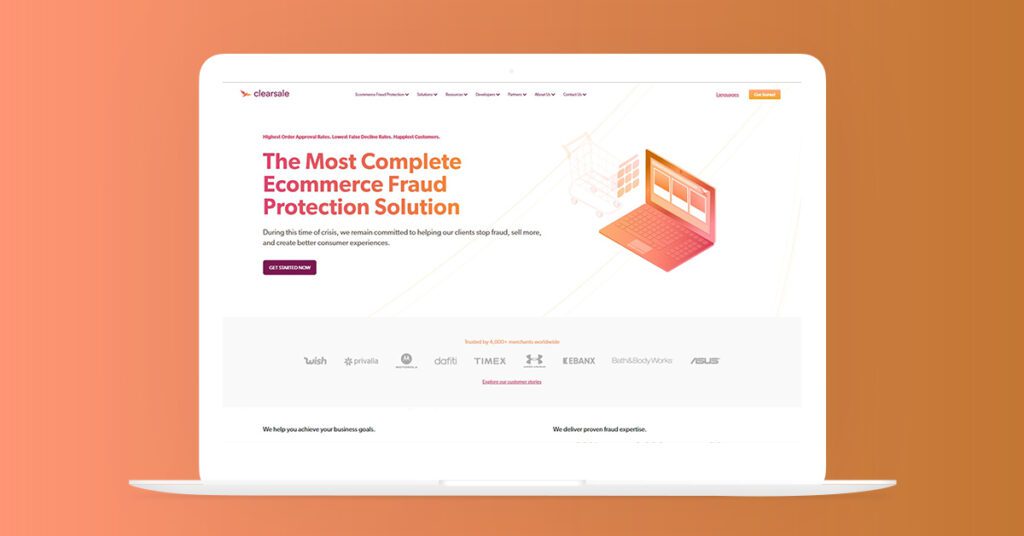 Key Features
Dramatically reduce chargebacks.
Virtually zero false declines.
Compliance with every data protection regulation and legislation.
User-friendly online dashboard and custom reports.
Signifyd
An e-commerce protection platform, Signifyd automatically identifies anomalies like account takeover, unauthorized reselling and promotion abuse. The tool leverages machine learning and artificial intelligence to provide actionable commerce insights.
Key Features
Provides complete financial guarantee.
Protects merchants from unwanted policy abuse.
Payment compliance.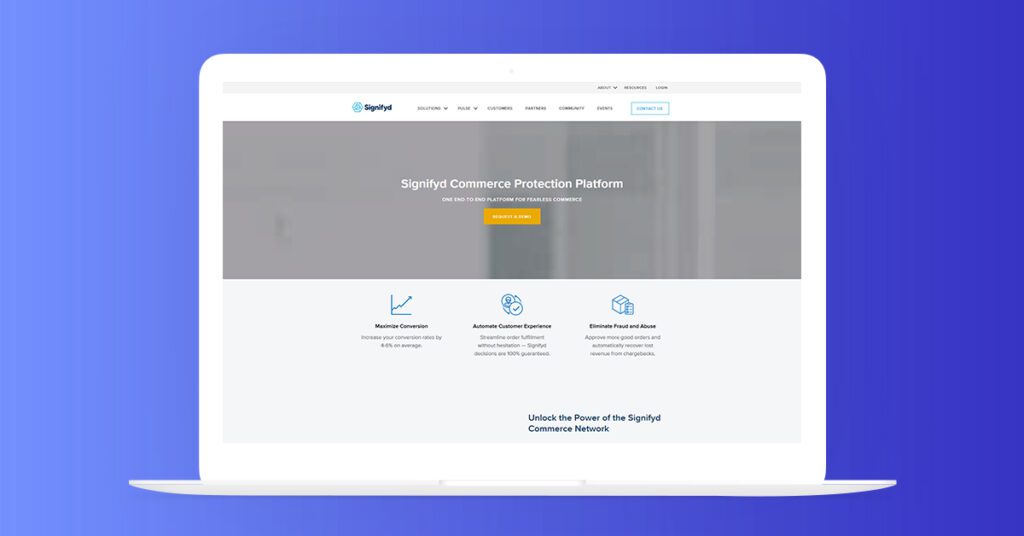 Systango as a fintech app development company designs and deploys seamless financial fraud detection software. Get in touch with our team to know more.
Cryptocurrency Apps
Cryptocurrency apps or crypto exchange platform is the one which allows trading of cryptocurrency. The platform allows converting cryptocurrencies into the US dollar or another currency and also enables price discovery through trading activity.
Key Features
Implementation of various operations such as direct sales and purchase of digital currencies.
Sending coins to other wallets.
Crypto coins conversions to bank cards.
Connecting merchants for payment acceptance.
If you are planning for cryptocurrency-based fintech mobile app development, then here are some examples to consider –
Coinbase
An extremely easy-to-use, Coinbase lowers the barrier to entry in the world of cryptocurrency trading to a significant extent. Coinbase also incorporates insured custodial wallets for investors and traders for storing the investments.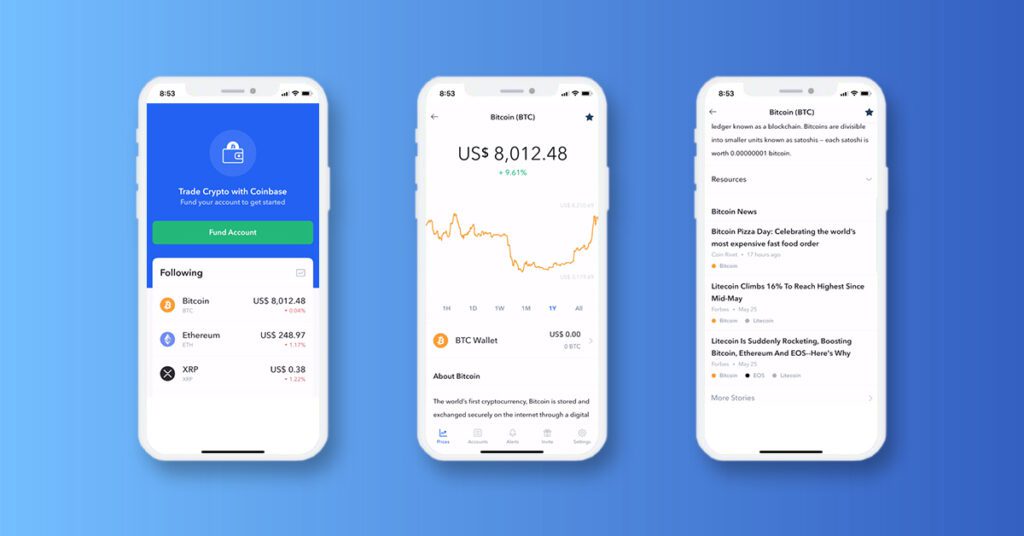 Key Features –
Extremely simple user-interface
Very high liquidity
Wide variety of altcoin choices.
Binance
Binance offers more than 50 different cryptocurrencies to trade and is equipped with impressive features like charting.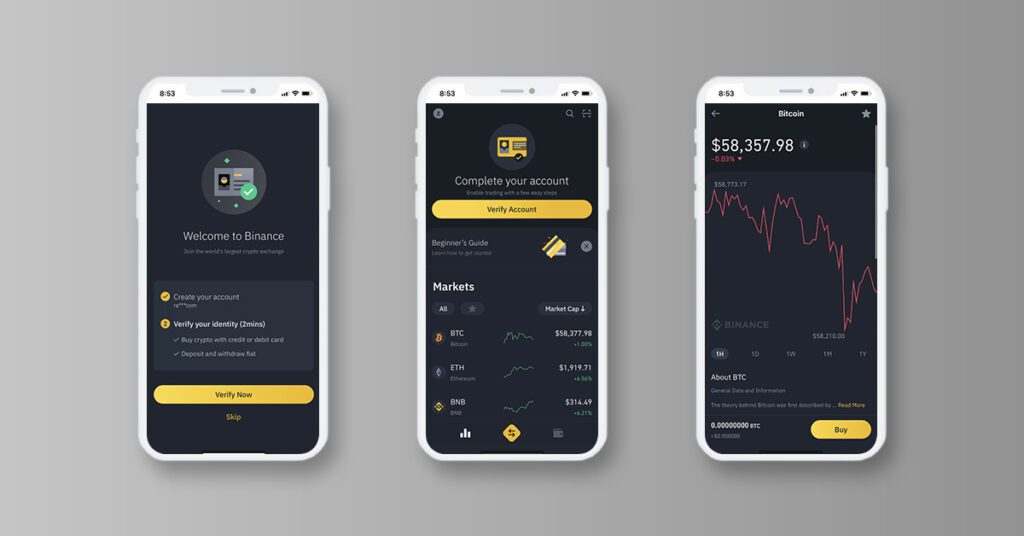 Key Features –
The large variety of cryptocurrencies as well as trading pairs.
Highly advanced charting.
Crowdfunding platforms
Crowdfunding platforms enable interactions between fundraisers and the crowd. The platforms enable making and collecting financial pledges.
There are many types of crowdfunding platforms such as equity crowdfunding, peer-to-peer lending, donation-based crowdfunding, rewards-based crowdfunding, profit-sharing crowdfunding, debt-securities crowdfunding and hybrid models.
Key Features –
Payment gateway which supports multiple currencies.
Progress meter to track campaign progress.
Secure mobile options that enable reaching out to the audience.
Here are some of the examples of crowdfunding apps –
Kickstarter
A platform for creators and passionate backers to get connected and bring new ideas to life.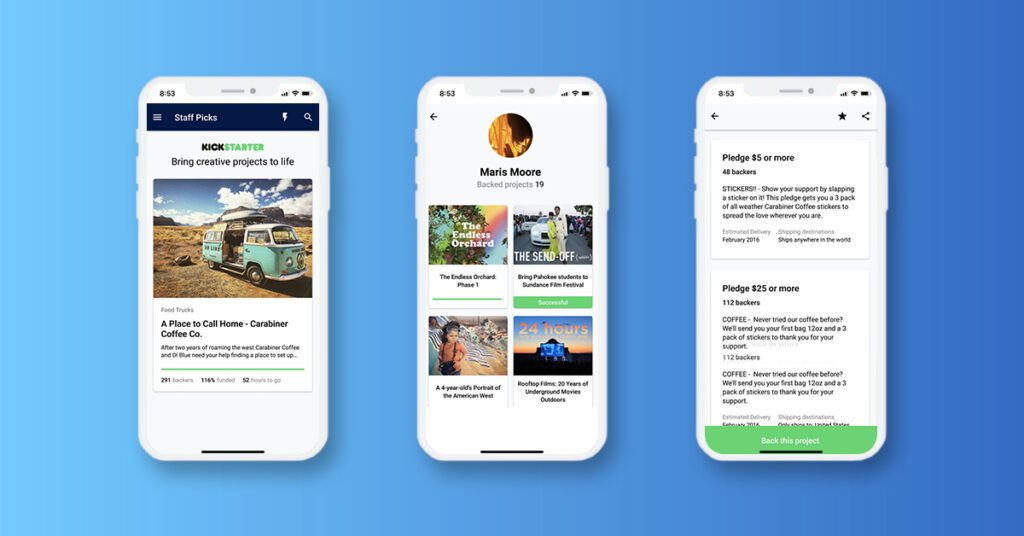 Key Features
Invest in creative projects from various domains like arts, design & tech, film, games, music and more.
Share projects with friends through email and messaging.
Here are a few examples of Crowdfunding Apps:
Start Engine
StartEngine is a fundraising cum investing platform that allows people to put their money directly into the companies.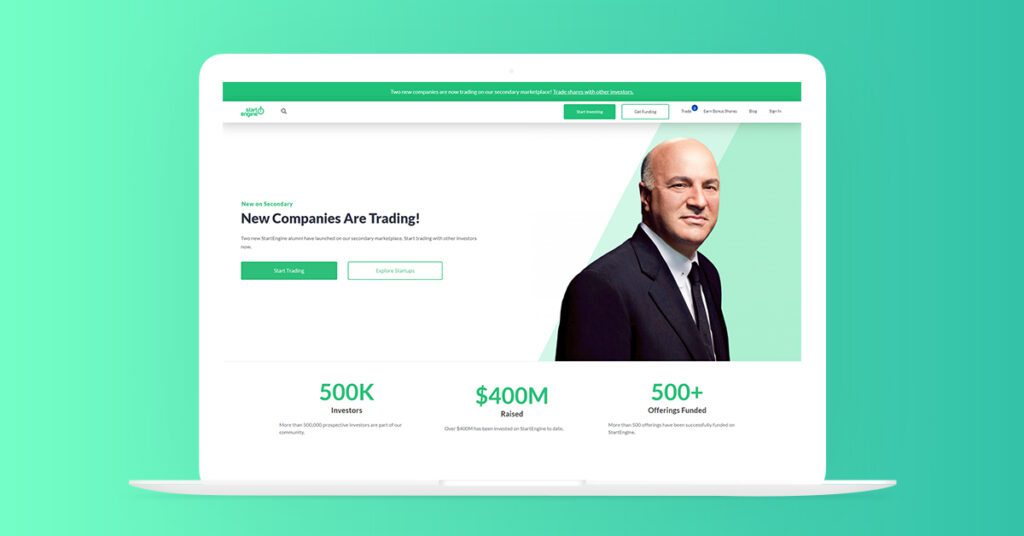 Key Features
Hosts a large number of companies, from biotech pioneers to travel and tourism.
Each company's profile includes the company's valuation, number of investors and more, to help you make informed decisions.
Now that you are equipped with types of fintech apps, let's have a look at the type of fintech users to get an idea of your target audience.
Types of Fintech Users
There are mainly two types of users for Fintech and these are –
Business-to-Business User (B2B)
The innovation of Fintech has enabled businesses to conduct a transaction without having to visit the bank. With breakthrough Fintech applications, businesses can easily and securely manage their finances. Fintech B2B services allow companies to leverage financial transactions, optimize productivity and enhance the bottom line.
Business-to-Consumer (B2C)
The B2C fintech solutions are essentially focused on millennials. Gen X is the next biggest target market for B2C solutions.
Embrace digital transformation in financial services with Systango's fintech app development services.
From wealth management to P2P lending and from banking software to payroll fintech solutions, we offer top-notch fintech web and mobile app development services that help businesses get ahead and set there. If you are running short of funds and time, then get a single app designed for both iOS and Android platforms with our cross-platform app development services.

Here are a few Fintech apps that Systango has helped release:
Fintify:
Fintify team needed a tool for budget and personal finance management. Our cross-platform app developers designed and developed a superlative React Native based budgeting, personal finance aggregator and monitor app that allows its users to calculate their net-worth and monitor investments across multiple geographies.
Tech Stack includes – React Native, Django, Yodlee API, PostgreSQL. The product is hosted on Amazon servers.
RANsquawk:
RANsquawk is the world's #1 Squawk provider covering the US, Europe and Asia Pac. They needed a fintech based Mobile App to enhance their web offering.
Our unparalleled experience in pre-trade space across equity, fixed income, energy, metal and FX asset lines as well as strong hand on UI/UX helped us deliver top-level app. We also introduced features like running commentary along with voice modulation to emphasise the importance of the event.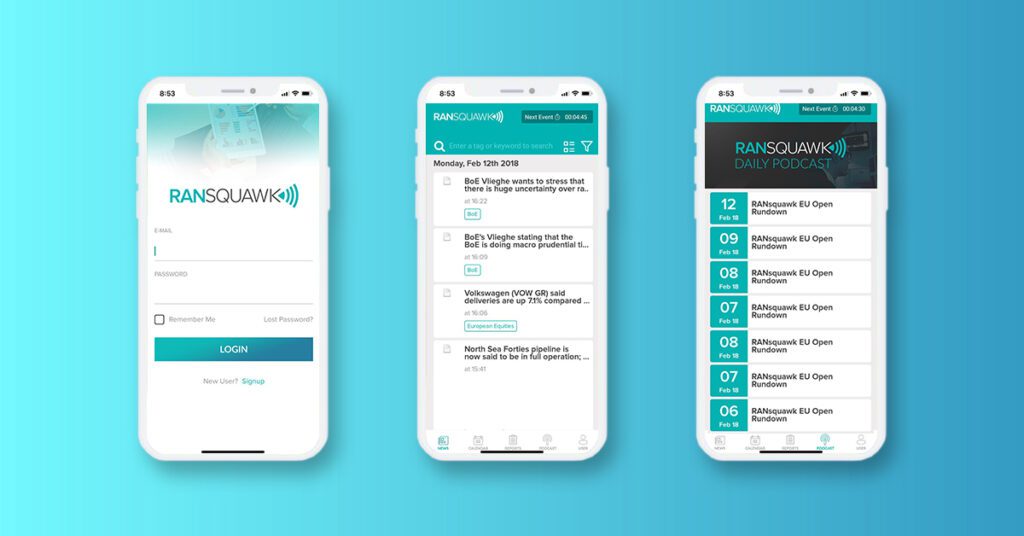 The app enables users to track accounts – such as banks, credit cards, insurance, investments, loans, pensions and ISA's on a single dashboard.
Tech Stack includes – React Native, Redux, Firebase, Ruby on Rails.
To jump into the growing fintech industry with an amazing application, reach out to our fintech app development experts.