Strategic Technology Trend: All About Metaverse & Its Four Key Innovations
Last Updated on: December 7, 2022
Industry experts are now placing bets on the metaverse, but many out there are worried about over-committing in the early days of nascent metaverse technologies.
One must note, it's not just one technology that backs the virtual world called Metaverse. Rather, Metaverse today comprises multiple emerging technologies. These technologies are promising in their aim of delivering the next level of interaction in the virtual and physical worlds; bringing innovative and new opportunities for businesses and their operating models.
As per Gartner, by 2026, 25% of people will spend at least one hour a day on a Metaverse platform for activities associated with their work, education, shopping, social media, or entertainment.
Metaverse technologies might be in nascent stages but they have what it takes to create strategic opportunities in all worlds, which means the potential benefits of it will not be limited to virtual worlds. It has the capability to transform our physical world, and in fact, extend our physical activities to a virtual world.
What is a Metaverse?
Metaverse is referred to as a collective virtual shared space, which is created by the convergence of virtually enhanced physical and digital reality. It is an immersive virtual world that can be accessed through a headset or browser.
You must note, a metaverse is not device-independent nor is owned by any single vendor. It can be considered an independent virtual economy, which is realised by non-fungible tokens (NFTs) and digital currencies.
So, what technologies enable Metaverse?
Industry experts refer to Metaverse as a combinatorial innovation, which includes tech trends like augmented reality (AR), virtual reality (VR), head-mounted displays (HMDs), Internet of Things (IoT), 5G, spatial computing, and artificial intelligence (AI).
What Makes Metaverse A Strategic Technology Trend?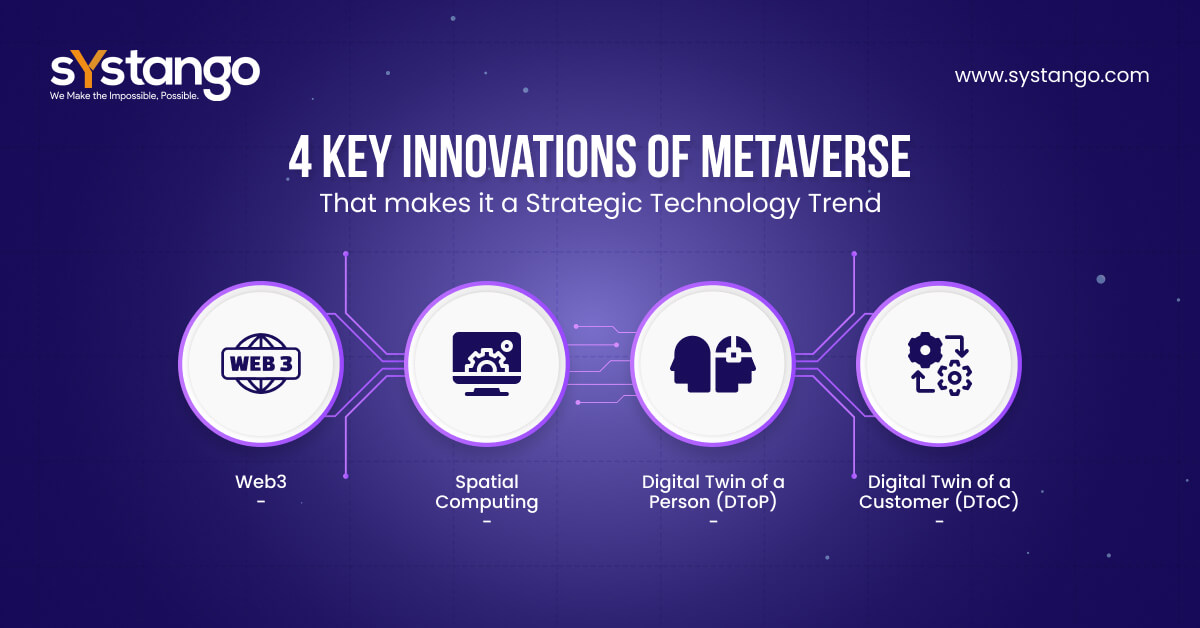 Web3
A whole new stack of technologies has emerged under Web3 to develop decentralised web applications to give ownership of data and identity to the users. Metaverse and Web3 complement each other as they aim at building a community or an ecosystem that delivers value in some form or another between people or organisations.
Web3 is going to be most leveraged by large enterprises in order to realise modern blockchain-enabled business models which include SocialFi (decentralised social networks), GameFi (decentralised gaming networks) and many others.
Spatial Computing
Referred to as a three-tiered technology stack for enhancing user experience in the modern world; spatial computing is all about delivering quality experience in the intersection of the physical and digital worlds.
As an emerging technology, spatial computing is delivering limitless possibilities for industrial use cases that will drive value across all the four Ps; people, products, places, and processes. Examples of spatial computing use cases include GPS systems, speech recognition (Apple's Siri or Amazon's Alexa), IoT-based devices (such as robots or sensors in warehouses), and finally gestural recognition. AR, VR or mixed reality technologies.
Web 3 is also referred to as the Spatial Web (often referred to as the Metaverse), offering a technical standard for the technologies to communicate with each other in a synergistic and more organised manner. Spatial computing is all about bringing seamless interactions, performance, optimised designs, and operations, and improving spatial understanding on any platform.
Digital Twin of a Person (DToP)
The name itself explains that DToP can mirror unique individuals to create a digital representation of real-world twins. These majorly act as indistinguishable digital counterparts of practical purposes, such as testing, simulation, integration, monitoring, and maintenance.
With the help of data, the digital twin of a person is connected to the real world from the sensors operating in the physical world; acting as a digital-physical bridge. It has proven to be a very successful approach to improve efficiency and minimise costs.
In fact, digital twins of spaces have also been actively considered in the industry. If used to its best, factories, warehouses, airports, and hospitals can be entirely replicated digitally for simulation and then optimised for achieving the best business outcomes.
Digital Twin of a Customer (DToC)
Why prefer a digital twin of a customer? Well, the answer is simple; to predict and achieve the best consumer experience.
You should note that a digital twin of a customer is not all about creating a virtual buyer persona for marketing executives, but it helps in collecting data points to predict customer future behaviours. It can be considered as a subset of DToP, which is specific to a virtual representation of customers to emulate and anticipate their behaviour.
A digital twin of a customer delivers the following for any application:
Helps in anticipating customer behaviour

Assists in driving new monetization models

Gives insights to improve products and services

This leads to better customer experience and longevity
Why is everyone talking about Metaverse?
There is so much happening around Metaverse right now, people are talking about how revolutionary it is, how businesses can leverage it, what new can be done on it to deliver value and whatnot.
Metaverse is bound to deliver a continuous, decentralised, cooperative, and interoperable space for businesses to deliver enhanced experiences in efforts to extend their digital businesses.
But why is there so much hype around the Metaverse?
It's because enterprises and individuals are already making it big by capitalising on metaverse opportunities. For example,
Roblox has created an enormous virtual world in the Metaverse with over 230 million monthly users.

Marshmello performed live with 10.7 million players in the Fortnite concert, and yes it was organised in the Metaverse.

Metaverse spaces have marked 400 million monthly active users in 2022.

A digital Gucci bag was sold on Roblox for the amount of $4115.

J.P. Morgan has the first bank to establish a presence in the Metaverse.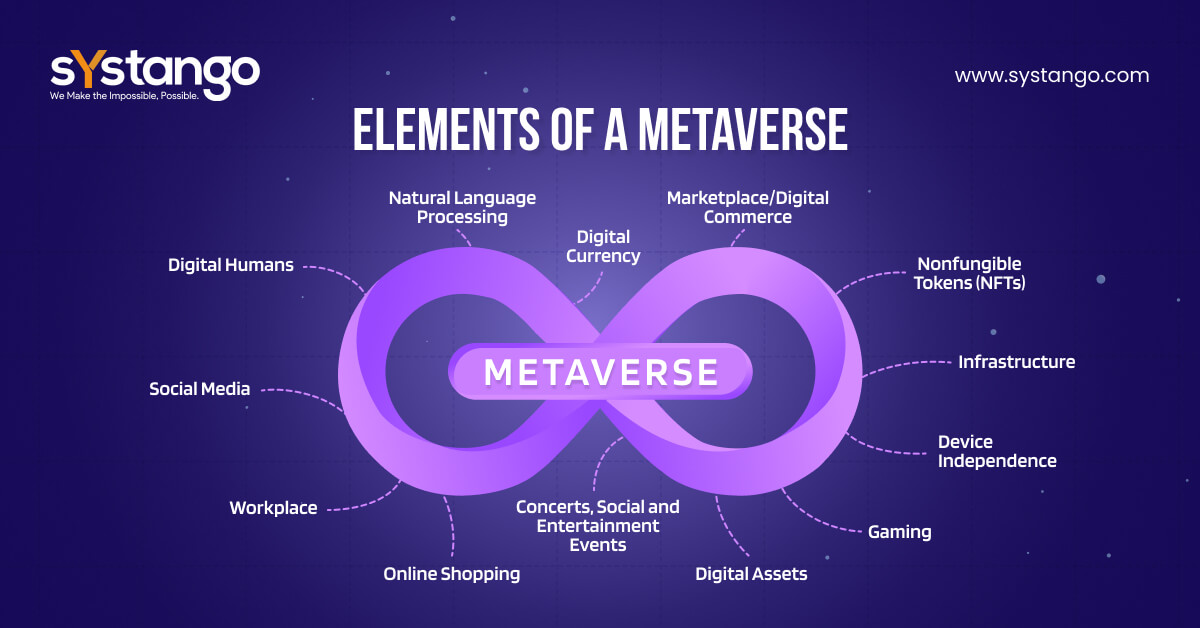 Metaverse: Road Ahead
As per experts in the industry, the upcoming 1-3 years will be all about learning, exploring and understanding the implementations of Metaverse. Users are still unaware of the financial or reputational risks involved in investing in the virtual world.
If you're looking to map a strategy to make the most of metaverse technologies, here are a few tips from our consultants:
Study the current high-value use cases, identify the right inspiration and kick off your new project.

Brainstorm how could embracing metaverse technologies optimize your digital business strategy.

Evaluate and invest in emerging metaverse projects
Tech consultants at Systango can help you better understand Web3 native, Metaverse or any other next-gen technologies.
If you're curious to invest or start a Web3 or blockchain development project, connect with us to talk about futuristic disruptions for your business.
Read More: Blockchain: A Dependable Technology for Fintech Industry