Blockchain Game Development: A Detailed Overview
Blockchain game development is the new buzzphrase with the potential to transform traditional gaming. As per IBISWorld, the gaming sector has evolved and currently has a whopping US market of $106.8 billion in 2023.
Most traditional game creators control the games and, the game players do not control gaming ecosystems.
Whereas, blockchain games pave the way for GameFi. It is also known as Play-to-Earn gaming. It democratises all the gaming aspects and moves the power to players' hands with no single gaming authority.
This article will help you explore the nitty-gritty of blockchain gaming and will shed light on the aspects like:
What Are Blockchain Games?
History
CryptoKitties was the first blockchain game to gain widespread popularity in late 2017. It is a collectable game that helps players to create and trade unique digital cats via Ethereum.
Several other decentralised games were innovated following the success of CryptoKitties. Decentraland, for example, is a virtual world where players create, experience, and monetise the in-game assets.
Axie Infinity is another popular decentralised game that combines elements of collectable games, strategy games, and trading card games.
Current State Of Decentralised Games
Because of decentralised games, the gaming industry is seeing an influx of investment and development. Additionally, the rise of decentralised finance (DeFi) in gaming has led to the development of GameFi platforms.
Features Of Blockchain Games
Here are some of the prominent features of decentralised games:
Digital Ownership
Digital ownership gives the players greater control over virtual assets and helps build a vibrant GameFi economy.
Non-Fungible Tokens (NFTs)
Cryptocurrency games often utilise NFTs, which are unique and immutable digital assets.
Decentralised Economy
Players can trade in-game assets without any centralised authority. It offers a more diverse and dynamic in-game economy.
Cross-Game Interoperability
Decentralised games have a connected game experience. They let the players create interoperable game collectables and in-game assets. These assets can be exchanged across many GameFi ecosystems.
Player-Driven Markets
Blockchain games offer a dynamic and player-driven in-game economy. It also offers opportunities for players to earn real-world returns through in-game activities.
Provable Fairness
Blockchain offers provable fairness in decentralised games. This means that the outcome of an event is determined through cryptographic proof.
Components Of Blockchain Gaming Ecosystem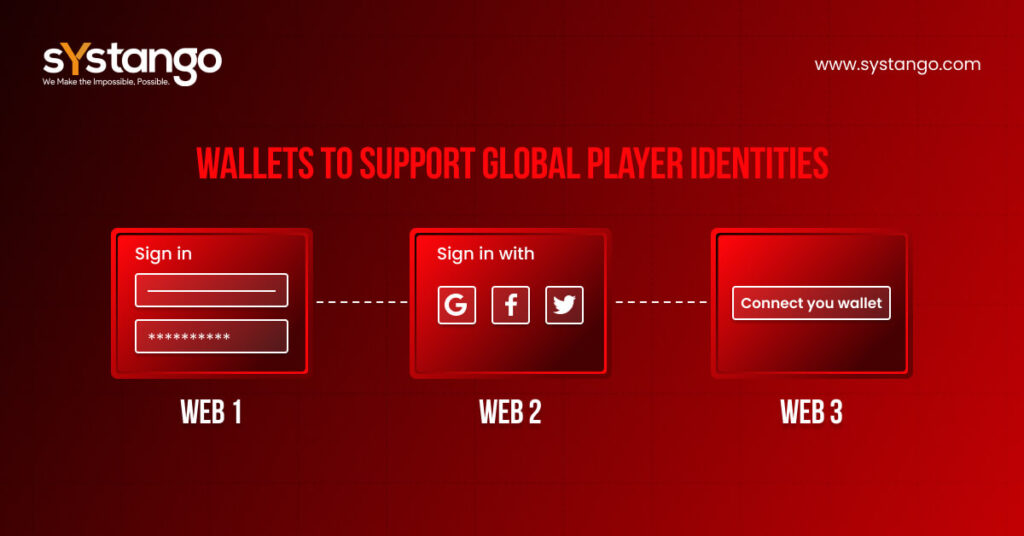 The following are the fundamental components that constitute the core of a blockchain gaming ecosystem:
Wallets to support global player identities

Smart contract as process regulation

Tokens as digital assets and currency

Player governance via tokens
What Are GameFi And Play-To-Earn Crypto Games?
GameFi is an amalgamation of blockchain-based gaming and finance. It is driven by blockchain, NFTs and smart contracts. GameFi offers economic incentives to the players, hence it is also known as Play-to-Earn(P2E) gaming.
Players can earn rewards by winning tasks, battles with players and completing game levels in GameFi. They can also trade the in-game assets across NFT marketplaces and cryptocurrency exchanges.
Now, pause for a moment and focus on the traditional games. The traditional game items purchased by players hold no value beyond the game's realm. Furthermore, players spend money to get these items, but they have no authority over them.
But, GameFi transforms this via blockchain, cryptocurrencies, and DeFi applications. It offers an engaging financial reward system.
Blockchain Game Development Statistics On GameFi
Check out some of the statics on how the GameFi is performing in the current global gaming industry:

As per the MarketsandMarkets research, global blockchain gaming will touch $65.7 billion by 2027. This will result in a 70.3% Compound Annual Growth Rate. 
On January 25th, 2023, Axie Infinity had a value of $11.98. 
As stated in Financial Express, a gaming data platform, the mobile platform's in-game transactions will contribute to revenue growth of 9.6% approximately by 2023.
As per a Newzoo.com report, the gaming industry surpass the $200 billion mark by the end of 2023. The market will expand at a compound annual growth rate (CAGR) of +8.3%, reaching $200.8 billion by that time.

With approximately 3 billion gamers worldwide, the Asia Pacific region has emerged as a significant market for blockchain gaming.
While the market offers vast growth potential GameFi will need to adapt to the evolving ecosystem of Web3.
Future Of Blockchain Game Development
Blockchain game development continues to surge, while the metaverse ecosystem offers opportunities for games to thrive in the blockchain universe.
Financial institutions predict that the metaverse has the potential to lead the $8 trillion market. Blockchain integration in gaming apps is a significant driver of this market growth.
In the first quarter of 2022, GameFi attracted over 1.22 million unique active wallets, comprising 52% of the total activities in the blockchain ecosystem, as per the 'DappRadar x BGA Games Report – Q1 2022.'
Storing large in-game assets on the blockchain is enticing to many. Gamers can exchange these assets for monetary value. And, game companies can create persistent platforms for other developers to build upon. But, GameFi is still in its evolving stages and faces its own set of challenges
Tech Stack Of Blockchain Game Development
The tech stack of blockchain game development constitutes the following:
Smart Contract
Many developers utilise the Remix Integrated Development Environment (IDE) to develop smart contracts. But, there are also alternative tools like Hardhat, Truffle, and Brownie.
dApps & Web3 Libraries
Web3 libraries are the bridge between game developers and players within the blockchain platform. Gaming dApps are usually developed with Unity or Unreal Software Development Kits (SDKs).
Node/Web3 Providers
Node or Web3 providers access the information stored on the blockchain network. They are crucial in the blockchain development suite, and help Web3 libraries interact with smart contracts.
XR Hardware In Blockchain Game Development
XR hardware, like haptic gloves, smart glasses, and scanning sensors., connects GameFi and Metaverse. They offer immersive and engaging cryptocurrency games.
Open Interoperable Media Standards
These standards encompass 3D scenes, texts, audio, and vectors that fuel decentralised 3D applications.
Digital Wallets
Each blockchain game development platform has a digital wallet for player identification. This wallet has a unique address & holds various GameFi collectables and in-game assets.
Stages Of Blockchain Game Development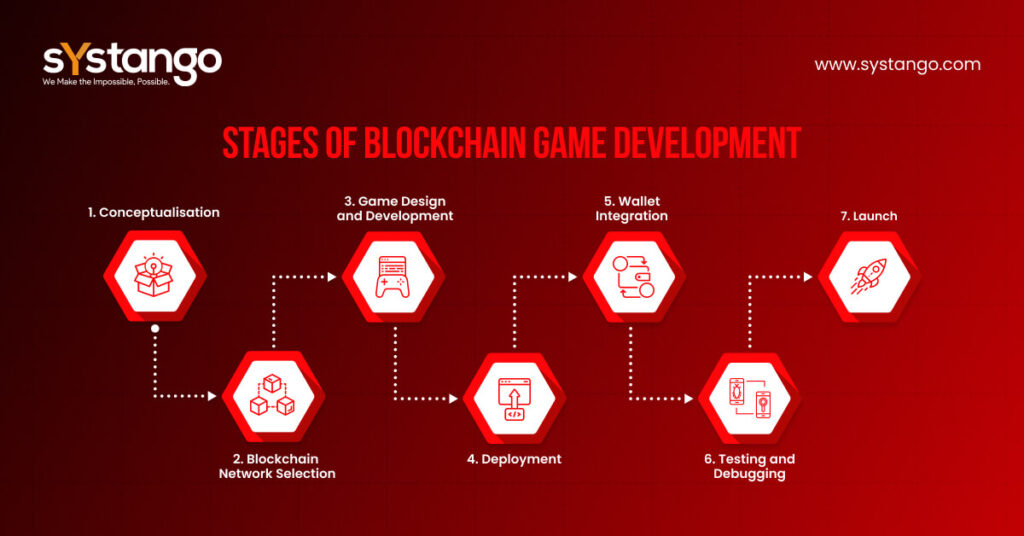 The process of blockchain game development involves the following steps:
Conceptualisation

Blockchain Network Selection

Game Design and Development

Deployment

Wallet Integration

Testing and Debugging

Launch
How Systango Can Help
Specialisation in creating decentralised gaming ecosystems
Blockchain developers for hire who have their fortes in Unity & Unreal Engine
Experts in smart contract audits, ensuring that the smart contracts are bug-free
Reach Us
How Does Systango Contribute To Blockchain Game Development?
Custom Smart Contract Development
Systango specialises in writing and deploying tailored smart contracts on a blockchain platform.
Blockchain Game Development
We specialise in Unity & Unreal Engine-based game logic, graphics and animations.
Token Development
We offer custom token development that serves as in-game currency. It also represents unique items within the game.
Game Marketing In Blockchain Game Development
We offer services like game deployment on platforms like app stores or marketplaces. We intend to help you reach a wider audience for your game promotion via social media.
Game Maintenance
We update the game which includes fixing any game bugs or smart contract code bugs. We also add updated game features and provide technical support to players.
Performance Tracking
We analyse the user behaviour and game performance data to optimise the game. It helps in making informed decisions on future development.
Summing It Up
Adapting GameFi ecosystems can be steep for users unfamiliar with blockchain. Hence, intuitive game interfaces can reduce the entry barrier for new players.
As blockchain game development is still in the evolving stages, increasing awareness about blockchain games and their benefits makes them user-friendly. This will drive wider adoption of gaming DAOs and cryptocurrency games. And, it will also power the future gaming communities.
For blockchain game development, connect with our expert blockchain app developers and build your dream GameFi ecosystem seamlessly!