Systango's Product Discovery Process- Translating Ideas to Success
Last Updated on: August 4, 2021
It is experienced by many but observed by a few, that a grand number of projects 'fail' due to poor requirement gathering.
Building an application (Web or Mobile) without a clear know-how of its underlying functionalities and potential utility for the end users is like sailing a ship without a compass. You will cover miles, only to reach nowhere close to the destined spot.
Though there exists a thin chance that you can make your project work without in-depth discovery as well- your lucky stars might shine on you and bestow this favor. Howbeit, being an expensive proposition, we at Systango love to stick with a rigorous but imperative 3-week long discovery phase where we conceive the project requirements, understand its achievable goals and craft MVPs that come across as a rational proof-of-concept. We call our complete discovery process workshops, where we employ an organised approach to streamline communication and ensure successful project delivery.
Being an adherent of agile software development, our design team stress on going the whole hog and assess each aspect of the project-in-planning. We start off with requirement gathering sessions, followed by defining user stories, user flow design, and wireframe creation to put everything desired in place. Once sorted, we step up on the design ladder and create moodboards to establish a sleek and smart appearance, suggesting how your brand's voice will echo in the online world. And let us tell you- these all are impermanent in nature, as we continually iterate to refine the product and shape a customer-focused solution.
Now, our step-by-step product discovery process has several forks- which I'll be elaborating next. Further part of the post will highlight what we do when, alongside its exclusive importance.
Get, Set, Go…!
It All Starts with Requirement Gathering
Understanding the business objectives, nature of the company, its vision, users and target audience makes the first thing in our to-do list. As soon as we connect with a client, we invest considerable time to dig deep into the details with the definite purpose of developing a clear understanding of the project.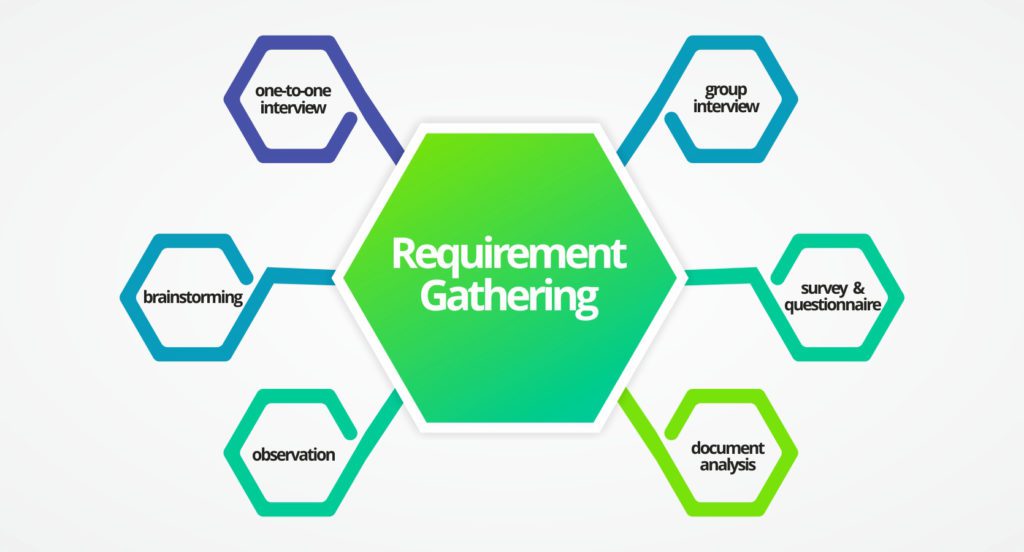 To deliver a gratifying user experience, we use several requirement elicitation techniques, primary ones being brainstorming, interviewing, and survey & questionnaire. We also analyse existing documents to better understand the brand and its long & short-term goals.
Our team indulges in a structured interaction with experts of the requirement and ask different questions and sub-questions, primary ones look something like-
What does the company do?

What are the existing business operations & processes?

Who will manage the application?

Who will be the users of the application? What will they expect? How do they use the product?

Any platform preference? Web, mobile, or both?

What unique features do you want to introduce? What all constitute the specific requirements?

Any point of reference from existing market competition?

Is the product geared to alleviate any pain point?

What's the technology that supports existing business processes?

What's the timeline of the project?

What's the budget estimation?
With the ground of generating more tangible and intangible profit for the business, we garner these and similar project-related nitty-gritty from the client and other customer-facing people of the team. All the answers and opinions are taken into account to start building a problem-solving, fitting web solution.
Designing User Stories
Next step of our product discovery process is creating user stories.
Not sure, what they are?
We'd love to explain.
In layman terms, a user story is a simplistic, natural language description of one or more software features defined from an end-user perspective.
For instance, if a customer aims to make a reservation at a restaurant, what steps they would need to follow can be rightly drafted in form of user stories.
Simply put, user stories accomplish a great task- they narrate which type of users will interact with the system, what they might expect and why. This evolves as a more digestible copy than a lengthy description of the requirement.
At Systango, we specialise in creating and planning practical user stories. No matter a client has user story in place or is up with some idea in mind, we can cater to both and help them navigate the path to identify desired features and exact conditions of acceptance. We make it a point to create user stories on paper first- this helps us ditch the curious human nature that finds it tempting to explore user mapping tools while the focus should be designing user personas and right stories. Once we have an on-paper user story, we take it to any of the top-rated user story mapping tools for further refinement and better management.
You can read Systango's blog Minimum Viable Product Development – Define User Stories – PART 1 to get detailed insights about User Stories.
Crafting User Flows & Wireframes
Once we are up with our user stories, we hop to the next step to define user flows and wireframes. User flows, as well as wireframes, are low-fidelity visual guides representing the layout and thought maps of the potential end product. They are worked upon iteratively to tweak the visual site architecture and make the final output exactly as per the user & business preference.
Developing the user flows and wireframes empowers us to embrace a user-first approach and address how a user would interact with the application to complete a particular action.
Moodboard Creation
Moodboard development is the last stage of the discovery process, where we are on the cusp of moving to design & development phase.
What's a moodboard, you ask?
Well, moodboard is all that sets the 'style' or your end product. From color palettes and neat icons to typography and illustrations, we shape moodboards inspired by your brand, industry, and target segment. We have several workshops with our clients to grasp their vision, discuss our design ideas, and finally blending them to bring a promising product to life.
Once we have all the required information, a clear idea of user interaction with the application, and technical recommendations, we commence product development.
Systango's Product Discovery Process for Strata Alert
Here's a brief case study narrating how our team was actively involved in the discovery phase for Strata Alert-
The team of Strata Alert was keen to get a next-gen building notification system for web and mobile platforms. Idea was to transform the Strata Management Sector and pilot other programs geared to bring 'Smart Cities' to life.
The team had a vision in mind, but the idea and scope of the project weren't well-defined. Another problem that emerged as a challenge was the fact that multiple actors and platforms were involved in the project, which made it somewhat taxing to assess the right set of features.
To align things, our team used the best requirement elicitation techniques- after several rounds of interviews and brainstorming, we identified the checklist of features for each factor. The strengths and functionalities of other building management systems were thoroughly understood to make informed development choices. Utmost importance was given to user story development and wireframing to ensure nothing is amiss and on deployment, the end result will deliver the exact performance as our client envisions.
Our effective discovery process proved instrumental in the success of the Strata Alert. Comprehensive details of the business idea, expected features and end users empowered our designers and developers to make the project go live in mere 4 months!
Discover complete details on how Systango helped Strata Alert achieve success in Strata Alert Case Study.
We hope our all-encompassing product discovery process makes our orientation towards perfection crystal clear. Systango loves to assist modern businesses to embrace digitalisation and establish a strategic online presence. Our coders never hesitate to go an extra mile and deliver solutions that are scalable, secure, and digitally empowering. We keep an eye on our watchwords innovation and quality and invest the best efforts to make the impossible, possible.
If you are all set to roll out your next big idea; let's hear from you. Discuss your project with our tech-mates- contact our team here.

Willing to Download a Sample User Story or Wireframe? Fill up this form  and get an intuitive copy of our work right in your inbox!