Your Small Business Guide to Cloud Computing & Its Technology Benefits
Last Updated on: April 24, 2023
Have you been hearing a lot about cloud computing from your allies & peers in your business line but can't seem to figure out exactly what it is and how it's helping different businesses?
81% of all enterprises have a multi-cloud strategy already laid out or in the works. Additionally, as per research conducted by MarketsandMarkets, the global market for cloud computing is about to touch $947.3 billion by 2026.
What exactly is responsible for such a quick adoption of cloud computing? Why are all-sized businesses considering adopting cloud technology? Read on as we answer all the frequently asked questions about cloud computing.
In brief
Cloud Solutions are faster to implement, come with no up-front costs, deliver instant scalability, provide better security and are maintenance-free.

Users can run any and all types of applications on the cloud.

Cloud applications are accessible from anywhere in the world, provided you have a device with an internet connection.

Cloud computing services include platform as a service (PaaS), software as a service (SaaS) and infrastructure as a service (IaaS) delivery.
What is cloud computing?
Cloud computing is the delivery of on-demand system resources such as computing power, data storage, networking, intelligence, analytics and much more over the internet (which is referred to as 'the cloud').
If you go by the books, cloud computing has been around for two decades. Most users don't even realize that they have been using cloud-based services. Users have been using services offered by Gmail, GoogleDrive, Instagram, Facebook, and TurboTax and haven't realized that they are all cloud-based applications. Moreover, these services have not only been useful for personal use but have emerged as a secure online platform for small businesses to manage and access large amounts of data.
Cloud computing solutions are being embraced by businesses to get flexible resources, faster innovation, and economies of scale over the internet ("the cloud"). Such services have a high potential to lower operating costs, improve the efficiency of your infrastructure and ease the scalability of the business in no time.
Why do companies use cloud computing?
Cloud solutions have taken the mainstream and are already handling a majority of workloads for countless enterprises on the cloud. There are plenty of reasons businesses are preferring the cloud over traditional ways of data storage and computing. A few of them can be understood from the infographic below: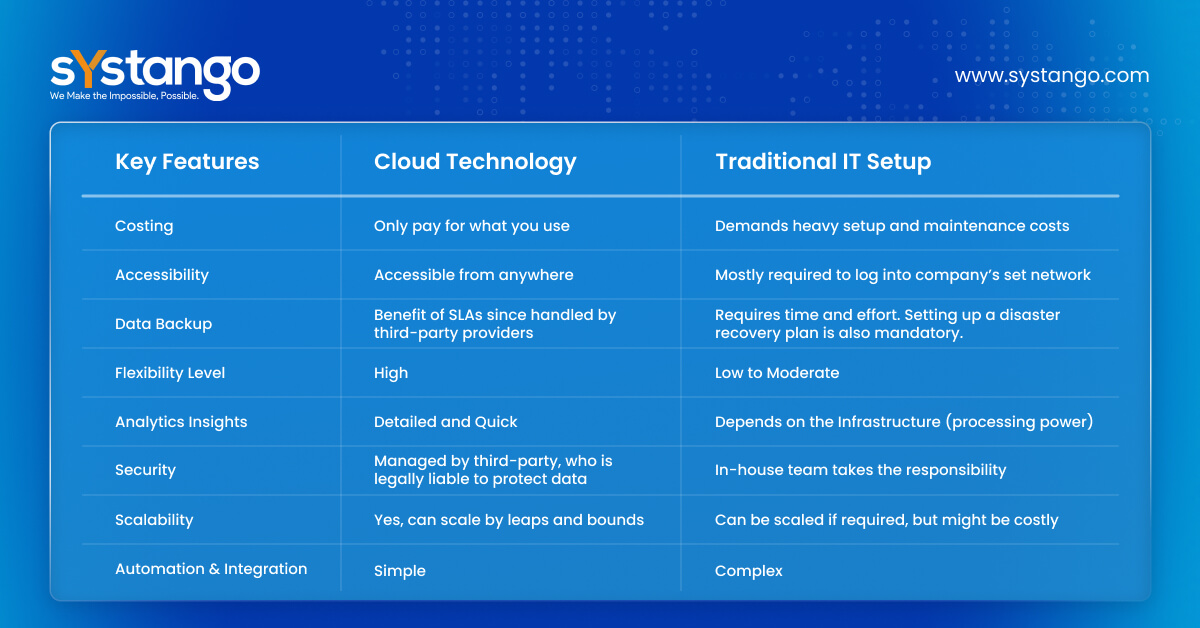 Benefits of Cloud Computing Solutions
Cloud computing solutions offer an array of characteristics that bring meaningful benefits for small and large businesses alike. Below we have cited 12 major benefits of cloud computing to support your decision-making around it.
1. Cost Savings
Cloud software can dramatically reduce or in some cases even eliminate capital expenditure costs. Choosing cloud computing services would involve you simply paying an all-encompassing monthly fee for the service you have chosen, that's it.
Once you move to the cloud, one of the major savings you witness is that of IT operational costs. Since you'll be running operations on remote servers, it will remove the need for any in-house storage equipment. Furthermore withdraws any overhead costs of software updates, data management or storage.
Cloud services offer pay-as-you-go services, which makes it easy for businesses to take data storage required to service their clients and stakeholders.
Tip: If you're worried about the initial cost that you might have to incur for moving to cloud infrastructure, also consider the ROI it will deliver later.
2. Improved Security
While talking about cloud solutions, there are tons of questions that you might have, including how secure my data will be. If you can access data remotely, how will a cybercriminal be stopped from doing the same? And many more.
Cloud solutions offer you a set of security protocols that help you protect your sensitive data, transactions, and information. This helps in ensuring that a third party does not eavesdrop or meddle with data in transit. They even provide protection against DDoS, and compliance with necessary regulations.
If you're curious about learning more about security on the cloud, connect with one of our cloud consultants here.
3. Increased Flexibility
Please note, that flexibility here refers to the ease with which you can expand your business infrastructure.
If you are involved in solving data storage or computing issues, then obviously you are burning your time in which you can reach your business goals. Conversely, if you give this task to a cloud service provider, you'll have more time to look towards other aspects of your business.
When compared with local servers, the cloud offers tremendous flexibility. Moreover, the scalability options it provides to businesses are next level. If at any point in time your business demands extra bandwidth or computing power, cloud-based service can meet the asked demand instantly.
Fact: 65% of respondents in a survey by InformationWeek said 'the ability to quickly meet business demands' was one of the reasons they moved to a cloud environment.
4. Streamlined Mobility
Post the pandemic, numerous businesses have considered moving to hybrid or work-from-home (WFH) policies. In such a scenario, how would businesses find a balance between resources and associated costs?
Cloud mobility solutions can enable you to come up with policies that will automatically transfer authorized data to a set of teams on publicly or privately accessible clouds. It's best for offering the accessibility of information to staff who are traveling for work, are employed on a freelance basis, or are working remotely.
5. Advanced Insights
Data can act as a mecca of information to gain insights into your business.
With millions of bits of data, there is so much information hidden surrounding your customer transactions and business processes, waiting to be discovered and acted upon. And when it comes to driving the right information from heaps of data at the right time, it can't be done manually. Once you have the right cloud computing solution, you can even visualize the insights in the right format.
With integrated cloud analytics you can get a bird's eye view of your data to track progress, streamline processes, identify loopholes, build future action plans and increase efficiencies.
6. Increased Collaboration
What good is a team if they are not able to work as a team? While the cloud offers an amazing platform to manage data, it offers features that can improve the productivity of teams and make them work faster and more efficiently.
Not to forget, working in a cloud environment will provide flexibility for employees to share, edit, and work together on projects or documents and other data types in real-time as well. Critics might point out that collaboration is possible without a cloud computing solution as well, but when comparing the features and functionalities, the cloud delivers a very easy and effective environment for team collaboration.
Google Apps, Yammer, and Dropbox are a few examples where you might have witnessed collaboration.
7. Quality Control
Managing data is always a challenge for businesses. If you too are managing documents in silos, you would agree that when multiple edits are involved, employees tend to save different versions of one document which then leads to confusion and diluted data.
Cloud's ability to provide better data management is what every business owner looks for in quality control. With a cloud-based service, businesses can efficiently maintain consistency in data, bypass human errors, and have a clear history of any updates or revisions made on the stored documents.
8. Disaster Recoveries
Certain things aren't in your control. In today's market, even a lower length of unproductive downtime can harm your business. While human errors can be worked upon, what about things that are completely out of one's control?
When managed in-house, setting up a backup of your business data at regular intervals can be overwhelming. But cloud services can help you prevent potential damage.
With Disaster Recovery as a Service (DRaaS), you can store a backup of your data and IT infrastructure in a third-party cloud environment. Doing this will not only have your data saved at regular intervals but will also speed up your recovery post a disaster.
9. Loss Prevention
Data is a big deal. Today, businesses manage the data of their customers and then their data around employees, operations, finances, customers and much more.
If you're going to traditionally store data, it will involve you managing it on local hardware, and if you run into some problem, you might end up permanently losing your data. Does that make you anxious? Well, the concerns do not end here, common problems of viruses, hardware deterioration, and misplacement of devices can also lead to data losses.
Being on the cloud can avoid the majority of these problems. A cloud-based server will secure all your data and will be accessible from any place or any device with an internet connection.
Fact: Within the cloud, the data stored in it is mirrored across the servers, it is done in a way that if one fails, data is instantly backed up; preventing any possible losses, downtime or productivity.
10. Automatic Software Updates
Have you ever found yourself waiting to get your system updates installed so that you can send your client an email or complete the code that you were writing a day back? Well, we have seen such days and can relate to how irritating it can be, right?
Cloud-based applications offer an automatic update feature, which saves a lot of time for users. In fact, according to PCWorld, 50% of cloud adopters said they required fewer internal IT resources as a cloud benefit.
11. Competitive Edge
A study by Verizon concluded that 77% of businesses feel cloud technology gives them a competitive advantage.
If you still prefer to keep everything local, you must note that you're already behind 90% of your competition, who have the benefits of the cloud at their fingertips. Be it a small or mid-sized business, you need to maintain that upward trending learning curve.
With all the data analytics, reduced expenses, and continuous support, cloud solutions are bound to help you gain a competitive edge in your niche market.
12. Sustainability
Cloud computing solutions can lower workload carbon footprints by up to 80%. In fact, with top cloud providers such as AWS following the path to power their operations with 100% renewable energy by 2025, it might take up to 96%.
Embracing a cloud infrastructure helps in powering numerous services virtually. This, in turn, does the following:
Reduces the use of physical products or hardware

Cuts down on paper waste

Reduces commuter-related emissions
All in all, cloud solutions are your way to operate a business in an energy-efficient manner.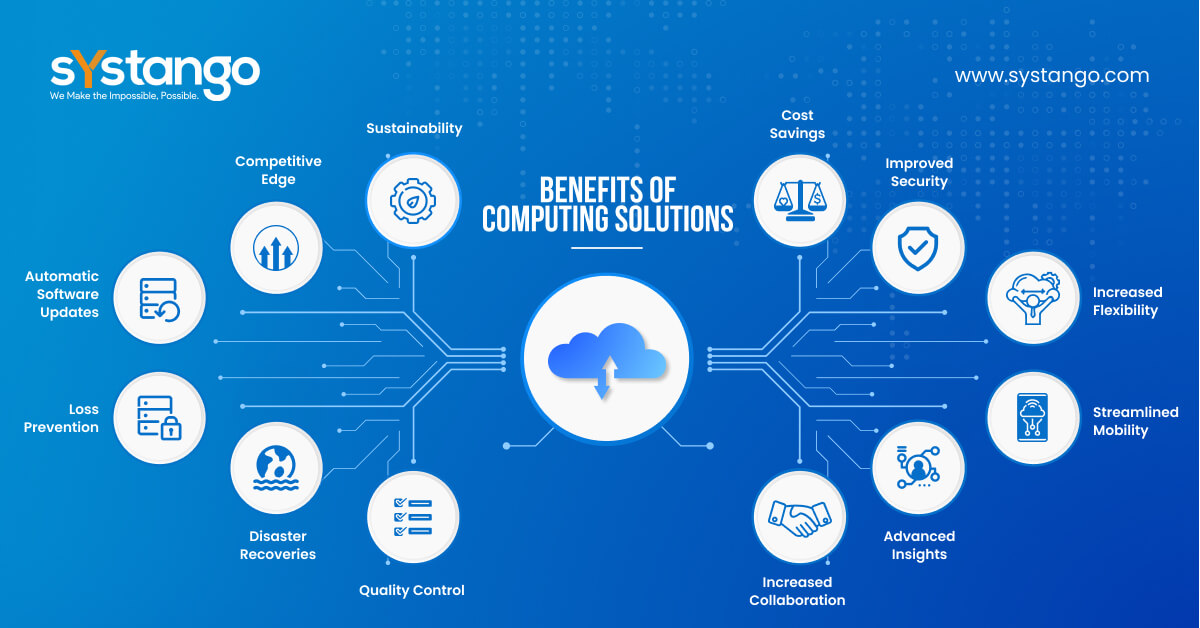 What are the disadvantages of Cloud Technology?
If you ask a cloud service specialist to list a few disadvantages of cloud computing, they might not find one. But from a business perspective there are three possible downsides of cloud technology you must be aware of, let's take a look at them:
Downtime: Cloud technology is booming and you might find hundreds of cloud service providers in the market. But if the provider runs into some tech problem, it is going to affect you. To tackle this, the providers do share possible 'length of downtime' for businesses to save themselves from any reputational loss.
Internet is Mandatory: We are talking about cloud services, it is bound that the users can only access them with a proper internet connection. If you land yourself with poor connectivity, you will not be able to access any information from the cloud.
Vendor Lock-in: Switching between cloud service providers has not yet evolved. Each cloud provider offers different functionalities and hosts distinct backend processes to deliver quality services. It becomes a reason organizations may find it difficult to migrate their services from one vendor to another.
Just a heads up, we can consult you on how you can handle these pitfalls with a custom cloud service plan for your business.
Note: The benefits of cloud solutions outweigh the limitations.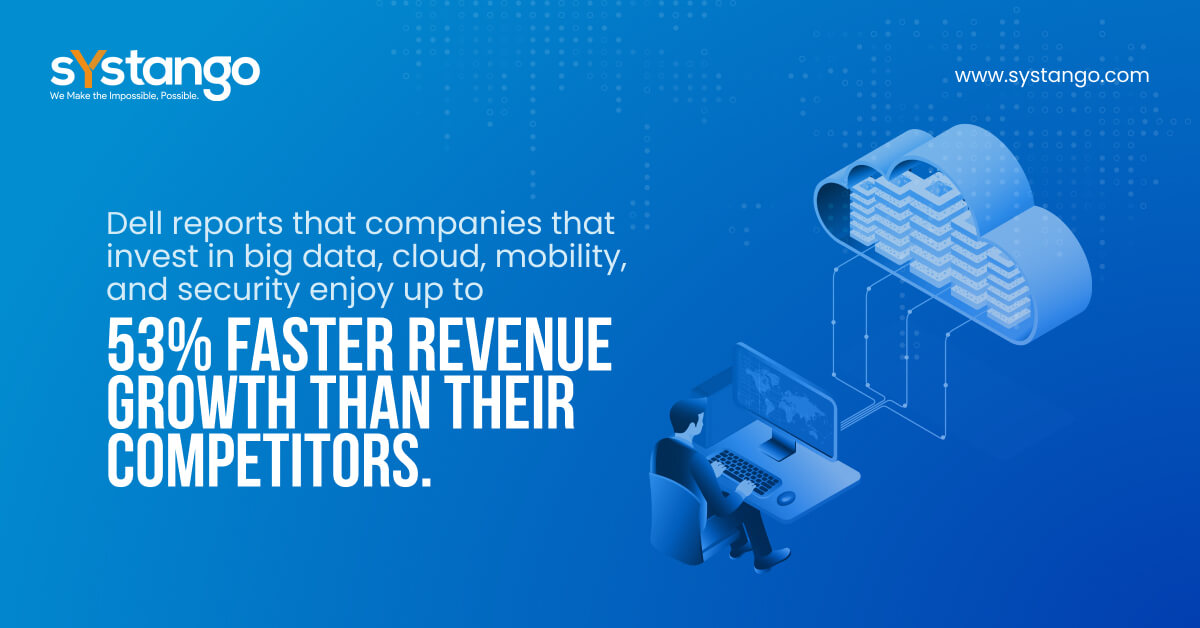 Conclusion
Be it a small or a large business, they are constantly seeking innovative ways to grow and achieve their business goals. The introduction of Cloud Computing has undoubtedly opened a powerful and expansive environment for businesses to operate and grow.
When compared with traditional ways, cloud computing is extremely cost-effective and holds a promising future ahead. If you are considering moving to the cloud, then we hope we have cleared all your doubts and queries around it.
Did we miss something? Ask us directly.
We are experts in deploying cloud computing services for businesses of all sizes. Check our range of services and connect with us to know how can we help you grow your business with proven cloud solutions.