How the Top DevOps Market Trends 2021 will Help your Business?
DevOps is no more just a buzzword, multiple companies have shared their DevOps success stories and many organizations are also looking to bring digital transformation through DevOps implementation. DevOps has become a leading model for efficient software development delivery and the field shows no signs of slowing down. In this article, we are bringing the key DevOps market trends for 2021. But, before exploring that let's see how the implementation of DevOps culture can benefit your organization.
Statistics Suggesting DevOps is a Boon for Organizations:
According to TheServerSide.com:
DevOps teams spend 21% less time putting out fires compared to the traditional IT Ops team.
DevOps teams spend 33% more time improving infrastructure compared to the traditional IT Ops team.
Dev-Ops oriented teams require 60% less team per week to handle support cases than the traditional IT Ops team.
Moreover, the global Development to Operations market size was valued at $2.77 billion in 2016 and is expected to reach $12.85 billion by 2025. (Source: Grandviewresearch.com). Hence, it would not be wrong to say that if you don't upgrade to DevOps, there is a high possibility of your competitors adopting it and knocking you out in the cutting-edge competitive world.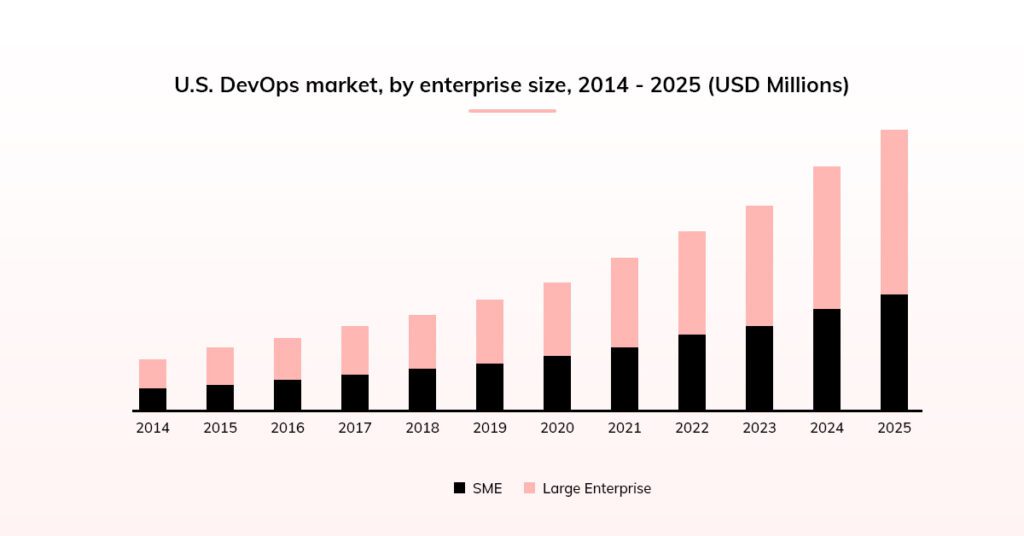 What can be achieved through DevOps?
Break organizational silos and hire DevOps service providers to:
Accelerate the pace of innovation, disruption, and digitization in 2021.
Achieve Faster Time to Market
Lower the Failure Rate
Shorten the Lead Time
Improve Mean Time to Recovery
Improve Deployment Frequency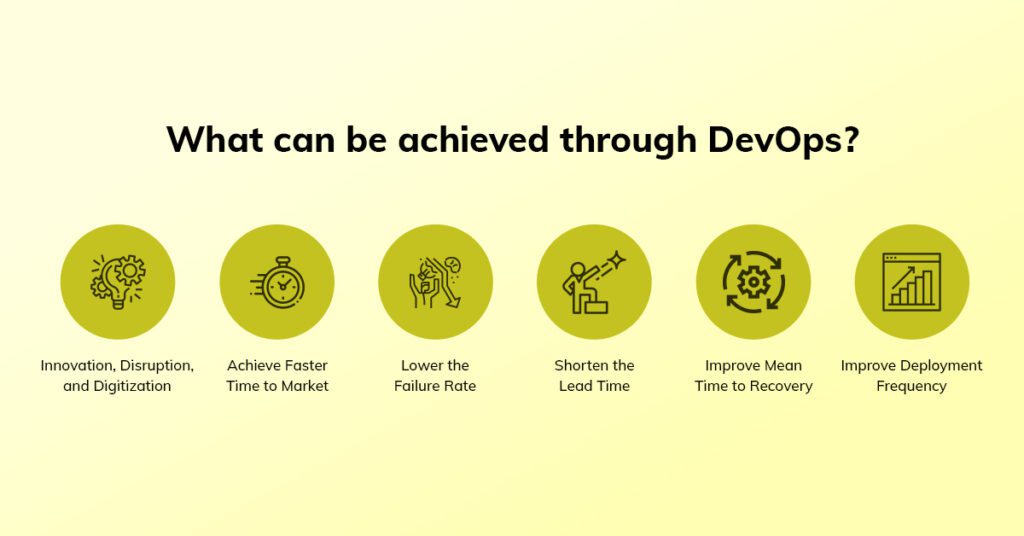 DevOps Market Trends to Watch Out for in 2021:
Increased Collaboration between Agile and DevOps:
Enterprises are now adopting new tools and techniques and getting digitally transformed. They are looking for ways to boost productivity, improve flexibility in various business processes, grow financially and reduce time-to-market. Increased collaboration between Agile and DevOps will help organizations achieve this goal. This DevOps trend 2021 will help organizations achieve the goals of collaboration, efficient operation and bug-free code.
How your business will benefit from Agile and DevOps Integration?
This collaboration will help in:
Streamlining the release process and improving product offerings.
Fewer bugs and quicker fixes
Increased visibility
More values and fewer risks
Quality products resulting in a higher user satisfaction rate.
How Systango Can Help You?
We provide technical consultancy to startups, enterprises, hedge funds, and banks on how to leverage the power of technology

We offer an end-to-end development team for web and mobile development

You can hire on-demand tech resources for your development need
Reach Us
DevSecOps will Rise:
DevSecOps is the process of integrating various security practices within the DevOps process. COVID-19 outbreak made companies all over the world adopt remote-work setup and has opened the door for security vulnerabilities. With the highly increased risk of security and cyberattacks, the need of enhancing security at every level of business operations has become crucial than ever.
DevSecOps will help in bridging the gap between IT and security along with ensuring faster and safer delivery of code. Moreover, it will replace silo thinking with the increased communication and enhanced security during all the phases of the delivery process.
In the 2017 EMA Report, it was found that the benefits of security operations (SecOps) will lead to improved overall efficiencies and better ROI in existing security infrastructure. Another top benefit found in the study was the enhanced ability to make complete use of cloud services. For instance, organizations that are running services in the Amazon Web Services (AWS) cloud will be benefited from the increased preventive and detective security control within the CI/CD (Integration and Deployment) model of AWS.
How will your business benefit from rising DevSecOps?
The ability to respond to change will increase.
Will offer greater speed and agility to security teams
Enhanced collaboration and communication between the teams
It will help in identifying vulnerabilities in code at an early stage.
Increased opportunities for automated builds and quality assurance testing.
We, at Systango, DevOps service provider UK, keep ourselves aligned with all the top DevOps market trends. You can get in touch with our DevOps specialist to find how to prepare for the integration of new security processes in your current DevOps.
DevOps and Golang will go hand in hand:
Developed by Google, Go or Golang is an open-source programming language that is statically typed and produces compiled machine code binaries. According to developers, Golang is the C for the 21st century when it comes to syntax. DevOps is all set to increase the Golang usage considerably in the near future. With the tremendous increase in projects and workloads, the project complexities will grow. Go comes with tools that help in smooth operation and better observability.
How does Golang with DevOps help your business?
You can write code once and run it on multiple platforms.
Cross-compiling is possible where various teams can run these codes on multiple platforms
You can gain high performance with the strong support of the library consisting of all relevant data.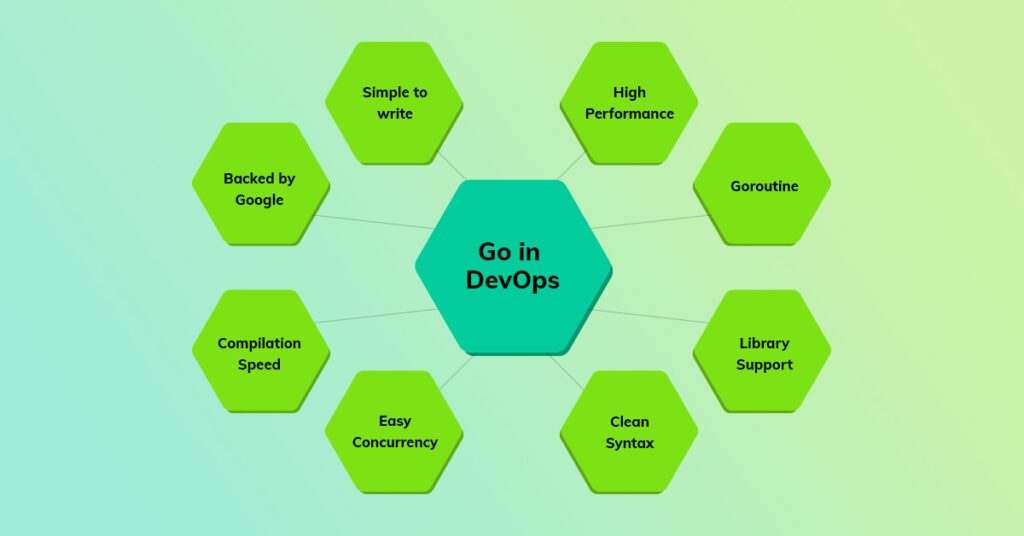 AI-powered DevOps approach:
With the evolution of DevOps, two different teams can start collaborating on a single platform, which boosts productivity and reduces the chances of errors. AI can play a crucial role in boosting DevOps efficiency, making it the must-have part of our DevOps trends 2021 list.
Here is how the AI-powered DevOps approach will benefit your business?
AI increases the scope of data access to the teams who face issues because of a lack of freely available data. AI enables teams to gain access to the huge volume of online data and have well-organized data scanned for consistent and repeated analysis.
AI makes it possible to create automated environments that can run mundane and repetitive daily tasks automatically. Thus, enabling human resources to work on new strategies and innovation.
AI's ability to automate repetitive business processes and empower data analytics will likely help in achieving higher efficiency in application development.
AI will help the team in identifying the solution to the problem from a dataset instead of spending hours on huge data volumes.
How Systango Can Help You?
We provide technical consultancy to startups, enterprises, hedge funds, and banks on how to leverage the power of technology

We offer an end-to-end development team for web and mobile development

You can hire on-demand tech resources for your development need
Reach Us
Inclusion of Cloud Management Platforms (CMPs) on a large scale:
According to IDC FutureScape: Worldwide Developer and DevOps 2021 Predictions, 80% of enterprises will develop the mechanism to double the acceleration rate of Cloud Management Platforms and DevOps by the end of 2021. Even before the changes that businesses went through due to the pandemic outbreak, enterprises were already making moves to adopt cloud-centric infrastructure and support cloud-based workflows. Given, the industry is in pressing needs to adopt Cloud Management Platforms, this shift will happen faster than you have planned.
How Cloud Management Platforms for DevOps will help your business?
It will help you gain better control of cloud environments.
Gain enhanced security
Optimization of costs, performance and resources
Provisioning and orchestration
All in all, the future of DevOps lies in increased collaboration with Agile, DevSecOps – that will bridge the gap between IT and security, adoption of GoLang, AI and inclusion of Cloud Management Platforms. This was all about DevOps trends 2021, now let's have a look at how Systango can help you embrace a seamless production system with the best DevOps consulting services.
Systango and DevOps
Systango's DevOps specialists help introduce best practices for deployments, security and enable constant monitoring of productivity. Our DevOps consulting services help you achieve up to 50% savings through cloud optimization and monitoring. As a leading DevOps service provider in London, we work across an array of DevOps tools and platforms.
As DevOps Specialists we offer:
DevOps Consulting Services
Platform and Cloud Management
Continuous Integration and Delivery
Continuous Testing and Monitoring
Here is how we helped our clients leverage DevOps
Grindr
One of the world's largest social apps, Grindr relies on Systango for its DevOps and QA expertise. They wanted to create a platform that was more than just a means to chat and meet, but a place for a passionate and progressive lifestyle. They needed to work on their performance and Quality Assurance, that's when they thought of approaching Systango to help them with their pain points.
Our contribution:
Our team built & improved app functionalities and UX.
We were involved in rewriting the chat integration system.
We worked on chat screens that use MongooseIM.
We performed end to end testing of their app on both the iOS and Android platforms to ensure clients objectives were met.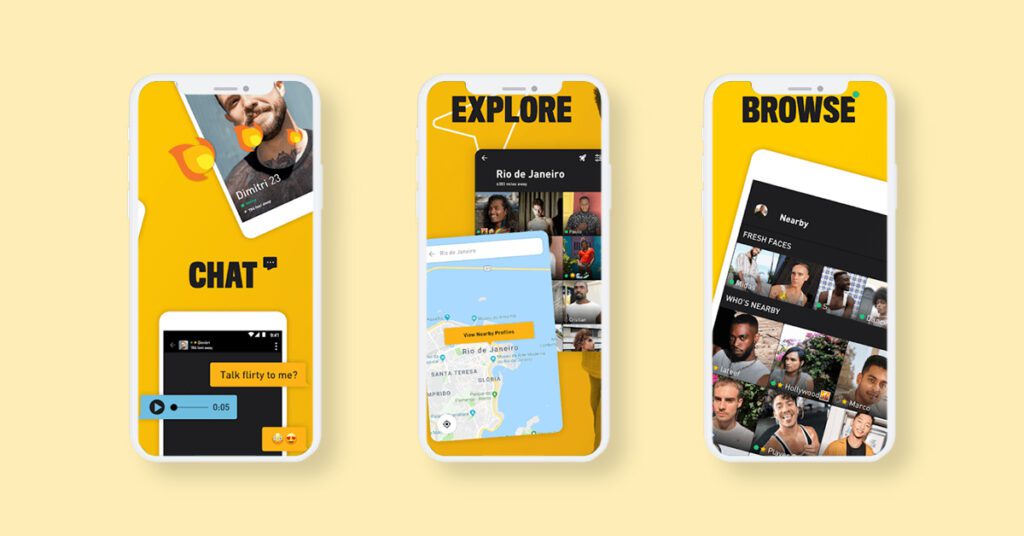 Waitlist
Waitlist came to us for technical expertise, to build a full version SAAS Queue-Management Web App from an MVP and redo their iOS and Android app.
Our contribution:
Ever since Waitlist has come to us in 2012, we are managing their web platform, Google Cloud environment, iOS app and its external integrations.
The relationship has now grown beyond a vendor-client and we are now very tightly integrated with Waitlist core values.